Projectors Tests Reviews
BenQ TH575 projector : test / review / price
---
Published on: 05-11-2022 / Modified: 05-11-2022
This projector is the tenth projector I've tested this year, I've never tested as many as this year, at this rate I may be able to test one a month. I had so far focused on Chinese brands like Xiaomi, Blitzwolf or Wanbo but I figured exploring more traditional brands couldn't hurt me. After testing an Optoma, I will test the BenQ TH575, this is an entry-level gaming projector available for just over €600 (at the time of this writing). At this price level, it will be visible on the radar of a fairly large audience (even outside of gamers).
If you like my tests, don't forget to buy your products through my links, this is the only source of income for this blog. Thanks!
Manufacturer web site:
https://www.benq.eu/
Site where I have bought the BenQ T575:
https://prf.hn/click/camref:1101l8z5B/destination:https%3A%2F%2Fwww.coolblue.be%2F%2Ffr%2Fproduit%2F913546%2Fbenq-th575.html
Price BenQ T575
The list below shows the prices for the BenQ T575 from more than 50 sites around the world. If you are not satisfied with any price, you can subscribe to a price alert to be the first to be notified when the price drops.
The above links are affiliate links from companies such as Amazon, Gearbest,
Aliexpress
,... If you appreciate my work, I would be grateful if you could purchase these products through these links. It costs you absolutely nothing but I get a small commission that allows me to buy the material I test. Thank you very much!
Timeline
November 3, 2022: order the BenQ TH575 on Coolblue.be
November 4, 2022: super fast delivery, the test can begin
Why this projector?
I decided to test this projector for several reasons. First there is curiosity, I wanted to test a lamp projector from a brand that I had not tested yet. The price obviously also played a part because since I buy most of my projectors with my money, the price is just as important as for you. Beyond these two reasons, this projector has a few assets to highlight, such as enormous brightness, very good contrast, reduced latency and numerous adjustment possibilities to optimize the image.
Unpacking

The box of the BenQ TG575 is quite basic with its neutral cardboard packaging giving no indication of the product. The box contains the projector, protected by a thick layer of foam, a power cable, a remote control (with 2 AAA batteries) and a manual.
The remote control allows you to control the settings of the projector with, in particular, shortcuts to certain simple functions so as not to get lost in the menus. I find this remote control to be simpler and more efficient than the Optoma one that I just tested, but it shares the same weakness because it is an infrared remote control. A priori this kind of projector is placed behind you, this means that you will have to point the remote control behind you to interact with the projector.
Operating system
This projector does not have an operating system, so it must be associated with a content source via the HDMI port. I will be using Google TV Chromecast and Nvidia Shield to power this article.
Finish

This projector is a traditional projector, by which I mean that we find here a product that resembles what was made 10 or 20 years ago. It's not good or bad, it's just an observation in the face of all the new wave of LED projectors that are engaged in a beauty contest to be seen in your living room. BenQ therefore remains on a projector model which will probably only be used in a separate room.

The optical unit at the front is quite large, but unlike LED headlamps, this one has a physical zoom. The zoom and sharpness settings are made using a toothed wheel located above the optical block. There is therefore no automatic adjustment of the image, everything is manual. A priori once the projector is placed, you will no longer need to modify the size or the sharpness of the image, this manual process is therefore not very disturbing. I also found that the wheel for adjusting the sharpness was very precise, unlike what I had seen on entry-level products like Blitzwolf.

On the top of the projector there are several buttons to control the projector, you should above all see these buttons as emergency buttons if for example you no longer have batteries for your remote control because once the projector is placed, I don't think it is necessary to move each time to interact with the menus.

The projector can be installed on a wall/ceiling support, several attachment points are provided for this purpose. There are also 2 adjustable feet to change its inclination, but these feet are positioned in a bit strange way I find because the one at the back will create an imbalance in the position of the projector.
Projection room
My projection room is rectangular, 4.6m by 2.9m (height 2.2m). I have two projection walls, one white wall 2.9m wide with just white paint with a possible 4m setback. I then have a 133 inch ALR screen on another wall with a possible setback of 2.8m. I mainly use the ALR screen except when the layout or type of projector is not suitable for this situation.
Battery autonomy
This projector is not equipped with a battery.
Power consumption

The BenQ TF575 theoretically has a consumption of 240W but this consumption can vary depending on the brightness mode chosen. In normal mode, the projector actually consumes 240W but this consumption can vary between 180 and 240W depending on the brightness mode chosen. After calibration in eco mode, I arrive at 210W. This projector is therefore rather greedy in electricity.
Beyond consumption, this type of lamp projector also emits heat. I took the temperature at the vent outlet and measured over 44°C when it was 21°C in my room. Consumption and temperature are often linked, there is nothing abnormal here but if you have an isolated projection room like mine, watching a movie will inevitably increase the temperature of the room by a few degrees.
Operating noise
The BenQ TH575 is a lamp projector and as is often the case with this kind of projector, the ventilation is noisy. I measured more than 50db close to the projector and I still have 40dB at one meter. It is therefore not a projector that you keep close to you but as you have to give it some distance anyway, you should not hear it too much if it is at the back of your projection room.
Connectivity

The BenQ TH575 has fairly basic connectivity with 2 HDMI ports, a USB port, audio input and output, but no digital audio output or HDMI in eARC. Given the weakness of the projector's speaker, you will probably have to use another output for the sound than that of the projector.
Image settings
The BenQ TH575, like the other models in the same range, has many possibilities for image adjustments. I took a picture of the different settings screens where you can optimize the use of your projector. The image adjustments make it possible to obtain a good level of colorimetry without having to change thousands of parameters.
Image quality
I will start this paragraph with the trailer of Batman because this trailer is very dark and on many projectors the image is too dark and too low in contrast. Not so with this projector. Dark scenes are very well rendered and after calibration, the colorimetry is really good too.
For the second test, I will use the Top Gun Maverick trailer as usual and the conclusion is exactly the same, the image is really beautiful, the contrast is good and despite some small tears in the image, the rendering of this projector is really good.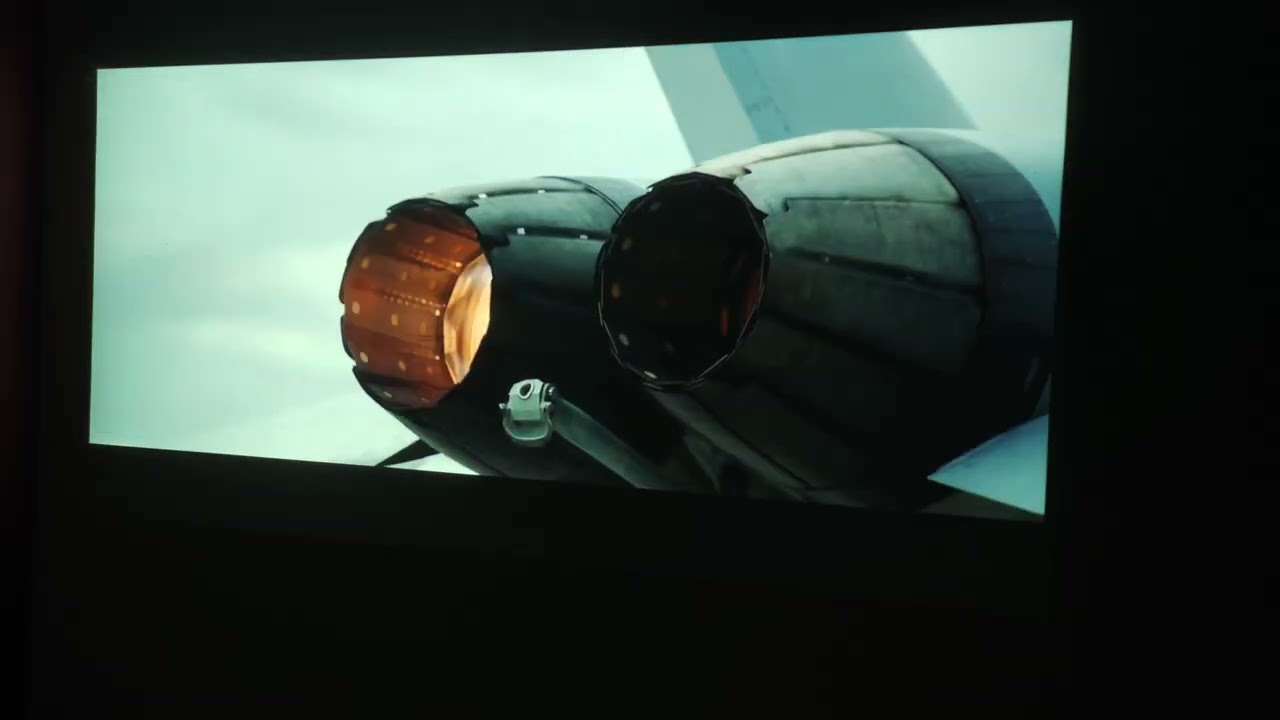 I confess that I did not expect such a beautiful image for a projector in this price range. This BenQ TH575 is perfectly capable of competing with many LED projectors sold at more than 1000€. Of course, it has some weaknesses but I will detail them in the other sections of this review.
Colorimetry
I went through all the available modes to assess the accuracy of the colors and I was quite surprised to find that no available mode offered good colorimetry. It was then while trying to calibrate the projector that I noticed the "brilliant colors" option. By disabling this option, I quickly got a better score for colorimetry. The measurements below were taken with the "brilliant colors" option activated and the lamp in eco mode:
Cinema mode, dE 14.45 for colors, dE 5.5 for grays
Living Room mode, dE 11.95 for colors and dE 11.62 for grays
Gaming mode, dE of 13.86 for colors and dE 5.5 for grays
Sports mode, dE 13.92 for the colors and 5.5 for the grays
If you don't know what the dE represents, know that it is the colorimetric difference compared to the reference colors and that the human eye perceives the differences from a dE of 3. These results are therefore not very good but as I wrote above, it is probably because of the "brilliant colors" mode which has the effect of saturating the exaggerated colors.
After a first calibration exercise, I get a dE of 4.13 for the colors with a dE of 0.34 for the grays, so it's much better than the factory configuration. I thus obtain an almost perfect white with a dE of 0.6 and a temperature of 6549K (perfect white = 6500K).
These measurements were obtained at the exit of the projector and therefore do not take into account the type of screen. To obtain this result of colorimetry, it is necessary to modify the colors with the following parameters:
Brilliant colors OFF
Brightness: 50
Contrast: 53
Color: 50
Tint: 0
Gamma: 2.2
Brightness mode: ECO
Color temperature: normal
Color gain:
White 205 /198/202
Red 200/210/235
Green 200/200/198
Blue 210/201/250
Cyan 180/260/180
Magenta 270/230/260
Y 160/214/200
These settings will probably need to be slightly adapted depending on the type of screen used, but at least you have a working basis. With this calibration, I have a contrast of about 1100:1 for 1184 ansi lumens. This is a configuration for use in the dark. It's the green that deviates the most from the norm and I haven't managed to bring it close to a dE of 3 otherwise the general average of the dE will be below 3.
This projector is able to reproduce most colors faithfully, there is just green which is slightly outside the norm, this is especially noticeable in dark scenes.
Brightness
The BenQ TH575 is theoretically able to reach a brightness of 3800 lumens but in practice it is not possible to use these 3800 lumens with good image quality. I measured the brightness in ECO mode for the following modes:
Living room: 1766 lumens
Brightness: 2775 lumens
Cinema: 1999 lumens
Game: 1904 lumens
Sports: 1921 lumens
After calibration: 1214 lumens
Only the brightness mode could be considered for use in daylight but as I mentioned in the paragraph on the colorimetry, this will be done to the detriment of the quality of the image. For other modes, this projector is able to produce good brightness but not for use in daylight or at least not without loss of contrast.
Sharpness

This projector is capable of producing an image of beautiful sharpness, the adjustment wheel above the optical unit allows you to find the right level of sharpness quite quickly and it is not necessary to manipulate the parameters to further improve sharpness. The horizontal and vertical lines are perfectly sharp and I don't see any chromatic aberration or the presence of artificial contours.
Contrast
This projector is theoretically capable of achieving a contrast (FOFO) of 15000:1. This type of contrast measures the difference in brightness between pure white and pure black, that's good, that's also how I measure contrast, but I'm far from getting this kind of value. Contrast varies greatly from one picture mode to another. I took some measurements and here are the results:
Cinema Mode: 1649:1
Game Mode: 1695:1
Sports Mode: 1606:1
Mode brightness: 2245:1
Living room mode: 1600:1
User1 mode after calibration: 1100:1
These measurements were made from ECO mode, the contrast with the maximum brightness mode is going to be higher but at the expense of color accuracy. There is always a difference between the maximum contrast and the contrast after calibration, so do not be fooled by the manufacturer's specifications. With a contrast of 1100:1 after calibration it's not a high level contrast but for this price, it's quite correct. If you are less demanding on the accuracy of the colors you can select another mode with a higher contrast but sometimes with a large colorimetric difference (the worst is the brightness mode). The game mode is not doing too badly with a colorimetry between 5 and 7 and a contrast good enough for dark films. (but with somewhat cold colors)
Motion compensation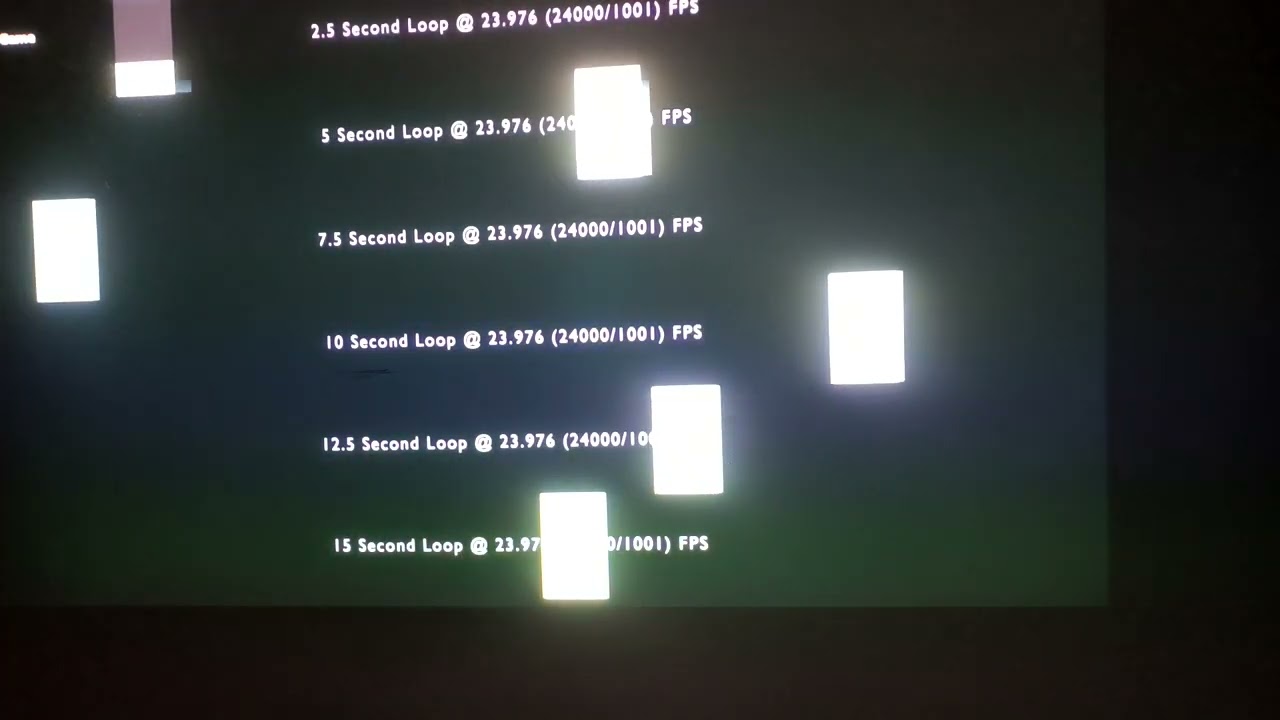 Fast lateral movements suffer a slight tearing but this can be reduced by using the "fast" mode. I still see tearing after activating fast mode but I'm not sure the untrained eye would notice it.
Image size and projection distance
The throw ratio is one of the things that surprised me the most with this projector and unfortunately not in a good way. This projector has a throw ratio of 1.49/1.64 depending on the zoom level used. This means that if it is placed at 1m, you will get an image about 51cm wide. You will therefore need a fairly large distance to obtain a large image.
Audio quality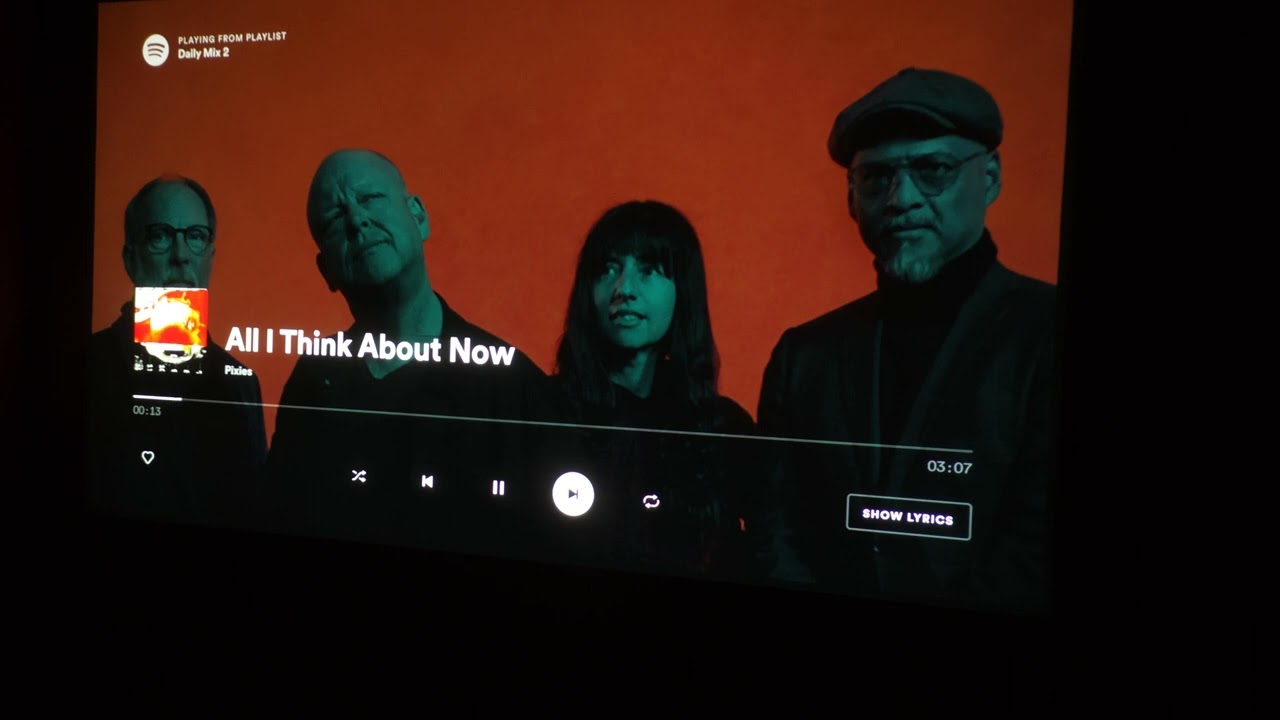 The audio quality of the BenQ TH575 is clearly a weakness of the projector. The sound is not powerful enough, it saturates quite quickly and it lacks depth. It's not quality sound for watching a movie in good conditions, so you'll have to pair it with a speaker or connect it to an external audio system.
Video games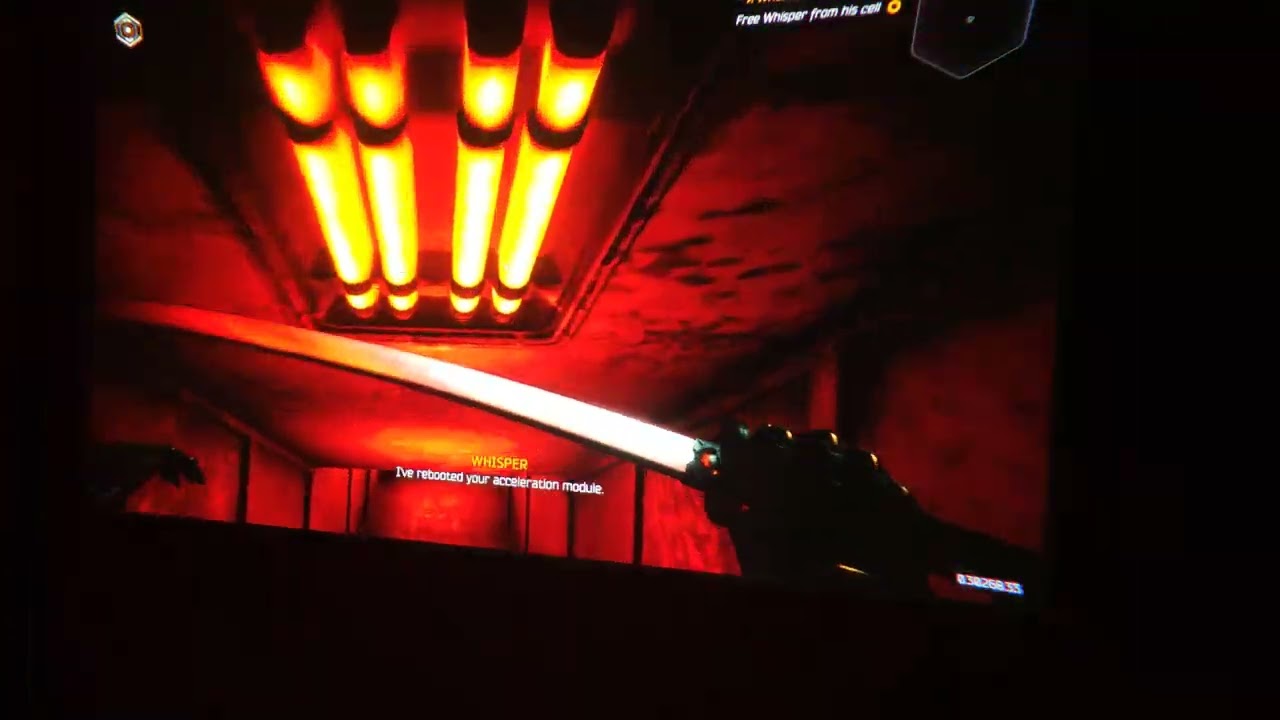 To test gaming on this projector I used the free version of Shadowrunner from the Nvidia Shield. I almost never play with a controller, so I'm not very good with this kind of game but this demo will allow you to see that the gaming experience with this projector is excellent. Input lag can be reduced by the gaming option in the projector and there is no noticeable lag between the controller and the game. The projector's excellent contrast and good colorimetry make it an excellent projector for gaming.
Encoutered bugs
Not yet available / tested
ALR/CLR Projection screen
Are you looking for a good ALR/CLR screen for your projector? I may have what you need:
ALR/CLR NothingProjector Screen
Test / Review conclusion
I bought the BenQ TH575 to test a lamp projector because I hadn't tested this type of projector yet. I'm really glad I did because it allowed me to discover a projector that is worth seeing and which is also available for less than 700€. The BenQ TH575 delivers very good image quality and not only for the price category in which it is located, it can easily compete with a whole series of much more expensive projectors, especially in terms of contrast. For that price, I haven't tested a better projector for contrast. The colorimetry is good, the contrast is good, the sharpness is good, we can't fault it on these points!
At BenQ, this projector is in the category of gaming projectors and this results in an optimization of the input lag. Here too, this projector fulfills its mission perfectly by offering a very good gaming experience. The imperceptible input lag and the image quality will offer you an excellent gaming experience.
If I could stop here for the conclusion, I could only recommend that you buy this projector but unfortunately this projector still has some weaknesses that could influence your purchase decision:
- operating noise: you will have to keep the projector at a distance so as not to hear the ventilation noise
- consumption: between 180 and 240W, this projector is quite energy intensive
- sound quality: the sound quality is not good enough to be satisfied with the sound of the projector
- the throw ratio: the projector must be placed far enough from the screen to obtain a large image
I would add that unlike some other competing products, you have to associate a dongle type image source because this projector does not have an operating system.
You have to consider this projector as a "simple" projector that offers good image quality but it takes some concessions for everything else.
Strengths
- value for money
- colorimetry
- contrast
- brightness
- sharpness
- setting options
- input lag reduced for gaming
Weaknesses
- operating noise
- power consumption
- emits heat
- throw ratio
- audio quality
- startup time /time to turn it off