Projectors Tests Reviews
XGIMI Mogo 2 Pro review / test
---
Published on: 30-03-2023 / Modified: 31-07-2023
XGIMI has stable its range of projectors on several product lines with specific characteristics and uses. Today I will focus on the Mogo range which represents the entry level of portable projectors with battery at XGIMI. I had the opportunity to test the first Mogo two years ago and I was impressed by the capacity of this small projector, I remember projecting an image of 15m in the middle of the night on a factory wall. That's a pretty incredible performance for a projector of that size. The image was certainly not very bright but this test had a wow effect on all the people who were near the factory.
Update after the test: this new model does not have a battery but you can associate an external battery in usb.
Unique promo code -90€
I got a personalized promo code from XGIMI so you can buy your projector at a better price. I hope you will enjoy it because it will give me the opportunity to offer others later.
To take advantage of a 90€ discount on the Mogo 2 Pro:
XGIMI Mogo 2 Pro at XGIMI.com
(use code LAURENT-M2P)
Extension of the promo until August 6, 2023
Just a reminder:
If you like my work, buy your products from my links, it allows me to continue testing equipment. Thanks!
Video test
If you can not read this video on the blog, you can watch it directly on Youtube:
Xgimi Mogo 2 pro test / review
Manufacturer web site:
http://shrsl.com/403qr
Site where I have bought the XGIMI Mogo 2 Pro:
http://shrsl.com/403qr
Price XGIMI Mogo 2 Pro
The list below shows the prices for the XGIMI Mogo 2 Pro from more than 50 sites around the world. If you are not satisfied with any price, you can subscribe to a price alert to be the first to be notified when the price drops.
Aliexpress
,... If you appreciate my work, I would be grateful if you could purchase these products through these links. It costs you absolutely nothing but I get a small commission that allows me to buy the material I test. Thank you very much!
The above links are affiliate links from companies such as Amazon, Gearbest,
Timeline
March 30, 2023: the projector is on its way, it should arrive no later than April 5.
March 31, 2023: I received the projector earlier than expected, so the test can begin.
Why this projector?
I have tested almost all models from XGIMI and I have been testing these projectors for a few years, so I have some experience and hindsight to evaluate this new projector. I have never had any bad surprises with this brand, so I don't expect any bad surprise with this new Mogo 2 Pro. The question will be more about its price positioning and how it compares to what you can buy in this same price range. The starting price is less than 500€ and generally below this symbolic bar, we quickly find ourselves with low quality projectors but there are still some exceptions
You have to keep in mind that this projector is designed for a nomadic use, this does not mean that you can't use it at home but it is not designed for that. It will be less bright and you will not be able to get as good an image as with a traditional projector. The price could therefore be a double-edged sword as it could attract an audience looking for a normal projector but with the risk of creating a disappointment. It obviously depends on your level of requirement but I prefer to clarify this point because you should not compare this type of projector with for example a
XGIMI Horizon
or a Xiaomi Mi Smart 2 Pro.
Unpacking

The XGIMI Mogo 2 Pro comes in a fairly standard box, it is protected by a thick layer of foam and in the box we find the remote control and its 2 AAA batteries, a large user manual and a small booklet to explain how to use Netflix because this projector does not natively support Netflix.
Operating system
This projector runs on an official version of Android TV, so you can use the Play Store with all the compatible applications for this type of device. There is however one restriction, it is once again Netflix, you have to use the Desktop Manager application to be able to use it.
Finish

The Mogo 2 Pro is a nice projector, we immediately recognize the identity of XGIMI with its metal grill and its optical block on top.

It looks quite similar to the previous model, it is the same DLP chip that is hidden behind the optical block. It is a DMD 0.23 found on many projectors in this price category.
This DLP chip generates a native resolution of 960 by 540, so it's not true 1080p but XGIMI like other manufacturers uses interpolation to combine several images very quickly and finally get an image of 1080p. So you will not see any difference except for very large screen sizes
Next to the optical block there are two sensors that automatically determine the shape of the image with the keystone correction. I'll come back to this point later in the article, this automatic adjustment system works really well.
There is also a sensor that detects the presence of someone in the projection field, the projector automatically lowers the brightness to protect the eyes. This is a fairly common feature but you'll probably want to disable it because the detection is very sensitive. At the slightest passage in front of the projector, even fast, the projector will go into bright standby.

The Mogo 2 Pro is wrapped by this grid that is part of the identity of XGIMI products for several years. The color of this grid is different, XGIMI usually uses gray like the Halo+, this time it's a golden reflection.
This grille hides the two 8 watt speakers. XGIMI usually uses Harman Kardon speakers but it doesn't seem to be the case here.

At the back we find a heat removal grill as well as a rather limited connectivity which is limited to a USB type C port for the power supply, an HDMI port, a USB type A port and a headphone output.
Behind the glass we can see the membrane of the speaker that starts to vibrate when the sound is broadcast. It is original but not necessarily useful because you have to use this projector in the dark anyway, you will never see this membrane.
Let's quickly come back to the USB type C port because it is important.
The first Mogo was a completely autonomous projector because it had an internal battery. This is no longer the case with this new model, which is probably one of the biggest differences with the previous model.
The use of a USB port for power will allow you to connect an external battery to the projector. You can make it autonomous with the battery of your choice. I think it's a shame that this projector is no longer standalone, but on the other hand, an external battery can have advantages such as a better autonomy or a higher charging speed.
I tested this projector with an external source and although it works, the projector automatically goes into economy mode as soon as it does not recognize the official power supply. In economy mode the brightness is very low. You can of course deactivate the economy mode but you will have to do it every time you start up and I find it rather annoying.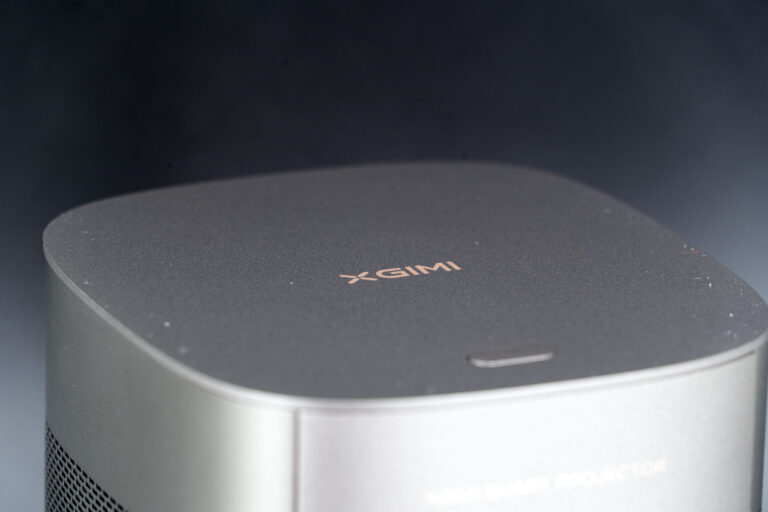 On top there is simply a power button with the XGIMI logo.

At the bottom there is a standard screw thread that allows you to fix this projector on a tripod. The projector weighs 1.1kg, so it will fit on most camera tripods.LB]

The remote control is very similar to the other XGIMI products, it is completely made of plastic, uses two AAA batteries and allows you to easily navigate through the menus of Android TV or adjust the properties of the image. You can also use it to start the Google Assistant, it has a microphone to receive voice commands.
The button for manual focus is not on the bottom like the
XGIMI Elfin
, it is on the top of the remote, so you can fine tune the sharpness at any time.

I have two other XGIMI projectors at home, so I'll be able to compare them to this projector to help you make the right choice.
First, there is the Elfin which uses the same DLP chip but is brighter. There is also the Halo+ which is significantly larger, it also has more brightness, more powerful sound and a DLP DMD 0.33 chip.
Projection room
My projection room is rectangular, 4.6m by 2.9m (height 2.2m). I have two projection walls, one white wall 2.9m wide with just white paint with a possible 4m setback. I then have a 133 inch ALR screen on another wall with a possible setback of 2.8m. I mainly use the ALR screen except when the layout or type of projector is not suitable for this situation.
Battery autonomy
Unlike the previous model, this new model is not equipped with an internal battery. To make it autonomous you must associate a battery in usb type c.
Power consumption

I measured a power consumption between 45 and 50 watts per socket when using this projector in different conditions and configurations. So this projector is not very power hungry, not surprising with this level of brightness.
Operating noise

The Mogo 2 Pro is a fairly discreet projector, it emits a slight ventilation noise audible when you are close to the projector. I measured about 45 decibels near the projector but if I move 50 cm away, my decibel meter doesn't detect anything anymore.
The projector is much noisier with the performance mode for brightness but the image is of such poor quality with this configuration that I don't see what could motivate you to use this configuration.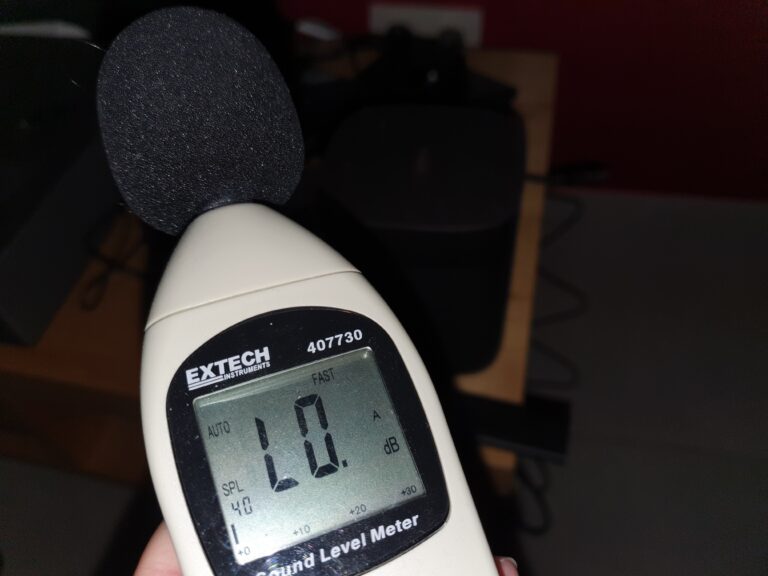 Connectivity

Connectivity on the back is pretty limited but that's the same for most projectors of this type. There's a USB Type-C port, a USB Type-A port, an HDMI port and a headphone output.
Image settings
The XGIMI Mogo 2 Pro offers image configuration settings at 2 levels. First, there is the type of brightness where you can choose between several possibilities (Bright, Cinema, Clear, ...), this parameter is in the general settings of the projector. Then there is a second level that modifies the color, sharpness or saturation. To modify this second level you have to press the parameters button on the remote control and then choose the image mode. I will detail later on which mode to choose to obtain a better quality image.
Image quality
Here are three videos to illustrate the image quality with the Cinema/Film mode (better colorimetry):
The projector is placed more than 2 meters from the screen and the screen offers a gain of 1.2.
I also compared the video quality of the Mogo 2 Pro with the
XGIMI Elfin
:
The
XGIMI Elfin
uses the exact same DLP chip as the Mogo 2 Pro, so there is almost no difference between these two projectors. The Elfin is brighter, but this is not too noticeable on the image. The colorimetry is a bit different but the two images are equal. The sound of the Elfin is finer and more subtle than that of the Mogo 2 Pro but I find that the Mogo 2 Pro offers a more powerful and impactful sound.
I also compared the Mogo 2 Pro with the XGIMI Halo+
These projectors are not at all in the same price range, they are not the same material and here on the other hand the Halo+ exceeds the Mogo 2 Pro on all levels. The image is more accurate, the colors are better, the sound is also better.
Keystone correction
XGIMI uses a technology that allows you to resize the image without interruption (ISA 2.0) and it works really well. You can shake the projector, turn it upside down or place an obstacle in front of its projection area, it will always adapt the size and shape of the image within seconds.
This projector has the following image adaptation features: autofocus, keystone correction, eye protection, automatic screen alignment, obstacle detection.
Colorimetry
I tested the colorimetry with a probe to obtain completely objective measurements on the ability of this projector to reproduce colors correctly. The measurement of colorimetry is expressed with a unit of measurement called delta E. Ideally, we need to obtain a delta E lower than 3 so that the human eye does not perceive a difference with reality.
The test of colorimetry also allows to determine the extent of the colors as well as the level of contrast.
Well, this is for the technical explanation. In concrete terms, I tested all possible image configurations to find the best one. I got the best compromise with the cinema brightness mode and the film image mode.
Here is a summary table of the results for each test I made. The projector's base image is much too cold, it has a bluish appearance but you can mitigate this problem by selecting the right configuration.
| | | | | |
| --- | --- | --- | --- | --- |
| Light | Image | dE overall | dE white | T° White |
| Vivid | Film | 9.5 | 11.2 | 8862 |
| Vivid | Desktop | 7.34 | 7.8 | 7270 |
| Vivid | Game | 9.13 | 7.8 | 8969 |
| Cinema | Film | 6.45 | 5.3 | 5835 |
| Cinema | Desktop | 6.53 | 5.3 | 7069 |
| Cinema | Game | 6.54 | 5.4 | 7071 |
With Cinema and Film mode, you get a delta E of 6.45 with values quite close for Office and Game mode. Movie and game modes produce a slightly too cold image, office mode produces a slightly too warm image. It's up to you to see what suits you best
It is possible to go a little below 6 with custom settings but these depend on your screen type. There is no magic formula but I can give you an indication of what to do. You need to decrease the proportion of blue to land between 30 and 40, you need to decrease the green a little to 45 at the most and you can increase the red to 60 or even a little more if the image is still too cold. With this type of setting, I obtained a delta E of about 5.
Here is the CIE graph from the REC709 color space: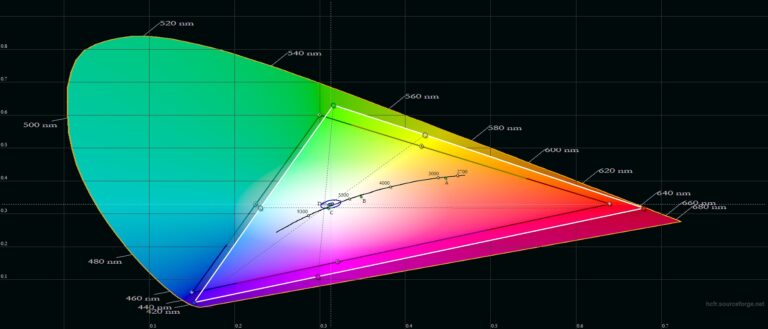 And here is the one from the DCI-P3 color space: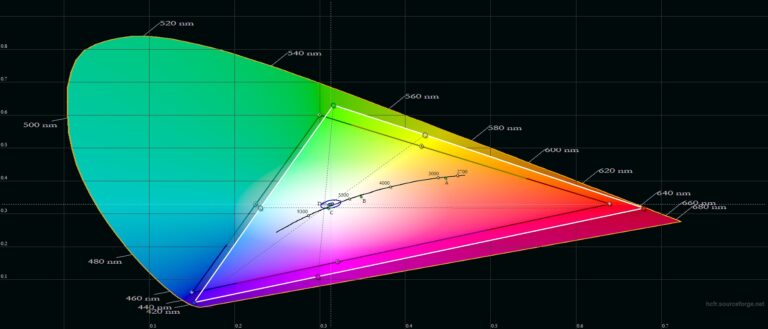 I would say that the space is less than 90% with this configuration.
This graph shows the color coverage of this projector. The center triangle represents the REC709 color space. This space covers 2.5 million colors, it is designed basically for television. The other triangle represents the color space measured for this projector. We see quite clearly that the color space of this projector is more important, it approaches the standard DCI P3 which covers even more colors.
This projector can theoretically reach 90% of the DCI P3 space, the software that I use does not allow to calculate the percentage but we can clearly see on this graph that this projector largely exceeds the REC709 space.
Brightness
The Mogo 2 Pro has a theoretical brightness of 400 ANSI lumens. What does that mean? This is a fairly low value. It means that you are going to have to use the projector in total darkness and you are going to have to limit the screen size.
I measured the brightness for the different configurations available and I got 357 lumens for the "vivid" mode, 331 for the "cinema" mode, 361 for the "office" mode and 383 lumens for the performance mode.
So we are not very far from the advertised 400 lumens. The performance mode is absolutely unusable, the image is greenish and the projector starts to ventilate like a hair dryer. The projector has a projection ratio of 1.2, which means that you get an image of about 80 cm wide with a gray border all around. At 2 meters you get an image of about 160 cm wide. This is a good projector ratio but with such a low brightness, I advise you to place the projector at maximum 1m75 from the screen because beyond this distance the image will be too dark.
I placed my projector more than 2 meters from the screen but I have a screen with a gain of 1.2 to compensate for the difference but the brightness is still a little too low.
So don't forget to take this factor into account in your purchase decision as it is a crucial element!
Image with lighting:

Image without lighting:

Sharpness
XGIMI projectors are generally very good at brightness and this is once again verified with this Mogo 2 Pro. As you can see on these images, the different lines and the gap between the lines are very sharp. I saw a little bit of chromatic aberration but nothing too dramatic.
This is where we also see the limitations of the DMD chip as the single pixel separated lines are no longer visible but this will not affect the image quality in a movie.
Contrast
Contrast is often the weak point of projectors in this price range and it is also the case with this projector. I measured a contrast that varies between 300 and 380 to 1 as you can see on this table.
A low contrast means that you will not be able to distinguish the detailed areas in dark scenes. Low contrast is a weak point of this projector but it is also the case for the vast majority of projectors in this price range.
Light Mode: Bright
Movie 365:1
Office 308:1
Game 380:1
Custom 332:1
Brightness Mode: Cinema
Movie 323:1
Office 303:1
Game 351:1
The other configurations do not result in better contrast.
Motion compensation
Not yet available / tested
Image size and projection distance
This projector has a projection ratio of 1.2 which allows you to get an image that is about 80cm wide at every meter of distance. There is a fairly large gray border around the image and this effect can be even more visible if you use the trapezoidal correction. This projector has a good throw ratio but as explained in the paragraph about brightness, you should place it at maximum 1m70 from the screen to avoid having a too dark image. If your screen offers a gain in brightness, you can place the projector further away. My screen offers a gain of 1.2 and the projector was placed more than 2 meters away for this test.
Audio quality
To see the video on YouTube:
YouTube
I used some songs on Spotify to test the audio quality of this projector and as usual, this video will probably be blocked by Google because of copyright. The sound produced by this little projector is really interesting, it can't compete with an XGIMI Halo or Horizon but I find the sound better than on an
XGIMI Elfin
. The sound is of good quality until about 80% of the maximum volume, beyond that the distortion is perceptible.
Video games
Watch the video on
YouTube
The Mogo 2 Pro has a gaming mode that you can activate using an external HDMI source. Gaming mode is not available for games you will be running on the projector.
I used an Nvidia Shield to show you how the projector performs in gaming mode and you'll see that it does really well. Don't pay too much attention to my gaming skills because I'm not used to using a controller, I prefer to use a mouse and keyboard. You won't see it on the video but I was in a pretty uncomfortable position to play because I had to charge my controller to play and the wire was very short, so I had to lean to the side to play. I'm not looking for an excuse to explain my poor gaming skills but maybe this will help you understand why I played so badly.
Encoutered bugs
Not yet available / tested
Test / Review conclusion
The XGIMI Mogo 2 Pro is a projector that I believe will appeal to two types of audiences.
Firstly, there is an audience looking for a portable projector to take anywhere and secondly an audience looking for a first projector at an affordable price. On paper these are two different audiences but in reality they will probably end up using the projector in the same way.
I was interviewed by someone working at XGIMI last year during a survey and I took the opportunity to ask some questions. She explained to me that the buyers of this type of product mainly used it at home but in different rooms. So it's a hybrid use where you move the equivalent of your television into another room depending on the audience and your desires.
It is precisely in this kind of scenario that this projector will find its place. [To take full advantage of the qualities of this projector, it is necessary to be able to use it in a dark environment and with a smaller image size than a traditional projector. If these two conditions are met, you will get a good quality image with a projector that can be placed just about anywhere.
The Mogo 2 Pro is able to produce a nice, sharp and bright enough image if you place the projector less than 1m70 from the screen and in total darkness. The contrast is quite low, but that's also the case for the vast majority of LED projectors in this price range.
The sound quality is also quite good for a projector of this type, I find that the sound rendering is better than the
XGIMI Elfin
which produces a more acute sound.
You can easily use the projector for gaming by associating it with a game console in HDMI, its game mode reduces the input lag below 30ms and allows you to play rapids in good conditions.
Strengths
If I have to quickly summarize its strengths, I would mention:
- the colorimetry, it is good for a projector of this price level
- small size, low weight
- sharpness if you keep an image of less than 1m70
- very low input lag allowing to play with a console in HDMI
- the quality of the sound up to 80% of the volume
- it is silent
- the level of finish, it is a beautiful object
- the use of an official version of Android TV
- the automatic adaptation of the image
- the possibility of using a usb type c port to power it
- the low consumption
Weaknesses
This projector is obviously not perfect, you have to be aware of some weaknesses
- the low brightness, you have to use the projector in total darkness
- the low contrast
- the lack of native Netflix compatibility
- the eco mode that defaults to an external battery
- the lack of motion compensation