Projectors Tests Reviews
Wanbo X1 : test / review
---
Published on: 19-07-2021 / Modified: 14-12-2021
I haven't tested many entry-level projectors so far, the ones I tested had really disappointed me and I thought that despite the attractive price it was really a waste of money. However, I did not give up my search for a good product around 100 € and I hope I found it with the Wanbo X1.
Wanbo is a Chinese projector manufacturer that has been around since 2016, Wanbo produces their own projectors, so they don't just take back components from several manufacturers to make a projector like it already exists so many others. You will no doubt often see the association with the Xiaomi brand, Wanbo is not a brand of the Xiaomi group, the company is part of the Xiaomi ecosystem. This means that it benefits from support from Xiaomi but markets products independently.
Wanbo has already marketed several projectors, I think the best known is the Wanbo T2 Max. If you hesitate between the two, know that they are projectors of quite different philosophy. The Wando X1 is a projector without a real software layer where the Wanbo T2 Max runs on an old version of Android. The X1 is twice as bright (but it's still weak with 300 lumens) and will have to suffer less from the poor performance of its processor because the software layer is very limited.
The aim of this test is not to demonstrate that the Wanbo X1 is worse than a projector at 500 € because the answer is obvious but I would like to understand what a projector at 100 € is capable of producing.
Special Offer (-12%)
I received an exclusive promo code to use on
Banggood
offering a 12% discount on this projector.
Use the following link:
https://www.banggood.com/custlink/vKvYB1Jgi4
and use the code BGLaurent to get your discount
Site where I have bought the Wanbo X1:
https://www.anrdoezrs.net/links/8789234/type/am/https://www.lightinthebox.com/en/p/xiaomi-x1-mini-projecteur-led-projecteur-5000-lm-portable_p8708319.html
Price Wanbo X1
The list below shows the prices for the Wanbo X1 from more than 50 sites around the world. If you are not satisfied with any price, you can subscribe to a price alert to be the first to be notified when the price drops.
Aliexpress
,... If you appreciate my work, I would be grateful if you could purchase these products through these links. It costs you absolutely nothing but I get a small commission that allows me to buy the material I test. Thank you very much!
The above links are affiliate links from companies such as Amazon, Gearbest,
Timeline
August 4, 2021: I receive the Wanbo X1 from China (Lightinthebox.com), the test can start.
Why this projector?
The Wanbo X1 is an entry-level projector that I find interesting for the following reasons:
- the software layer is kept to a minimum, so it doesn't take a lot of power to run it
- this projector does not use an outdated version of Android that will eventually be discontinued
- Wanbo has already demonstrated its ability to produce silent projectors
- Wanbo has already demonstrated its ability to produce a decent quality image for entry level
- there are many projectors in this price range but few brands manage to produce more than one model before disappearing, Wanbo seems to have more kidneys solids
Unpacking

The packaging is of no importance to me, but it gives an indication of the positioning of the product. The box of the Wanbo X1 is a box that stands out from the cheap Chinese products that can be found everywhere. There is a desire to position Wanbo as a mature brand with a quality consumer product.
In the box we find the projector, a remote control (without batteries), a video cable cinch type, an hdmi video cable, a power cable, a manual and a protective cover for The lens. The whole is packaged with care.
First configuration
The Wanbo X1 exists in two versions:
- a "bare" version where there is no real operating system
- a version running on Android (an old version)
I bought the bare metal version because these old versions of Android on entry level projectors are often discontinued after a few months and they never deliver the full Android experience . I chose a projector that does its job of projection, I would connect a phone or some other source to feed it with images.
Without an operating system, so there is no configuration, the projector offers to connect a video source (wired or wireless) and you can start straight away. You can therefore connect an Android box or another product such as Amazon's Fire TV stick or an Nvidia Shield.
Finish

As I wrote above, the box of the Wanbo X1 immediately gave me the impression of having a well-finished product in my hands and this was confirmed at the first grip . The Wanbo X1 projector is naturally made of plastic but it uses the same type of plastic as Xiaomi for these projectors. I find the same design with honeycombs on the sides as on the Xiaomi projectors and the level of finish is really good for an entry-level product.
At the front we find the huge lens, this type of projector uses an LCD screen which is projected onto a lens allowing to magnify the image, it is a fairly basic optical process which has the consequence that this type of projector emits heat and needs efficient ventilation.

There are two adjustment wheels behind the lens, one wheel to adjust the sharpness of the image and another to manage perspective. These two wheels must be used manually, the projector does not adjust the image automatically. Perspective management is very practical because if you need to place a wedge under the projector to orient the image, you can correct the perspective effect with this adjustment wheel.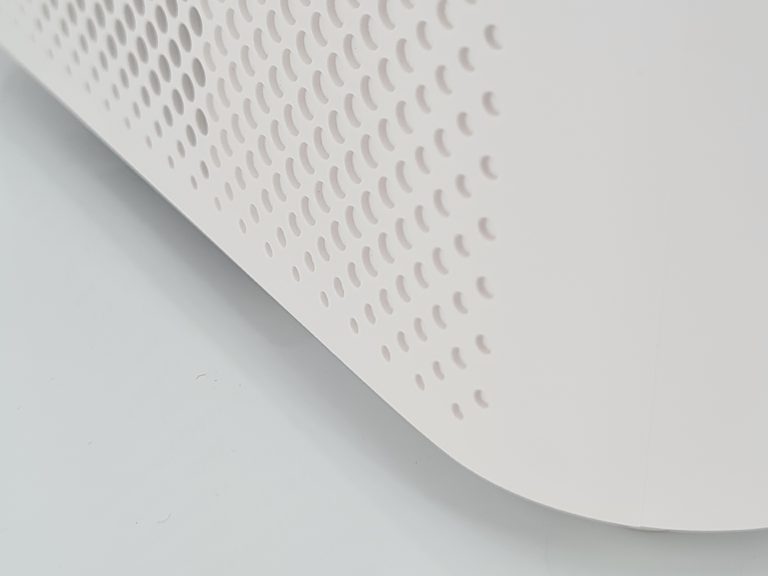 The sides are pierced with cells to evacuate the heat produced by the projector and also allows sound to be diffused.

At the rear there is minimal connectivity which is very well integrated into the projector. There is an audio / video input to connect for example a DVD player, a jack type output for a stereo sound output, a USB input to for example use a USB key and an HDMI port

On the top of the projector are the navigation buttons that allow you to navigate through the projector menus, but these buttons are especially useful if you do not have batteries in your remote control because the remote control allows you to the same without being next to the projector.

Below the projector (and in the middle) there is a tripod mount or any support with a compatible screw.
Projection room
My projection room is rectangular, 4.6m x 2.9m (height 2.2m). The projection wall is a normal wall on which I have applied white paint without any particular treatment. The walls on the side are darker (dark grey and red) to accentuate the contrast with the white wall and avoid too much light reflection.
I have the possibility to place a projector at the back of the room at a distance of about 4m from the screen. I also have the option of placing a short-throw projector at the foot of the wall.
I don't have a dedicated installation for sound, I just use a sound bar from Xiaomi.
Battery autonomy
The Wanbo X1 is not a portable projector, so it doesn't have a battery.
Power consumption

I measured a consumption between 50 and 60W, so the Wanbo X1 does not consume a lot of energy.
Operating noise
By placing my sound level meter next to the projector, I measured a noise level of about 60 dB. This noise level is quite high but a priori you are not going to place this projector next to your ears, the perceived noise will therefore actually be a little lower. Entry-level LCD projectors all have the same problem because the type of lamp used generates a lot of heat and this heat must be dissipated by a ventilation system. The Wanbo X1 is clearly not the worst, I recently tested a projector that exceeded 70dB and the sound of a movie could not completely cover the noise from the projector. The other possibility is to replace the fan with a silent fan but if you do that sort of thing you will lose the warranty but it is technically possible.
Connectivity
Since this version of the Wanbo X1 is not equipped with an operating system, you must connect it to a source to broadcast images:
- by wifi using the projector as a hot spot
- by wifi using an application allowing to synchronize the contents of your phone with the projector
- by cable (AV, HDMI or USB)
I tested screen mirroring and wifi casting with 3 android phones and couldn't get a single one to work. My other projectors appeared in the list but not the Wanbo. The projector is however well connected to my wifi network and is waiting for connection. I noticed that the projector does not work in 5Ghz despite the detection of this frequency.
I also tested the Wanbo X1 with an HDMI cable or more precisely an HDMI key (Mi Stick) to send it videos and here it worked very well.
Image quality
For the following videos, I placed the Wanbo X1 about 2m5 away from my projection wall and got an image about 2 meters diagonally (78 inches). The Wanbo is a 720p projector so it has a lower resolution than what I tested before but since the projected image is also smaller the lack of sharpness is less noticeable.
I had not yet tested a 720p projector and I must admit that I was a little surprised by the image quality, it is better than I imagined, especially for a projector around 100 €! This first video is not bad at all, the outlines are not as sharp as what I'm used to seeing but it's still very watchable. The colorimetry is not always very accurate but I will do some tests with other settings later. The display fluidity is good and the brightness is sufficient (room almost completely in the dark)
On this second video, the type of colors is different, they are warmer colors and I find these colors look better than in the previous video. The sharpness of the static scenes is really good for a projector of this price.
If you can watch this video ("Peru 8k") in 4k, you will see how rich it is in detail. With 720p we lose a lot of this richness, the leaves of the first scene are no longer very clear and we no longer distinguish the textures as well. Despite this shortcoming, the image is still very watchable.
I end this video series with the Top Gun Maverick trailer, this video is also in cool shades like the first and seen here also that the Wanbo is not always very comfortable with this kind of colors but as with other videos, this projector offers a quite acceptable home theater experience.
I knew even before opening the box that this projector was not going to live up to the other projectors that I tested but I was however positively surprised because I m I expected poor image quality but these are just shortcomings. This projector is not designed for purists but if I had to find an analogy I would say this projector offers a similar experience to the picture quality of a television and the 1080p / 4k projectors I have tested are more in the bluray range.
Image sharpness
I took two photos to illustrate how sharp this projector is. I have one photo where I show the entire image and the other where I focus on the lower right corner. The sharpness in the center is really good and even with a 2 meter diagonal image the sharpness is decent. The periphery is on the other hand less clear, it is almost always like that with entry-level projectors, this problem is linked to the optical unit and its curvature.


Judder / fluidity of movements
This projector does not offer motion compensation, so fast motion scenes will be a bit choppy but here too you won't find a projector in this price range that offers motion compensation.
Colorimetry

If you've watched the demo videos earlier in this article, you may have noticed that the colors are a bit cool. This is due to too much blue coming from the light source. This effect can be mitigated by changing the color temperature in the projector, but blue will remain a dominant color. I had gotten a dE of 13 with the factory settings and reducing the blue I got a dE of 10. The color difference is still noticeable but using warmer colors improves the picture. A dE of 10 can seem very important because most of the smartphones that I test get a dE close to 3 but for a projector it is quite common (especially in this price range).
Brightness
The manufacturer announces a brightness of 5000 lumens but they are probably not ANSI lumens because with 5000 lumens you should be able to use the projector in daylight but this is clearly not the case. In reality this projector has a brightness of 300 to 500 lumens in reality. No wonder, you'll never find a 5000 ANSI lumen projector in this price range. With an actual brightness of 300-500 ANSI lumens, you should use the projector in the dark. Wanbo always uses pictures showing the use of this projector in daylight, so this is not possible.
Image size and projection distance
The Wanbo X1 has a 1.35: 1 throw ratio. This means that for each meter of distance from the projection surface, this distance must be divided by 1.35 to obtain the diagonal of the projected image. Here are some examples:
- distance of 1m = diagonal of 74cm
- distance of 2m = diagonal of 148cm
To calculate the width of the image you must use the following formula:
Image width = diagonal in cm * sin (60)
With a diagonal of 148cm, you get a screen width of 128cm.
I placed my Wanbo X1 250 / 260cm from the projection screen and got a diagonal of almost 2 meters and an image 166cm wide.
Audio quality
The Wanbo X1 has an integrated speaker but it is in no way comparable with what we find on projectors like Xgimi or Xiaomi, it is mainly an additional audio source.
Without any sound, the Wanbo X1 is quite noisy, its ventilation emits an audible sound that goes up to 60 dB. It is quite common for this type of projector, the Blitzwolf VP9 that I tested went up to 70dB. It is therefore necessary to move the projector a little further so as not to be disturbed in quieter scenes.
By turning the volume to maximum, the sound goes up to a little over 80 dB, it's quite low but not surprising for this kind of projector. So you will probably need to turn the sound on full if you are using the internal speaker. The sound is not powerful but it is not of poor quality, I did not notice any glaring faults such as a lack of treble or too low bass sounds. This is clearly extra sound, if you want more power and better quality you will need to use external speakers. The sound is however powerful enough to cover the noise of the fan
Video games
To be able to play comfortably with a projector, the input lag must be low. The input lag is a shift in the image between the source and the projected image, if this shift is important you will notice a delay between your actions and the effect on the screen. This projector has no input lag, I was surprised to find that there was no delay between source and arrival. This projector can therefore be used to play with a console (Xbox, Playstation, etc.) connected via HDMI.
Operating system
This version of the Wanbo X1 does not come with an operating system and that is not a bad thing as entry level projectors often use an older version of Android and generally it does not work well. There is a version of this projector with Android 7 but I advise you instead to combine this projector with an HDMI key (ex: Amazon Fire TV, Mi Stick, ...), you will thus transform your projector into a smart projector (with access to all applications).
Encoutered bugs
I have not encountered a bug with this projector and this is almost normal as this projector does not have a very elaborate software layer. It should be seen as a mechanical combination of light, mirror and screen.
Test / Review conclusion
Here is a video showing the main points of my test:
I usually test projectors between 500 and 1000 € and in this price range, there are projectors capable of producing a very good image. I didn't expect the Wanbo X1 to compete with these projectors but I was still positively surprised. With 720p I expected to get a lack of sharpness, but even with a 2 meter diagonal image, the projected image is quite watchable. The sharpness decreases at the periphery but unless you have to read something in this area, it does not show very strongly.
The colors are quite cold, the effect can be attenuated by choosing a warmer color temperature in the parameters but here again we cannot reach the level of a projector at 500 €. This projector does not target home theater purists, it is an auxiliary projector that will allow you to project a large image at a lower cost by accepting some concessions on quality.
This projector is quite noisy, so you will have to install it at the back of the room. Its brightness is not sufficient to use it in daylight, so you will have to use it in a dark room.
All of this may seem negative but be aware that it is quite normal in this price range, it will not prevent you from enjoying the immersive effect of a large image without having to ruin you. This projector will work great with a game console or an HDMI stick, so you will enjoy a sophisticated interface and a large image size for a very affordable price. The Wanbo X1 therefore offers good value for money in the price range of 80-120 €.
Strengths
- image size (see examples with 2 meters diagonal)
- sharpness in the center
- energy consumption
- ease of use
- price
- input lag
Weaknesses
- operating noise
- cold colors
- sharpness at the periphery
- IR remote control