Projectors Tests Reviews
Xiaomi Laser Cinema 2 : test / review
---
Published on: 01-03-2022 / Modified: 05-12-2022
Projectors have been part of my daily life for years, I try to test several a year but since these products are quite expensive, I have to make the right choices and unfortunately sometimes I screw up. I broke the bank to test the JMGO U2 which on paper had everything to please but this product had major flaws and I sent it back to the manufacturer. I was a little unsatisfied, so I decided to reinvest this money in a safer value by buying the Xiaomi Laser Cinema 2 which also has everything to please on paper. I took the risk because my level of confidence for this brand is still much higher than for JMGO.
This new Xiaomi projector still costs more than 2000€, so it's not exactly an entry level projector and before spending so much money, you have to think a little little. I will therefore play the role of lab rat for you and I hope that this time I would have made the right choice.
The Xiaomi Laser Cinema 2 is interesting on several levels and it's not really its resolution that makes it more interesting because it uses the same DMD 0.47 chip as other less expensive projectors. This projector is the world's first Dolby Vision projector and coming from Xiaomi, I guess they did it right. No more HDR which gives too dark images or artificial colors, Dolby Vision should make it possible to rectify the errors of the past. The laser is also interesting, it is an ALPD RB+, I haven't had the opportunity to test this type of laser yet. In terms of brightness, it's quite similar to what I see for other brands and I'm curious to see the contrast because it's the weak point of most DLP projectors around 1000€.
Special offer
The price of the Xiaomi Laser Cinema 2 has dropped to its lowest price since launch. You can get it for 2034€ with delivery from Czech Republic or Hong Kong.
Xiaomi Laser Cinema 2 on
Banggood
(promo code: BGfc7728) (no taxes to pay for Europe)
Manufacturer web site:
https://www.mi.com
Site where I have bought the Xiaomi Laser Cinema 2:
https://www.banggood.com/custlink/3vDyb13KjO
Price Xiaomi Laser Cinema 2
The list below shows the prices for the Xiaomi Laser Cinema 2 from more than 50 sites around the world. If you are not satisfied with any price, you can subscribe to a price alert to be the first to be notified when the price drops.
The above links are affiliate links from companies such as Amazon, Gearbest,
Aliexpress
,... If you appreciate my work, I would be grateful if you could purchase these products through these links. It costs you absolutely nothing but I get a small commission that allows me to buy the material I test. Thank you very much!
Timeline
February 17, 2022: order the Xiaomi Laser Cinema 2 on Banggood.com (with discount coupon)
March 07, 2022: after a few days of delay for delivery, the projector has finally arrived and the test can start
Why this projector?
I chose this projector for technical reasons and subjective reasons. The technical reasons are directly linked to the innovations offered by this projector, such as the ALPD RB+ laser and Dolby Vision. I have not yet found a projector capable of handling HDR correctly, with the Dolby Vision of this projector I might finally have a projector that is able to handle the dynamics in the images. The subjective reason is the brand. I tested 3 other Xiaomi projectors and they all managed to outperform the competition in their price range. I just have a concern about the energy consumption of this product because my main projector consumes about 75W where this Xiaomi announces 300W. I hope that will not be the case.
The version I bought is the English/Chinese version because there is not yet a European version but a priori, you do not need to be perfectly bilingual to be able to use a projector of this type. I'm curious to see if Xiaomi's interface can compete with the standard Android TV interface, a lot of questions that will be answered before the end of March.
Unpacking

I was a little surprised by the package when I received it because the box was bigger than I imagined and it was quite neutral with no real indication of the contents. Xiaomi is used to displaying its brand well on its packaging. It was when I opened the package that I understood why this box was so neutral, it contained another box which was carefully protected by a thick layer of foam and this box was less neutral than the first and its dimensions were more in line with what I expected to receive.
The box contains the bare necessities, there is of course the projector which is double wrapped in a foam dense enough to absorb shocks, there is a manual (totally in Chinese for this version ), a cleaning cloth, a bluetooth remote control with 2 AAA batteries and a mains cable (note, cable with US plug for the version I tested).
For a product at this price, I expected the product to be a little better highlighted, it doesn't matter to me, it's just an observation.
Operating system
The version I tested is the Chinese version (the only one available at the time of this writing) which can be adapted to your needs in two ways:
- the easiest: connect an Android box or a Android stick on the projector, so you benefit from a maximum of settings without having to venture into the Chinese part of the projector. This solution also has the advantage of not depending on updates in Chinese and does not require any technical or linguistic skills.
- the most complicated: it is possible to install another software layer on the projector to switch this projector to Android TV. This manipulation is not within everyone's reach, but it is possible. I'll try to describe it when I'm done testing the projector.
It is also possible to switch part of the interface to English with the method described below but be careful, this will only change the submenus with the settings, the interface main will remain in Chinese. This little easy manipulation will allow you to take advantage of all the settings of the projector in combination with an external solution. For this test, I chose to switch the menus to English and I used my Nvidia Shield to control the projector.
How to switch from Chinese to English?
1. Locate the line with the three buttons on your remote control with "home", "back" and "settings" functions. Press settings

2. A menu then appears at the top of the screen, choose the cogwheel

3. You then arrive in the settings in Chinese, you must select the second icon (the one to the right of wifi)


On this screen go down to the last symbol on this screenshot, click on it and there you can select English .
If you get a little lost in the menus, you can use the Google translate application in the Play Store, it allows you to translate what your camera sees, that helped me allowed to find the language in the menus. There are all kinds of videos explaining how to change languages on YouTube, but most of them involve a bit complicated process. The method described in this article is simple and does not require any technical manipulation.
I admit I was a little surprised by this interface completely in Chinese, I expect everything to be available in English. So I preferred to connect my Nvidia Shield to the projector to have a good Android experience and a very powerful box to be able to play almost any type of content.
Finish

The Xiaomi Laser Cinema 2 is significantly smaller than the JMGO U2 that I just tested, it has a dimension quite similar to other laser projectors of the same brand. The projector measures 54 cm in length for about 35 cm in depth and ten centimeters in height. The weight is between 9 and 10 kg.

The front panel is covered with a fabric covering the audio system and its speakers, it is a fairly common choice at Xiaomi. The choice of dark fabric blends quite well with the black color of the spotlight.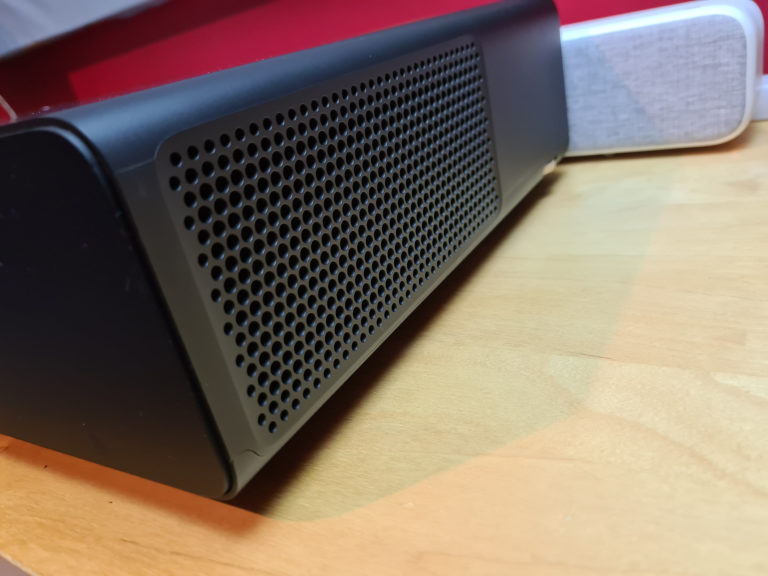 On the sides we find the ventilation grilles, this is the noisiest place of the projector but since this noise is propagated on the sides, the impact of the noise on your cinema experience is minimal. It is also from this part of the projector that the heat comes out, it is perceptible if you place your hand next to the projector but it is not likely to replace your heating installation.

Below there are silicone supports to dampen vibrations as well as the attachment points to hang the projector from the ceiling. There are also two small wheels at the front which allow you to modify the inclination of the projector and reduce the perspective effect it may have on your screen.

At the back there is a fairly rich connection with 3 HDMI ports including 1 in eARC, two USB 2.0 ports, a jack output, an SPDIF output (digital audio) and an RJ45 port for a wired connection. The projector works without problems in wifi but if you have the possibility of using a cable, it will save you the latency of wifi.
Projection room
My projection room is rectangular, 4.6m by 2.9m (height 2.2m). I have two projection walls, one white wall 2.9m wide with just white paint with a possible 4m setback. I then have a 133 inch ALR screen on another wall with a possible setback of 2.8m. I mainly use the ALR screen except when the layout or type of projector is not suitable for this situation.
Battery autonomy
The Xiaomi Laser Cinema 2 is not equipped with batteries.
Power consumption

I was very negatively surprised by the power consumption of this projector, I measured more than 270 watts at the outlet, that's really a lot. As this is an important criterion for me, I started to play with the parameters to reduce consumption, as I do with all projectors. No matter how much I changed any parameter, even the brightness, the consumption remained very high. I was a little frustrated but discovered a trick by accident that can lower the consumption to 165 Watts.

To obtain this result, go to the image settings, choose "brightness mode" then "silent mode". At this stage the consumption does not change, then wave your hand in front of the laser beam to display the warning message to protect your eyes, wait a few seconds and then exit this screen. Consumption drops to 165W. Do not change the "brightness mode", you can however change the others and even increase the brightness, the consumption will not change. It's completely crazy as a situation because even if the brightness is probably a little less strong, consumption should adapt without having to go through this trick.
Operating noise

This kind of projector is usually quite noisy, the previous model I tested was clearly audible during quieter scenes. This is not the case for this Xiaomi Laser Cinema 2, I measured 47 dB right next to the projector, I barely hear a hum and if I'm sitting 1.50m from the projector I can't hear anything anymore.
Connectivity
The Xiaomi Laser Cinema 2 works in 2.4Ghz and 5Ghz wifi, these two frequencies work correctly. It is wifi 6 and bluetooth 5.0 compatible.
Image settings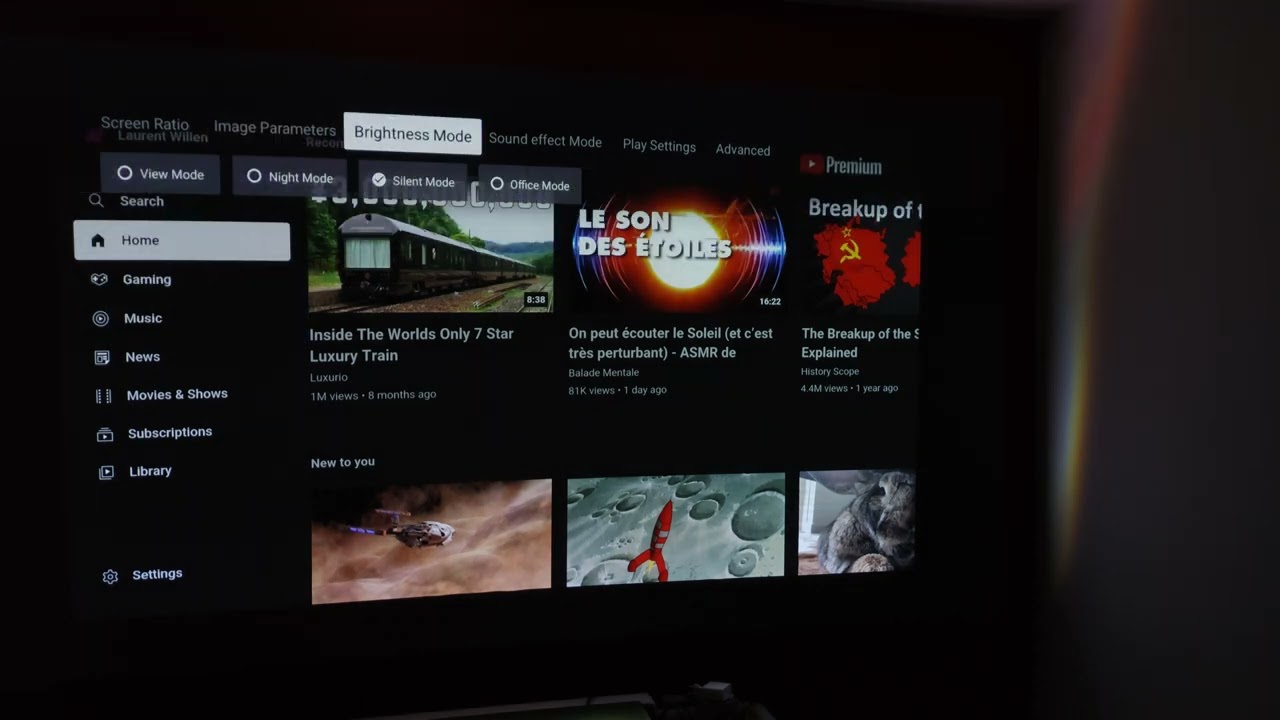 The Xiaomi Laser Cinema 2 offers many settings to adjust the image and sound. This projector offers many pre-configured modes (cinema, sport, office,...) but you can also play with the settings yourself by defining the brightness, contrast, saturation, color temperature and tone. You can also configure the sound in the same way. This adjustment menu can be called up with the settings button on the remote control, so you can adjust the image while watching a movie on the projector or from an external source. It is unfortunately not possible to influence each color individually in HDMI but I still have to do my calibration tests to see if it is really necessary.
Image quality
First test (original video: https://youtu.be/YAWt-gktZqM)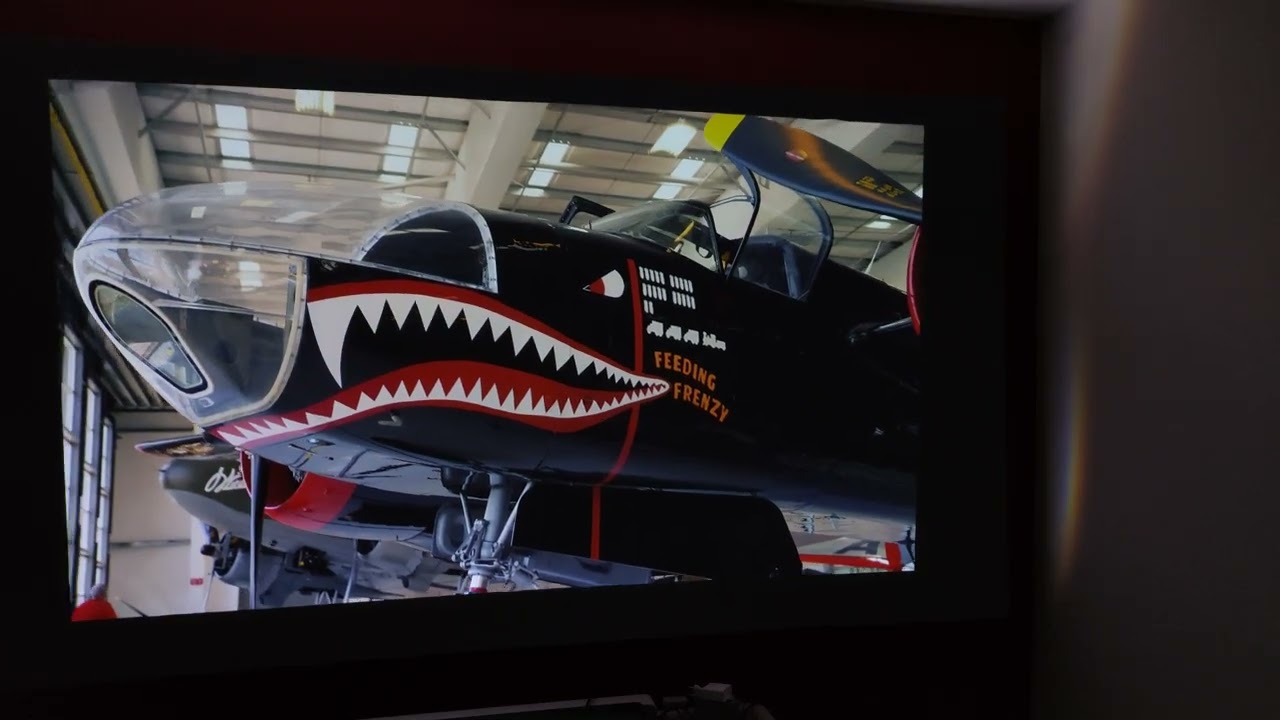 This first video uses rather cold colors with fast lateral movements, there are also quite strong contrasts. From the first seconds, you realize that the contrast of this projector is excellent, it's the best I've tested. The cold colors are correctly rendered with perhaps a little too much blue in standard mode but I still have to perform the calibration to make sure that the colors are really accurate. This video uses factory settings and the result is really good. The movements are very fluid and the sharpness is really excellent, I don't see any interference in the image as is sometimes the case with laser projectors.
Second test (original video: https://youtu.be/LXb3EKWsInQ)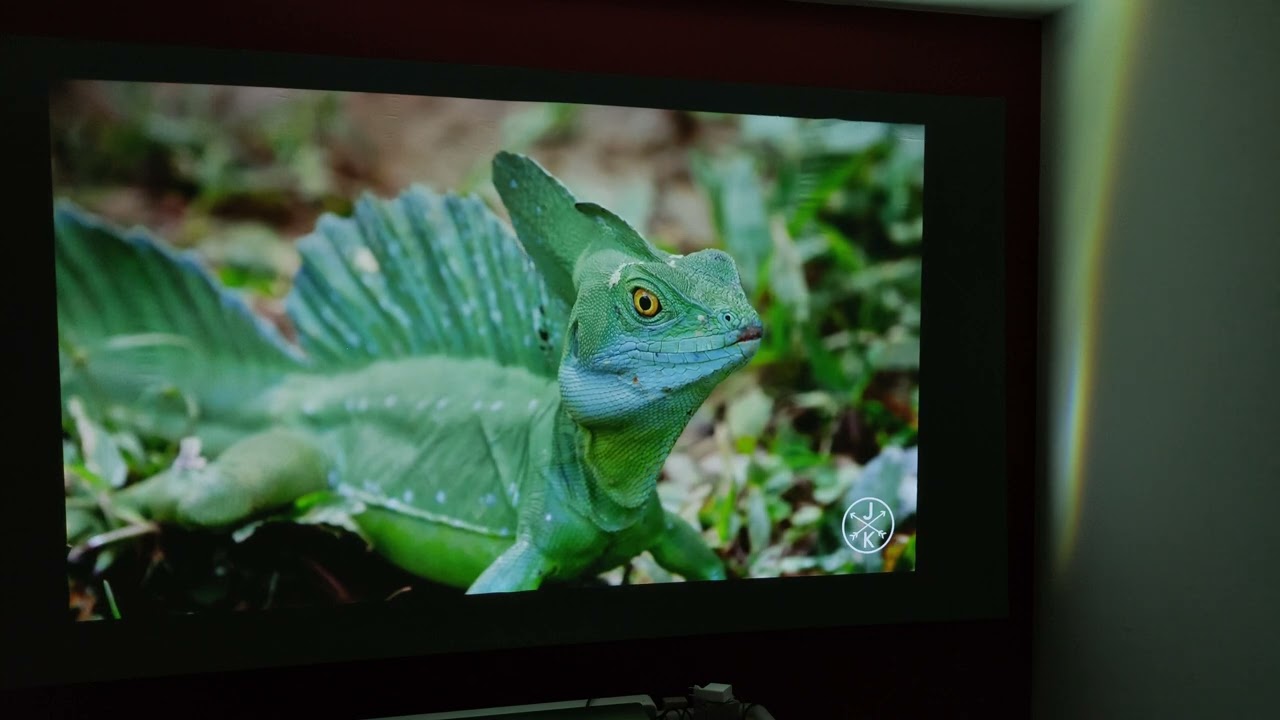 This video is a bit opposite to the previous video with warm and saturated colors, the movements are also less numerous. While the first scene isn't very accurate when it comes to color, the rest of the video is flawless. The colors are bright and saturated as in the original video, the sharpness is really superb and the contrasts are also excellent.
Third video test (original video: https://youtu.be/n3Dru5y3ROc )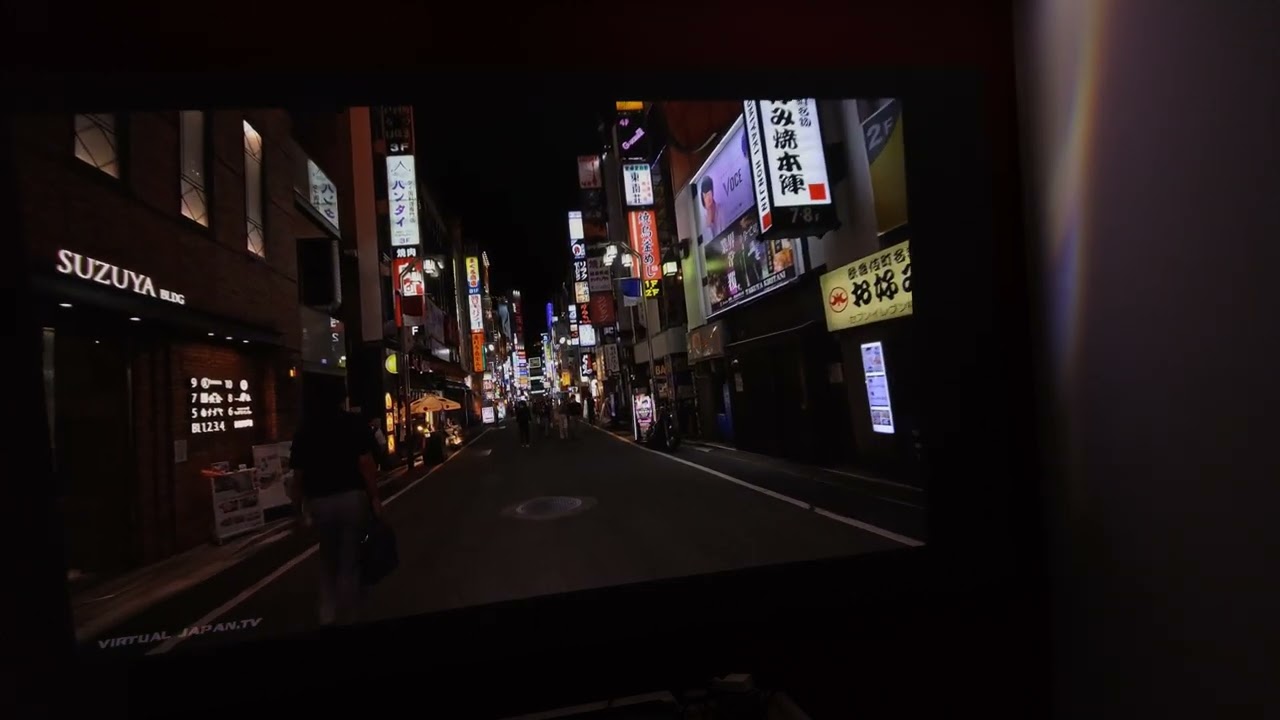 This video is a little brighter in reality but it shows that this projector is able to produce an excellent contrast, the sky between the buildings is almost totally black and the bright areas are very well cut out.
Updated 12/03 after successfully finding the correct settings for calibration. I took my usual videos and assembled them into a single video after the calibration: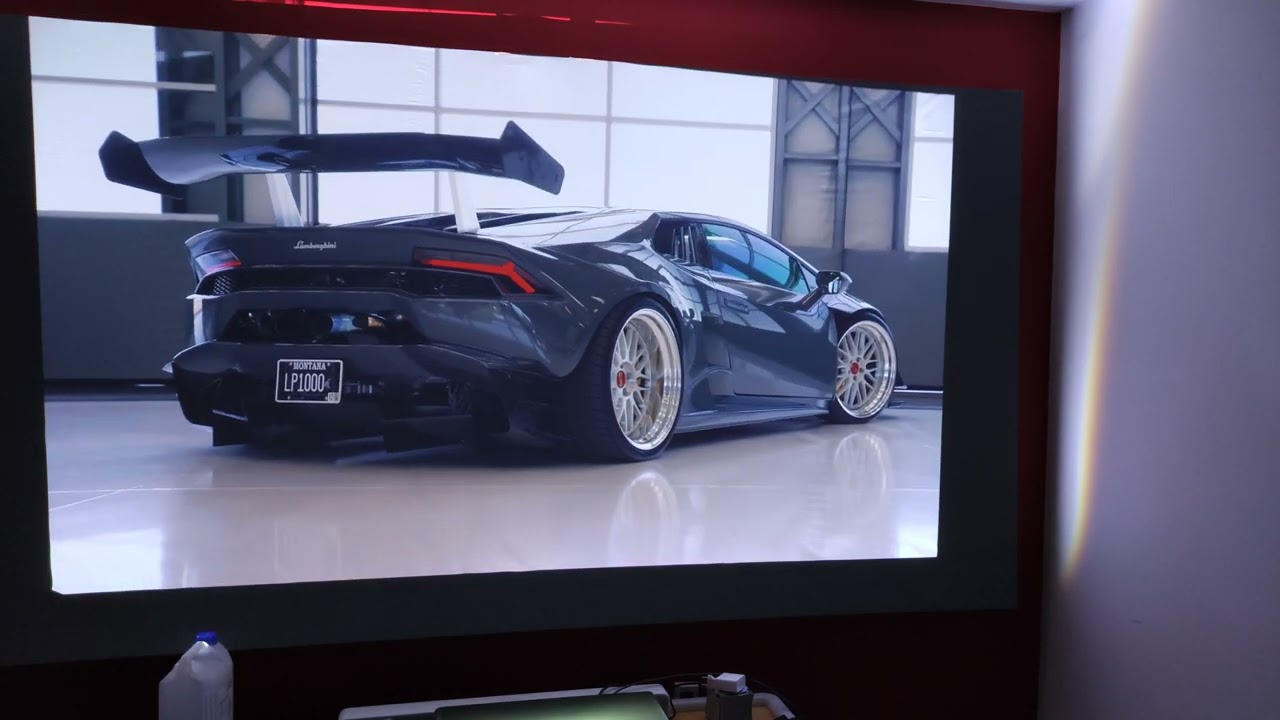 This projector is simply the best projector I have tested so far. I had tested the JMGO U2 a few weeks ago, this projector is in the same price range as the Xiaomi but the Xiaomi exceeds it at all levels.
Colorimetry
I measured the colorimetry of each mode offered by this projector and then tried to do better by using the custom mode. The modes offering the best colorimetry are the "movies" and "childish" modes, I obtained a dE between 6 and 7 with these two modes. With the other modes, I obtained a dE between 9 and 12 with sometimes a very bluish colorimetry.
Here is the CIE diagram for the "movies" mode:

And the one with the "custom" mode where I went down to a dE of 5.54:

I I have to spend a little more time on colorimetry because I'm sure I can do better but my probe isn't sensitive enough for a laser projector, that doesn't make my job any easier. If you don't have anything to calibrate the probe, I recommend the "movies" or "childish" mode, these modes offer a very nice image.
Update 12/03: After spending a lot of time looking for the right setting I was ready to give up thinking I wasn't going to do better than 5.54 but I hadn't seen that the brightness mode (view, night, silent and office) had a huge influence on the colorimetry. By switching to office mode, decreasing the blue and increasing the red, I managed to get a dE of less than 3!
What are the ideal settings? They will depend on the type of screen used but if you apply the following rules, you should be able to do better than "movies" mode:
- use "office" mode for light
- do not change brightness, contrast, saturation or hue. By default these values are at 50 but the results are good
- dynamic contrast activated (this is the default case I think)
- in the color settings it is imperative to reduce the blue which is much too pronounced, I reduced it to 912 but it will have to be adapted to your situation
- the red must be increased, I increased it to 1050
- the green can be locate near red, I set it to 1040
My screen is gray, so these settings are suitable for this type of screen.
Brightness
The Xiaomi Laser Cinema 2 is a very bright projector, it's probably the brightest among those I've tested. This brightness varies quite strongly from one mode to another, the "movies" mode which offers the best colorimetry is one of the darkest while the "sport" mode and the "game" mode are the brightest. I did not manage to reach the 2400 ANSI lumens announced by Xiaomi, I obtained values between 1800 ("movies" mode) and 2200 ("game" mode). Manufacturers often advertise values that are higher than the reality, but this projector is bright enough to be used in daylight, except perhaps in a room bathed in sunlight.
This is what it looks like in the dark:

And with daylight:

Blacks are obviously shallower but it's significantly better than the vast majority of projectors I've tested so far.
Sharpness
The sharpness of Chinese projectors varies greatly from one brand to another, XGIMI tends to force the sharpness where Xiaomi manages to find a balance for a more natural rendering. The sharpness of this projector is excellent, it makes it possible to distinguish very close lines without any degradation in quality due to overly forced processing. I use an ISO 12233 canvas to examine edge-to-edge sharpness, I get this:

My canvas is not perfectly stretched on the right, the loss of sharpness is caused by the canvas and not by the projector but it shows that with a laser projector, you have no room for error. Edge-to-edge sharpness is excellent and consistent.
If I zoom in, I get this: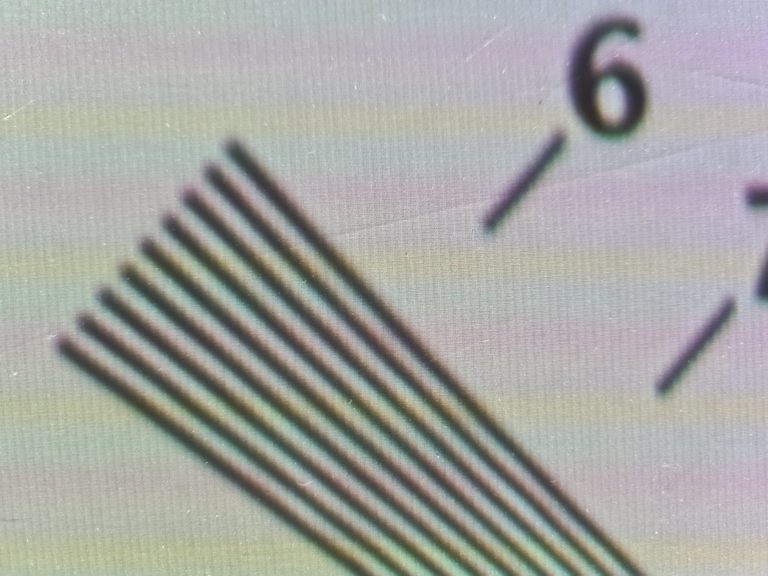 I took these photos with 50/100 sharpness, this is the default setting.
Contrast
I tested several projectors with the DMD 0.47 DLP chip from Texas Instruments and so far I hadn't been able to exceed a contrast of around 500:1 on an
Xgimi Horizon
. Fortunately, the Xiaomi Laser Cinema 2 manages to do much better with its ALPD RB+ light. Here there is no question of images with gray scenes where the image should be black, the black is much deeper than on the Xgimi Horizon. I obtained a contrast between 2400 and 3000 depending on the mode used. Again, it is the "movies" mode which produces the poorest contrast and the "sport" or "game" mode which provides the highest contrast but with less accurate colorimetry. With such a level of contrast, dark scenes are rendered very well.
Motion compensation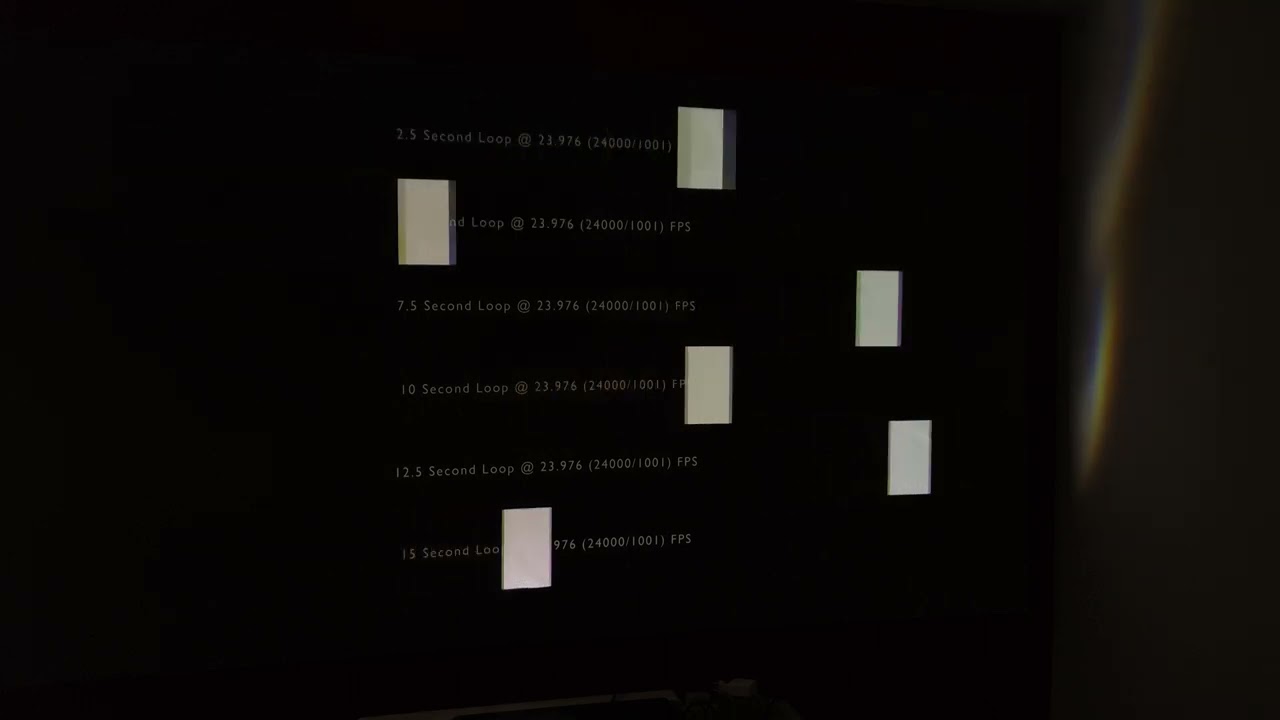 The Xiaomi Laser Cinema 2 has 4 modes for motion compensation (MEMC) ranging from no compensation to high compensation (none, low, mid, high). This compensation is very effective as you can see on this video, the white block above the screen shows that the image is very jerky when the compensation is not activated. If you don't like the soap opera effect in movies, you can reduce the intervention of compensation or turn it off altogether. The lowest level of compensation already does a good job and should represent a compromise for those who want to avoid having jerks in the image while avoiding the soap opera effect.
Image size and projection distance
The Xiaomi Laser Cinema 2 has a throw ratio of 0.233, which means that with a distance of one meter you get an image with a width of 4.29m. Obviously it doesn't make much sense to place this type of projector so far away, I just used 1 meter to make the calculation easier. To get the width of the image, just divide the distance by 0.233. If you have a distance of 0.5m, you will obtain an image width of 2m14. To calculate the diagonal, simply multiply the width by 1.2 (rounded) if you are using a 16:9 screen.
This projector therefore allows you to obtain a very large image with little distance but do not forget that the light decreases as the square of its distance so if you move the projector too far from your screen , you will quickly lose brightness.
Audio quality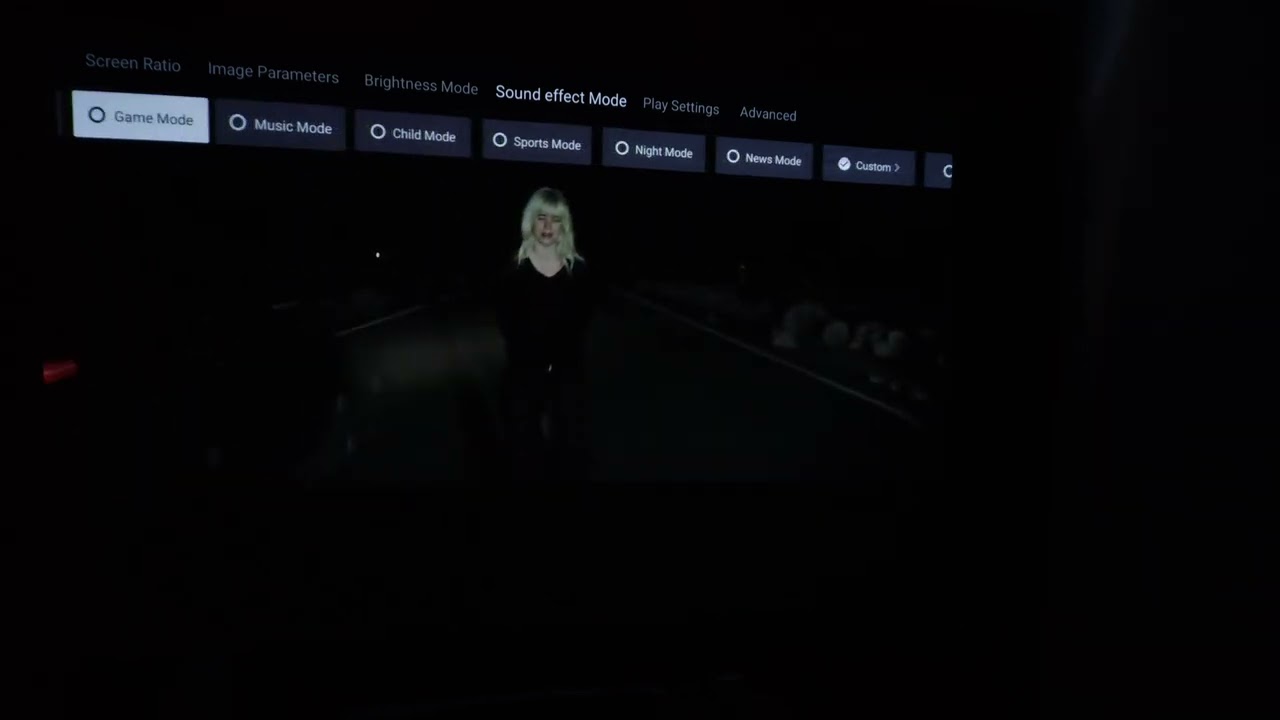 I used a video of Billie Eilish to test the audio because Billie Eilish uses the use of her songs outside of her channel. I've gone through all the available audio modes, I suspect that capturing sound through a phone doesn't give the best result to give you an idea of the sound quality, so I'll summarize my experience. I find the two best sounding modes are sport mode and custom mode. The sport mode offers a greater richness of sound in the treble where these frequencies are not sufficiently well rendered in cinema mode. I was a little disappointed by the cinema mode, moreover, because I find that it saturates a little too quickly. The custom mode is probably the most interesting because it allows you to apply a gain to the voices, it's the first time I've seen this on a projector and it's a very good thing because the voices tend to be muffled when other, lower-pitched sounds take over. It's not the projector that produces the best sound (XGIMI does better I think) but the sound quality is good. Obviously if you have a dedicated hifi installation it's even better.
Video games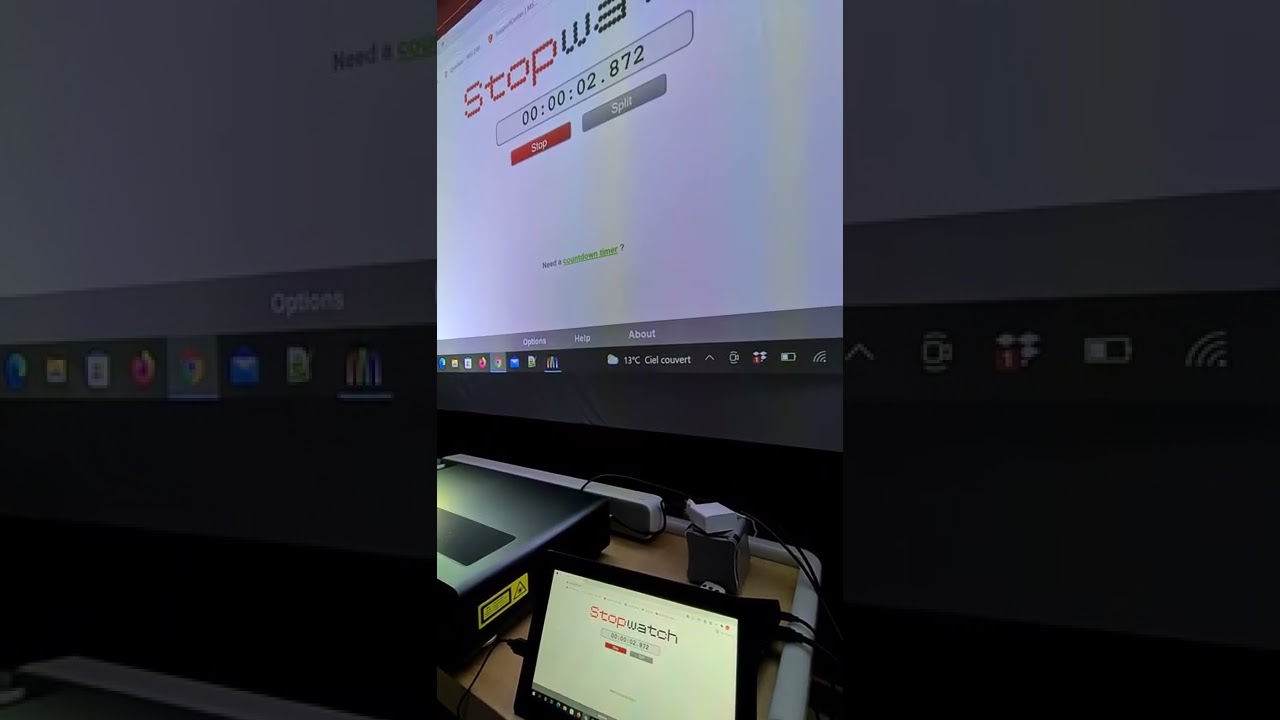 I measured an input lag between 60 and 70ms in "custom" mode but if I use gaming mode (see video above), I don't see any lag at all . This is great news for gamers as they will be able to connect their Xbox or PlayStation to the Xiaomi Laser Cinema 2 with excellent in-game experience!
I made a video of Conan Exiles streaming via Steam and using the "custom" mode to have a nice image, the gaming experience is very good. The stuttering in the video is caused by the phone I used, there is no slowdown or lag in reality:
Don't pay too much attention to my gaming skills, I I'm not used to playing with a gamepad, I usually play with a keyboard and mouse on PC.
Encoutered bugs
Not yet available / tested
ALR/CLR Projection screen
Are you looking for a good ALR/CLR screen for your projector? I may have what you need:
ALR/CLR NothingProjector Screen
Test / Review conclusion
Note:
if you enjoyed this test, buy your projector through my links, this will allow me to finance future projector purchases. Thank you!
I broke my piggy bank for the second time this year for a projector over 2000€, I regretted having done it for the JMGO U2 but I did well to don't stop with this unfortunate experience because the Xiaomi Laser Cinema 2 is simply the best projector I've tested. It is without doubt one of the best projectors under 3000€ today.
The Xiaomi Laser Cinema 2 offers several configurations to adjust image quality and while these settings aren't bad, they don't fully exploit the projector. Fortunately, it is quite easy to obtain a better quality image without sacrificing contrast or brightness. I spent a lot of time trying to find the right settings but I'll save you the hassle, you will find some tips in this article to adjust your projector. The colorimetry is excellent, the contrast is excellent, the sharpness is good, the image is bright and superbly saturated. I went to see The Batman at the cinema recently and found the picture to be worse than this projector!
I tested the Chinese version because there is no other for the moment. Should I buy this version or wait for a global version to be released? I can't predict the future but if I base myself on previous Xiaomi models, the global version always costs more than the Chinese version and in addition it offers less adjustment possibilities. This is what motivated me to buy this version rather than wait. If you have an external source (I use an Nvidia Shield) for your films, you will almost never see the Chinese version of this projector and that, in my opinion, is the condition for taking full advantage of it. You can also try to change the firmware but you will lose some settings. Between taking the lead with another firmware and using an external solution that works perfectly, my choice was quickly made!
The sound produced by this projector is powerful and of decent quality, although it's not the best projector I've tested at this level. It is especially the "custom" mode with its Dolby Atmos and its voice compensation that produces the best sound. I imagine that if you invest that much money in a projector, you probably have a hifi installation that will deliver even better quality.
Everything seems perfect, right? Well no, this projector still has some weaknesses. The first is its electricity consumption, it is very greedy and changing the brightness does not change anything. It doesn't make sense, I'll contact Xiaomi about it as it looks more like a bug. Usually their products are less greedy. There is also another thing that bothered me is that the settings sometimes change on their own. If I choose a brightness mode, sometimes the projector switches to another mode. Switching from one mode to another sometimes does not change anything unless you go through the laser interrupt screen. Looks like a bug here too, I'll report it to Xiaomi as well.
My final verdict is not very nuanced, it's quite simply the best projector I've tested. It is quite expensive I think, but if you are looking to buy an excellent projector that you will keep for many years, you have a very good candidate here.
Strengths
- colorimetry (after calibration)
- superb contrast
- brightness
- sharpness
- fluidity of the image
- reduced operating noise
- format not too bulky
- very good throw ratio
- voice compensation and Dolby Atmos
- Dolby Vision
- excellent input lag for gamers
Weaknesses
- electricity consumption
- bugs in the settings
- Chinese version only, requires an external source (Fire Stick, Apple TV, Nvidia Shield,...)
- sound quickly saturated in some audio modes
- no zoom, throw distance defines image size