Projectors Tests Reviews
Wemax Nova laser 4k: test / review
---
Published on: 12-12-2022 / Modified: 01-10-2023
This projector is the 12th projector I've tested this year (in 2022), that's more than I've been able to test in all the other years of this blog's existence. I gradually moved away from my reference brands (XGIMI and Xiaomi) to test other types of projectors (LED, lamp, laser, etc.) marketed by other brands. Today I am going to test the Wemax Nova, it is an ultra short throw (UST, ultra short throw) laser projector capable of producing a 4k image by extrapolation (XPR) and using an ALPD laser light source 3.0, opening the door to wider color coverage. I have tested other projectors of this type, so this will allow me to better compare this model with its competitors.
Before getting to the heart of the matter, I'm going to take a little break from general knowledge and give some information on the Wemax brand because this brand is not very well known in Europe. Wemax is a New York-based company that is part of the Chinese Appotronics group. How is it interesting? The Appotronics group has teamed up with Xiaomi (them again!) and the Belgian company Barco, the world leader in indoor projection. Appotronics markets projectors under the Fengmi brand for the Chinese market, Formovie for the American market and Wemax for the American and European market. All these brands therefore all come from the same origin, the similarities between the products of these brands are not the result of chance. If you buy a Xiaomi laser projector, chances are you will find a Fengmi label on the back of the projector.
Promotion until January 22nd
Wemax offers a reduction of 500€ on this projector, this positions the price of this projector at a very interesting level. To take advantage of it, don't wait too long, the offer is valid until January 22.
Wemax Nova on Amazon
Where to buy?
Wemax is now available in Europe and it is available in most major stores:
Wemax Nova on Amazon
Wemax Nova on Nothingbutlabel
(often the cheapest)
Wemax Nova on Fnac.com
Wemax Nova on Cdiscount
(cheaper than on Amazon)
Manufacturer web site:
https://www.wemax.com/
Price Wemax Nova
The list below shows the prices for the Wemax Nova from more than 50 sites around the world. If you are not satisfied with any price, you can subscribe to a price alert to be the first to be notified when the price drops.
The above links are affiliate links from companies such as Amazon, Gearbest,
Aliexpress
,... If you appreciate my work, I would be grateful if you could purchase these products through these links. It costs you absolutely nothing but I get a small commission that allows me to buy the material I test. Thank you very much!
Timeline
December 12, 2022: Delivery of the projector from the official store at Amazon.de
Why this projector?
I use a
Xiaomi Laser Cinema 2
projector as my main projector and although I am very happy with the performance of this projector, I set out to find a successor so as not to stay with the same projector for too long. It's not an easy task because this projector has set the bar very high. The Wemax Nova has a few advantages that should allow it to stand up to the Xiaomi on certain criteria such as contrast, color coverage, sound or sharpness. The Wemax Nova runs on Android TV where the Xiaomi must be used in combination with an external box because it is only available in Chinese, this "small" difference can play a big role in the purchase decision.
The Wemax Nova represents the top of the range at Wemax at the time of this writing, so there is no better. It uses the same DMD0.47 DLP chip as the Xiaomi and many other projectors, so its specifications will bring it closer to several models from Xiaomi and Fengmi. I have not tested all the models concerned but I hope to be able to answer your questions with the test of this Wemax Nova.
Unpacking

The Wemax Nova is packaged in a fairly simple cardboard box, it is rather imposing but mainly because the projector is well protected by a thick layer of black foam. The box contains the projector, a remote control (without batteries), an AC adapter, a manual and a cloth to remove dust from the laser beam.
Operating system
The Wemax Nova runs on Android TV, this is a standardized and completely official version. This is a definite advantage over the Xiaomi which is only available in Chinese and I also find that this version of Android TV is quite pure, I did not notice any specific customization for Wemax. The startup procedure is very similar to what I've seen on other brands using Android TV. My Google app couldn't find the projector, so I went through the manual setup and it was fine. On the other hand, the projector was quite poorly adjusted when it came out of the box because the image was quite blurred on the periphery, but after adjusting the focus, the sharpness became uniform. On the previous images, you can also see the effect that strong light can have on the image. If you buy a projector to watch movies in daylight, you will be disappointed because strong light (artificial light or daylight) will deteriorate the contrast. This is not a specific problem of this projector, it is a generic problem on a large majority of projectors even if you buy a technical screen allowing to increase the contrast.
Finish

I find that the Wemax Nova has a sober and futuristic aesthetic. The projector is a bit smaller than the Xiaomi Laser Cinema and all edges are sharp, there are no curves. The choice between a structure with curves or an angular structure does not affect the properties of the projector, it is just a matter of taste. On the other hand, I find that the plastic used by Wemax has a more qualitative aura than the standard black plastic of the Xiaomi, the Wemax looks more sophisticated.

At the front there is a honeycomb cover that hides 4 speakers delivering a sound power of 30W.

On the sides there is a small wheel that allows you to adjust the height of the feet of the projectors (there are 2 at the front), on the right side there is also a USB port but since this USB port is well hidden, I'm not sure if it's usable, it's probably a USB port for maintenance, I still have to test it.

At the back, the surface is completely smooth with just an interruption for all the connectors (I'll come back to this later).

The Wemax Nova is a little smaller than the Xiaomi Laser Cinema 2, it measures 46cm by 31cm with 10cm for the height.

The remote control is almost identical to that of the Xiaomi Laser Cinema 2, the position of the buttons is identical, the home/settings buttons are reversed. The remote control needs 2 AAA batteries to operate and these batteries are not included in the original packaging.
Projection room
My projection room is rectangular, 4.6m by 2.9m (height 2.2m). I have two projection walls, one white wall 2.9m wide with just white paint with a possible 4m setback. I then have a 133 inch ALR screen on another wall with a possible setback of 2.8m. I mainly use the ALR screen except when the layout or type of projector is not suitable for this situation.
Battery autonomy
The Wemax Nova is not equipped with a battery.
Power consumption

On the official Wemax website, I see that the announced consumption is 300W, that's a lot. The projector actually consumes a little less, I measured 242 watts in operation with consumption varying between 200 and 242 Watts. Decreasing the brightness has no effect on consumption, only the brightness mode can lower consumption (viewer mode).
The consumption of the Wemax is therefore lower than that of the Xiaomi, but if consumption is an important criterion for you, the Optoma Cinemax D2 does much better.
Operating noise

The projector makes an audible fan noise (especially when it starts up), I measured just over 50dB near the projector and if I move a meter away the noise is still audible if the projector is not emitting any sound. The Wemax Nova is a bit louder than average.
Connectivity

The connectivity of the Wemax Nova is quite complete with 3 HDMI ports including 1 in ARC, a USB port (+ another on the side), a headphone audio output, a video input, an SPDIF output and an Ethernet port . The projector is also wifi compatible in 2.4 and 5 Ghz, I tested both frequencies and everything works without problems. It can also be used as a Bluetooth speaker.
Image settings
The Wemax Nova offers the following configurations:
- standard mode (cold tone)
- movie mode (warm tone)
- vivid mode (very cold tone)
- sport mode (cold tone)
- monitor mode (very cold tone)
- game mode (cold tone)
There is also a user mode where you can adjust brightness, contrast, saturation, hue, sharpness and color temperature. The possibilities of adjustments are very limited and do not allow fine adjustment of the properties of the image.
Next to the image parameters, you have the possibility to adjust the focus manually (this is necessary because the basic image was blurred), the keystone correction (the management is thin enough) and the position of the projector.
Image quality
I'm going to use 3 trailers to show you the picture quality of this projector but I have to say that the quality is actually even better than what you're going to see because the phone I used to record these videos didn't have not always been able to keep pace between bright and dark scenes.
Dune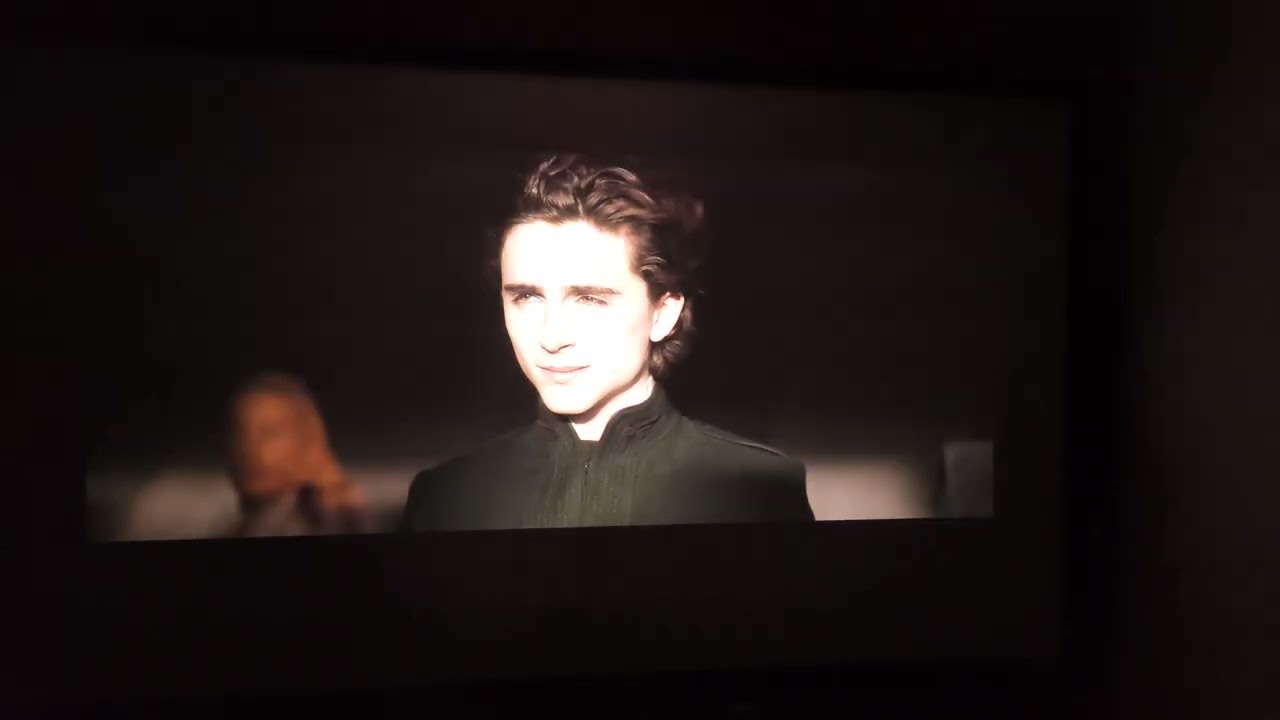 This film has a very special aesthetic, each frame is neat and the colors used are not very common. We go from cold colors with blue, pale green to an orange atmosphere and the color reproduction is rather successful. The projector manages to restore the atmosphere of the colors despite the particular tonality of this video. Sharpness and contrast are also of a very good standard.
Top Gun Maverick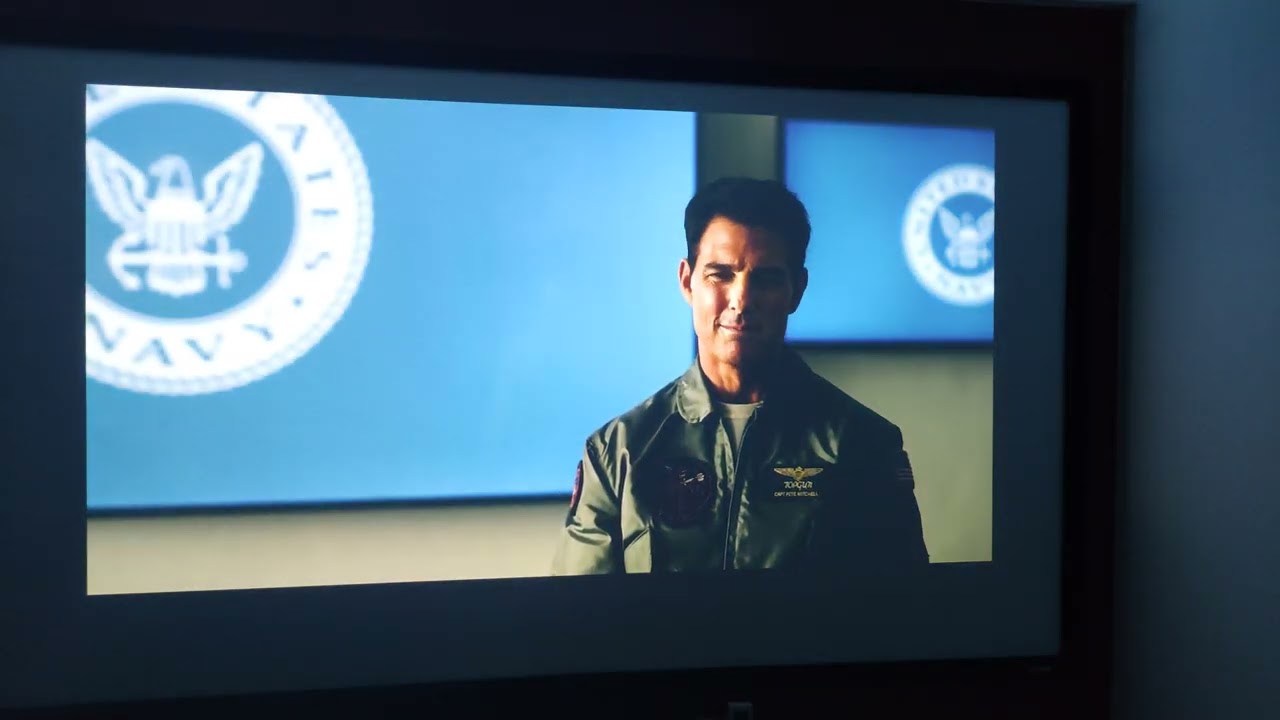 Here we find a more rhythmic film where things move in all directions and equally important variations in the atmospheres . Here too the projector is doing really well, the small shifts in the image are imperceptible and the colors are generally well respected.
The Batman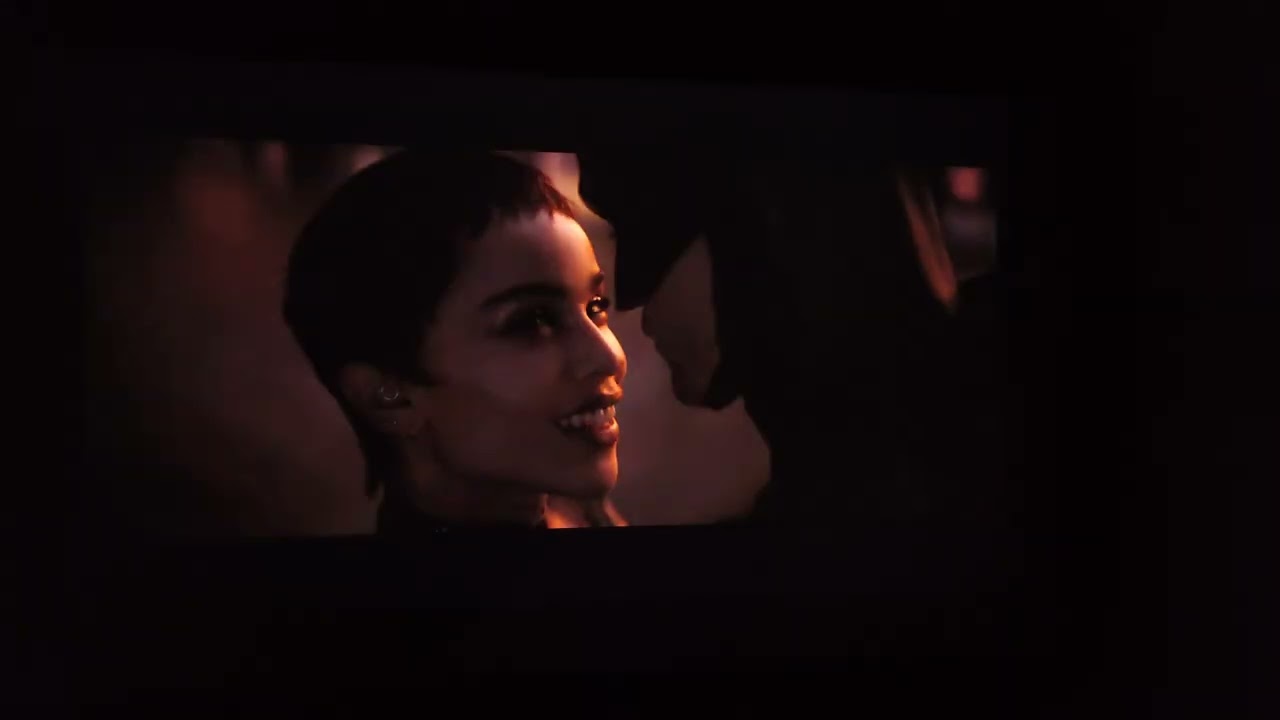 I often use this trailer because the film is very dark and represents a difficulty for projectors that do not have sufficient contrast. This is not the case with the Wemax Nova, the contrast is excellent and dark scenes are rendered perfectly except when my phone has not changed its exposure level quickly enough.
I can do many technical tests to demonstrate if a projector has good contrast, good colorimetry or good sharpness but it is through examples like these that the we really realize what a projector has in its belly. Even if this Wemax Nova does not yet reach the level of the Xiaomi Laser Cinema 2, it produces a very beautiful image!
Colorimetry
I measured the colorimetric difference for each configuration available, it's the "Movie" mode that does best with a dE of 7.68 and a slightly too cold white. I made these measurements on a white screen.
Standard: from 9.27
Movie: from 7.68
Sport: from 9.67
Vivid: from 10.94
Monitor: from 10.04
Game: dE 9.67
Vivid mode is therefore the least suitable for watching movies, the white temperature is very high and the whole image has a bluish tint.
This projector is able to cover 78% of the DCI-P3 space, so it offers wider color coverage with a gain of almost 10% compared to the REC709.
Brightness
This projector has a theoretical brightness of 2100 ANSI lumens. Two brightness modes are available: view, highlight. The highlight mode offers a significant gain in luminosity but this is done at the expense of image quality, I don't directly see a scenario where this mode would be really useful. The view mode is therefore to be preferred, it is in this mode that I carried out my light measurements.
"Standard" mode: 1671 lumens
"Movie" mode: 1193 lumens
"Vivid" mode: 1736 lumens
"Sport" mode : 1376 lumens
"Monitor" mode: 1416 lumens
"Game" mode: 1333 lumens
By testing the highlight mode with the vivid mode, I have obtained 1988 lumens
Although this projector is very bright, it is not possible to use it as a television in broad daylight without losing contrast as you can see in the following photo :

If you are watching a football game or something where the contrast is not important, the image will be visible in daylight but for movies, it is not recommended.
Sharpness
To obtain perfect and uniform sharpness, I had to focus manually. The procedure is not complicated, a few clicks on the remote control are enough to obtain a good result. I photographed the lines of sharpness at the four corners of the image and the distinction between the lines is still visible.
Contrast
With a contrast of 3000:1, this Wemax Nova should offer very good contrast and this also holds true with my measurements, so it's not just marketing. As with color and brightness, each image configuration results in a different level of contrast. I obtained a contrast close to the maximum (between 2900:1 and 3000:1) for the "standard", "vivid" and "monitor" modes, but these modes have too large a colorimetric difference and produce an image that is too cold. The "movie" mode fortunately comes just behind with a contrast of 2705:1, it is an excellent level of contrast and this without having to spend time configuring the projector. With this level of contrast, you will be able to enjoy dark films without any problem, but that does not mean that black will be black, it is not possible with a projector. The excellent contrast comes from the large difference between the dark gray areas and the light areas.
With such a level of contrast, this Wemax Nova can stand up to a Xiaomi Laser Cinema 2 even if the latter is a little better. The difference is not obvious in any case.
Motion compensation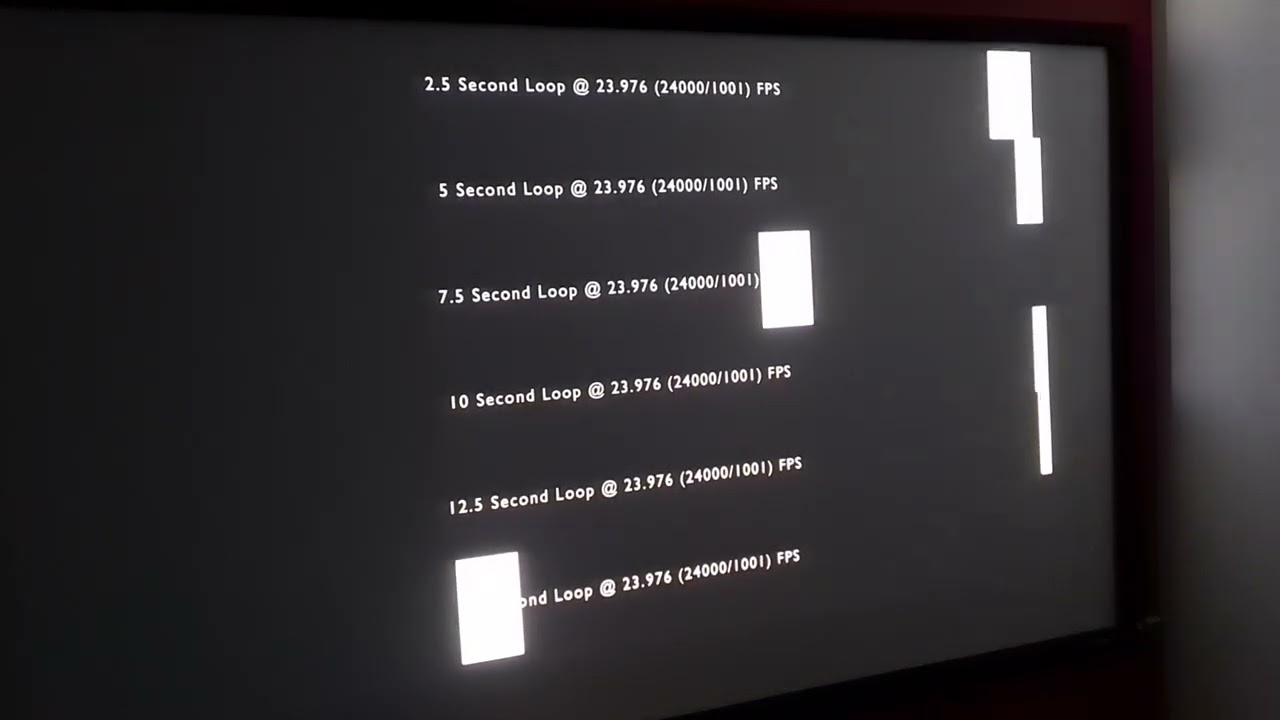 The Wemax Nova does not have a motion compensation mechanism (MEMC), films in 24 frames per second will therefore not be able to fill the 60 frames necessary at the frequency of 60hz. This will inevitably cause image jerkiness for fast movements as you can see in the video. It's quite a shame for a projector in this price range.
Image size and projection distance
The Wemax Nova has a throw ratio of 0.233:1 which allows it to produce an image 221cm wide with a distance of only 24cm. This throw ratio is better than average, most projectors of this type that I have tested have a throw ratio of 0.25.
With an image of this size you can use the projector in semi-darkness but daylight use is not possible due to the loss of contrast. I have added a video below which will allow you to see what happens when the screen is exposed to direct light, the image is still visible but the contrast is poor. This is a bit of an extreme example but you can imagine the effect it could have in your living room.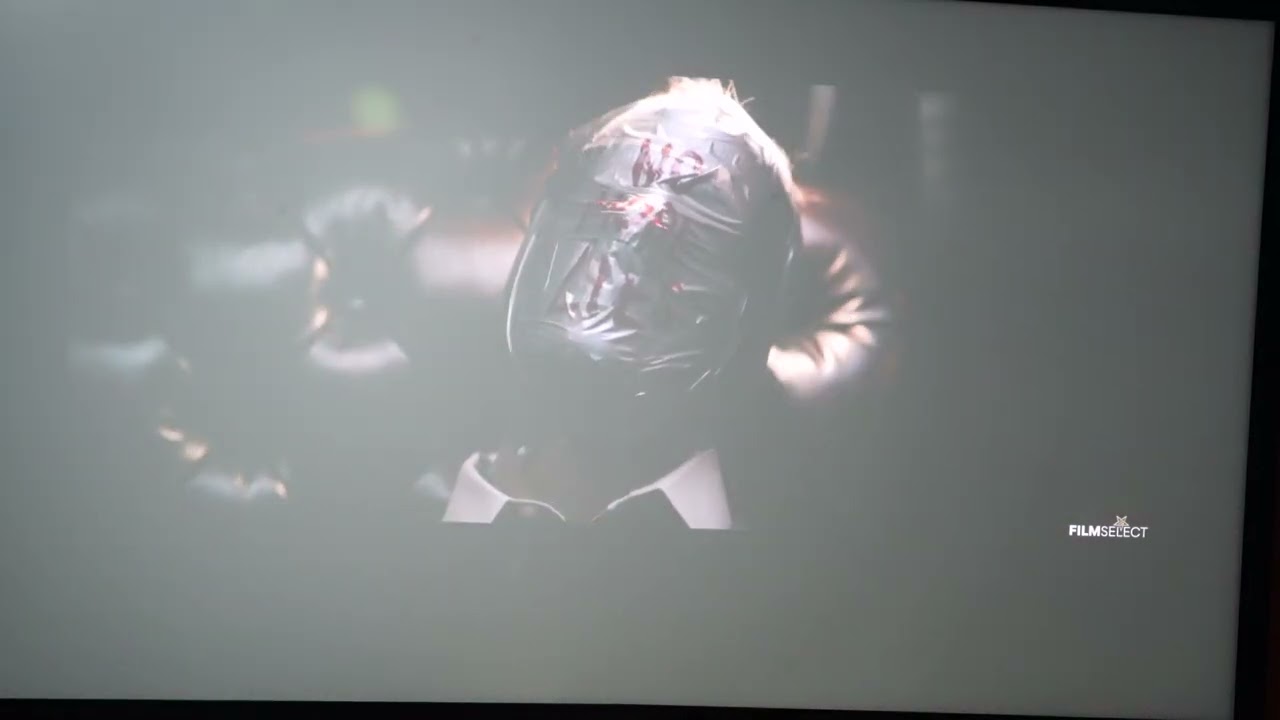 With this brightness level, you should be able to get an image just over 3.3m wide in total darkness.
Audio quality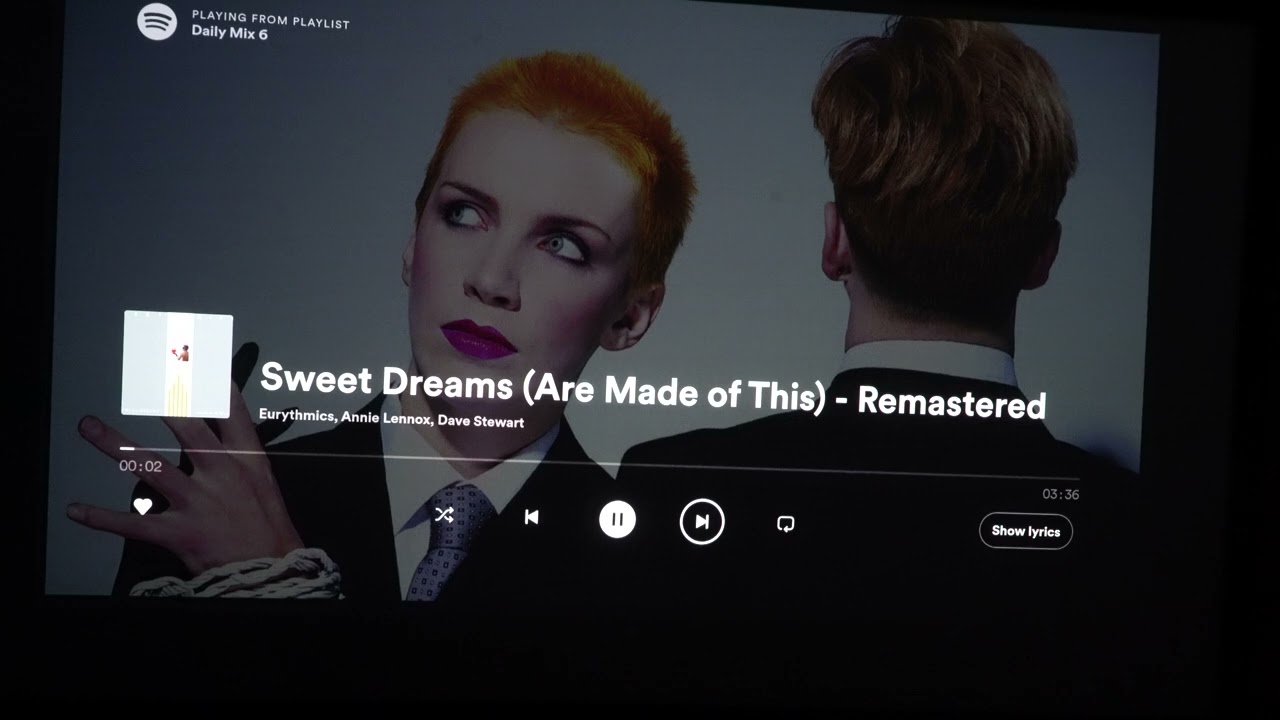 To test the audio quality, I play a few random tracks offered by Spotify and as always, this video could very well be blocked by YouTube, so you will have to go to YouTube to see it in as a private video. The sound quality for movies and music is good, the sound is quite powerful and the low frequencies are very well rendered even when the volume is increased. It is possible to change the sound configuration in the settings to optimize the sound in cinema mode or music mode according to your needs.
If I compare this sound to the Xiaomi Laser Cinema 2, I would say that the Xiaomi does a little better, I find that the sound releases better in space where the Wemax seems to be contained in a smaller space.
Video games
Not yet available / tested
Encoutered bugs
I didn't really encounter any bugs, but I did notice some slowdowns in the operating system when using YouTube, Spotify or Kodi and playing with the menus while the projector is busy playing a video. It is not systematic but I have encountered this phenomenon on several occasions.
ALR/CLR Projection screen
Are you looking for a good ALR/CLR screen for your projector? I may have what you need:
ALR/CLR NothingProjector Screen
Test / Review conclusion
This Wemax is the first projector of this brand that I have the opportunity to test and when testing this projector, I test two projectors at once because the Wemax Nova or the Fengmi Formovie are the same thing. Did I like this projector? Yes. Will it replace my Xiaomi Laser Cinema 2? No but don't go away, the Wemax Nova could very well be a good alternative to the Xiaomi for many users.
Image quality is clearly a strength of this projector and apart from adjusting the sharpness to be done once, you don't have to do anything except switch to "movie" mode to get a nice picture. I got a better picture with the Xiaomi but I think only a trained eye could tell the difference for movies without HDR or Dolby Vision. The native contrast of this projector is excellent and will allow you to watch dark films without loss of detail, but beware, black will never really be black, it is not possible on a projector. You will get excellent contrast thanks to the maximum difference between dark and light areas. The Wemax Nova is also able to exceed the REC709 color space by just under 10%, so you get wider color coverage.
The Wemax Nova is an energy-intensive projector with its 240 watts but it's far from being the worst, it consumes about as much as a lamp projector while emitting much less heat . Its ventilation noise is however audible when the projector is not emitting any sound.
The projector interface is controlled by Android TV, this may seem trivial but this is not the case for all projectors of this type. The Xiaomi and Fengmi usually run on a Chinese operating system and the CinemaX from Optoma has absolutely no native operating system. It is an undeniable comfort that will save you from having to use an external solution and will give you access to most applications from the Play Store. Note that Netflix is not natively available, I imagine that it is once again a matter of certification, Wemax is not the only manufacturer to have the problem.
If I had to sum up my opinion in a few words, I would say that this projector produces a better image than other projectors in this price range, such as the Optoma CinemaX D2, but that's precisely its price which will justify or not its purchase. At the time of writing these lines I see prices between 1500 and 2600€ for the same projector and obviously at 2600€ you would be right to hesitate while in the lower range of the price you can go without problems until around 2000-2100€.
Strengths
Contrast
Brightness
Sharpness
Color coverage
Ease of adjustment
Native Android TV
Sound quality
Format compact
Ethernet port
Good throw ratio
Weaknesses
Consumption
Input lag too high for fast games
Fan noise
No Netflix
No motion compensation