Projectors Tests Reviews
JMGO N1 Ultra : test / review
---
Published on: 16-03-2023 / Modified: 18-07-2023
I've tested around thirty projectors over the last two years, covering projectors in all price ranges, and I thought I'd covered all the major trends, but that was before I discovered this JMGO N1 Ultra projector. I was already familiar with the JMGO brand, having in fact bought the JMGO U2 at the end of 2021, but unfortunately this projector was frankly not very good. I had to exercise the 30-day free-return guarantee to get rid of it, and it then took me 6 months of discussions with JMGO to get my money back. This first experience with JMGO was therefore not positive and I told myself that I would never buy another product from this brand, but the JMGO N1 Ultra managed to change my mind. Was I right to trust them a second time? That's what I'm going to tell you in this test!
Just a reminder:
Nobody pays me to do these tests, so I can keep my independence. My only source of income comes from the purchases you make from my links. If you like my work, please use my links before you buy. It costs you nothing. Thank you!
Important note
Before watching the videos associated with this article, there's one very important thing you need to know. This projector uses a very wide color space (REC2020), which is good for image quality, but to be able to film an image projected from REC2020, you need a camera capable of reproducing so many colors...and unfortunately this kind of equipment costs a fortune. The videos in this article will therefore present a very reddish image, which in no way reflects the image quality actually produced by this product.
Manufacturer web site:
https://global.jmgo.com/
Price JMGO N1 Ultra
The list below shows the prices for the JMGO N1 Ultra from more than 50 sites around the world. If you are not satisfied with any price, you can subscribe to a price alert to be the first to be notified when the price drops.
The above links are affiliate links from companies such as Amazon, Gearbest,
Aliexpress
,... If you appreciate my work, I would be grateful if you could purchase these products through these links. It costs you absolutely nothing but I get a small commission that allows me to buy the material I test. Thank you very much!
Timeline
I bought this projector on Kickstarter in March 2023, I was one of the first to buy it and I paid just over 900€ for it. I received the projector in mid-July 2023, two months behind schedule, but that's often the case with crowdfunding campaigns. I need two weeks to test this projector from all angles, I'll post updates as I find them but don't hesitate to ask any questions in the comments.
Why this projector?
I bought this projector for several reasons, despite my misgivings about the JMGO brand. This projector is a triple laser projector and at less than 1000€, I don't know of any other alternative. The triple laser enables a wider color palette to be covered, and JMGO has made this one of its main arguments. Color fidelity is another argument put forward by JMGO, to which must be added brightness, contrast, the audio system, etc. I couldn't resist buying this projector because, at around €1,000, it's in the same price range as the
XGIMI Horizon
, and this JMGO seems to surpass it in every respect
The price has now passed the €2,000 mark, and there are other alternatives. So I'm going to give you as much information as possible in this test to help you make the right choice.
Unpacking

This projector has a rather unusual shape, and it shows in the packaging. The JMGO N1 Ultra is packed in a kind of dense frigolite bubble with a handle for transport. I've never seen this type of packaging, and even if it doesn't sell very well, it at least protects the projector well and is practical to transport. The box contains the projector, a power cable and transformer (it's quite big), a manual and a remote control. Batteries are not included, as is often the case with products from China. There's also a small Allen wrench, presumably for detaching the base
Operating system
Not yet available / tested
Finish

This projector uses a format I've never tested before, so I'm going to dwell a little more than usual on its exterior appearance and special features.
As you can see, this projector is mounted on a stand and can be tilted forwards or backwards. This means you can adjust the front projection angle, and if you like, you can even use the ceiling as a projection screen, as the projector can be set up for vertical projection. The base of the image corresponds to the lower part of the optical compartment, meaning that it must be placed in a low position to match the bottom of the optical compartment with the bottom of your screen or projection surface. You can, of course, place the projector on its back to achieve the opposite effect.
I tend to put my projectors on their backs to match the bottom of the optical compartment with the top of my screen, but with this projector it's a bit more complicated, as the back is slightly curved and the stand will be on top of the projector. From what I've seen on the JMGO website, it's possible to fix the stand to the ceiling to avoid this kind of problem, but in this case it's preferable to have a fairly high screen to avoid trapezoidal correction.

I think the projector is quite pretty, it doesn't matter for a projector but JMGO has clearly worked on the design of its product to give it a modern and neat look. The optical compartment is integrated into a kind of plastic rectangle with a mirror effect, the optical compartment is slightly recessed to avoid possible collisions with another object. The black rectangle also houses the sensors that automatically focus the image, both in terms of shape and sharpness.

The sides of the projector are perforated to allow the sound produced by the two speakers to pass through, with a combined power of 2 x 10 Watts. JMGO has used Dynaudio speakers in other models, and although I didn't like the JMGO U2, the sound produced by the Dynaudio speakers was good. I'll come back to the sound part later in this review.

At the back there's a huge grill for heat dissipation, but don't worry, this projector doesn't emit much heat, or at least not enough to allow you to replace your heater.

Connectivity is reduced to a minimum, with one USB 2.0 port, 2 HDMI 2.1 ports (one of which is eARC) and one headphone output.

Power is supplied via the projector stand, which means you can't detach the projector from the stand. This may seem trivial, but if the stand format doesn't suit you for one reason or another, you shouldn't buy this projector.

Here's a view of the projector in the ceiling position, and here's another view from the other side.

This part of the projector is completely smooth.

The stand is attached to a rotating base that will allow you to rotate the projector 360°.

And finally, here's the projector's ignition button, which is integrated into the stand.
Projection room
My projection room is rectangular, 4.6m by 2.9m (height 2.2m). I have two projection walls, one white wall 2.9m wide with just white paint with a possible 4m setback. I then have a 133 inch ALR screen on another wall with a possible setback of 2.8m. I mainly use the ALR screen except when the layout or type of projector is not suitable for this situation.
Battery autonomy
This projector is not equipped with a battery.
Power consumption

With a theoretical brightness of 4000 ANSI lumens (2200 CVIA lumens), I was expecting this projector to eat up my energy budget all by itself, but that's far from being the case. I tested several brightness modes and measured power consumption fluctuating between 100 and 105W, which is ridiculous for such a bright projector!
Operating noise

Illuminated projectors generally emit more heat, and this heat has to be dissipated by a cooling system that makes noise. The JMGO N1 Ultra emits a small sizzling noise that is only audible when I am close to the projector. My meter remains in the "LOW" position, indicating that the noise level is below 40 db. Bright and quiet are two elements that are sometimes difficult to combine, but the JMGO N1 Ultra manages it very well!
Connectivity
Connectivity on this projector is fairly basic, with two HDMI ports (1 of which is eARC), a USB port and a headphone output. This is more than enough for me, but if you have an existing installation that requires several HDMI ports, this projector may not be for you.
Image settings
Consumer projectors offering extensive possibilities for image adjustment are quite rare among Chinese manufacturers. The JMGO N1 Ultra doesn't have what you'd call a CMS for fine-tuning the image, but there's still plenty to play with. First of all, there are 5 pre-configured image modes which, according to my measurements, don't change the brightness level but do have an influence on color temperature. I'll come back to these measurements later in the test. It is then possible to modify color temperature manually, change gamma, saturation, hue and play with the gain of the 3 colors. So there are far more adjustment possibilities than most Chinese projectors.
Image quality
I'm going to post my usual videos after I've done my full test because, as I mentioned in the introduction, it's impossible for me to film the image generated by this projector without significant color deviation. I'll try to change the color balance manually, but this will take time, so I'll concentrate on objective measurements first.
Colorimetry
Before I get into the details of my colorimetry tests, I'll just take a little detour to talk about color space without plunging you into a coma of boredom. The human eye perceives a huge number of colors, and although it's sometimes hard to imagine, machines like projectors are unable to reproduce all the colors perceived in fine detail. There are several color space standards with mostly incomprehensible names, but each space has its own characteristics. The color space is represented by an image like the following:

The general shape resembling a partially rounded triangle is the maximum color space. REC709 is a color space that was designed for HD television, and you can immediately see the gain in color when you switch to a DCI-P3 or REC2020 space. This projector uses REC2020, which is the best available at the moment.
JMGO used colorimetry as a selling point by promising two things, first there's 110% coverage of REC2020 space which means color coverage must exceed the red triangle on the previous image. Then there's the delta E, which measures color deviation from the standard; JMGO claims to deliver a projector with a delta E of 1. This means that colors should be faithful right out of the box. Has JMGO met this challenge? Well...no...but don't go away just yet, I've got some good news!
Here's the result of the test in standard mode without changing the settings:

Here we can clearly see that the color space doesn't cover the REC2020 as promised and if I take a look at the color fidelity I end up with a delta E of 9.36 with too high a proportion of blue and it shows to the naked eye. Gray levels are even worse, with a delta E of 19. If I stop here, I'll have to invoke the return guarantee again.
I obtained a dE of about 4 after 20 minutes of testing, but as I wasn't yet satisfied with the result, I spent more time (1h30) playing with all the parameters to get a better result. In the end, I obtained a dE of just under 3 using the parameters below. These settings were used on a white screen with brightness gain, so don't take them literally to get the same result at home. You should see these settings as a possible direction to take to improve your colorimetry.
Settings > Device settings > Image > Image mode
Choose User
Contrast 50
Saturation 50
Hue 0
Sharpness 10 (fine-tune to your preference, this has no influence on color)
Gamma dark
Color temperature:
User
Red gain 8
Gain towards -10
Blue gain -39
Advanced settings:
HDMI RGB range: full
Color settings > Hue
Red 45
Green 50
Blue 35
Cyan 45
Magenta 50
Yellow 50
Skin tone 50
Color settings > Saturation
All values at 50
Color settings > Brightness
Red 30
Green 40
Blue 0
Cyan 40
Magenta 5
Yellow 35
Skin tone 50
White balance correction
Gain 5%
Red / Green / Blue to 50
Here's a screenshot in French:
I made these settings with brightness at 8 out of 10.
Brightness
Brightness was another selling point for this projector, so did JMGO go a bit overboard here too? Yes, but it's still very decent. I didn't notice any difference in brightness between the different configurations offered, brightness can be controlled in a sub-menu. I obtained 3200 ANSI lumens with brightness level 8, I didn't test brightness level 10 because the image quality is very poor at this brightness level. So we're not at the advertised 4,000 ANSI lumens, but this projector is still very bright, and it shows at first glance.
I noticed something else in terms of brightness. Like all projectors with a DLP DMD 0.47 chip, there's a gray edge around the image, and this gray edge can become more prominent if you use trapezoid correction. Beyond this gray edge, the projector sends out a circular halo of light that illuminates almost my entire projection wall. It's only visible in a totally dark room. This light halo is not likely to interfere with the use of the projector, but it will be visible on all light-reflecting objects.
Sharpness

The JMGO N1 Ultra offers the option of adjusting sharpness to suit your preference, but the basic level is already good. It's easy to make out the pixel spacing in the image, the red thread is less visible in reality, it comes from the REC2020 capture problem I've mentioned several times. There's also a little chromatic aberration, but it's hard to quantify which red comes from the color space and which from chromatic aberration.
Contrast
Contrast is an important element in creating depth in the image, especially in dark scenes. With a native contrast of 1600:1, this projector should offer a good image rendering, and indeed it does. Contrast is less pronounced than on a projector like the
Xiaomi Laser Cinema 2
, but it's still a very good performance. Dark movies like The Batman are perfectly watchable, whereas on a projector like the XGIMI Horizon, dark scenes are far too dark.
I measured FOFO contrast but with my recent setbacks on an LCD projector, I'm now going to use ANSI contrast which offers a more realistic view of contrast. I obtained an ANSI contrast of 198:1, which is not comparable to the 1600:1 measured because it's a different type of measurement. A value of 198:1 in ANSI contrast is an indication of good, above-average contrast.
Motion compensation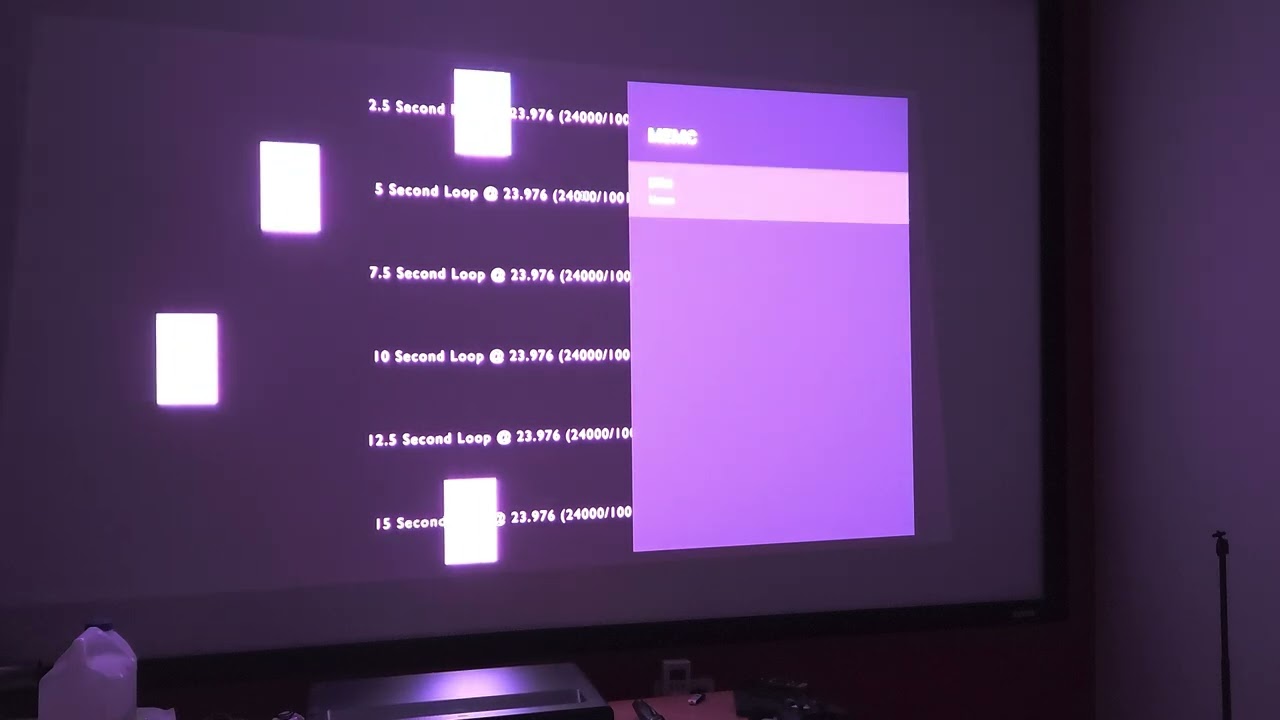 The JMGO N1 Ultra features a motion smoothing mode (MEMC), which can be activated in the settings and you can choose between 3 levels of smoothing. This enables the projector to avoid tearing in fast-moving images. Watch this video to find the MEMC input in the projector settings. Smoothing is more than sufficient with the medium setting
Image size and projection distance
The JMGO N1 Ultra has a projection ratio of 1.2 to 1, which means that for every meter of distance from your screen, the image will grow approximately 80 cm in width. There's a slight gray border around the image of around 1 cm, which can become more pronounced if you overuse the keystone correction.
Audio quality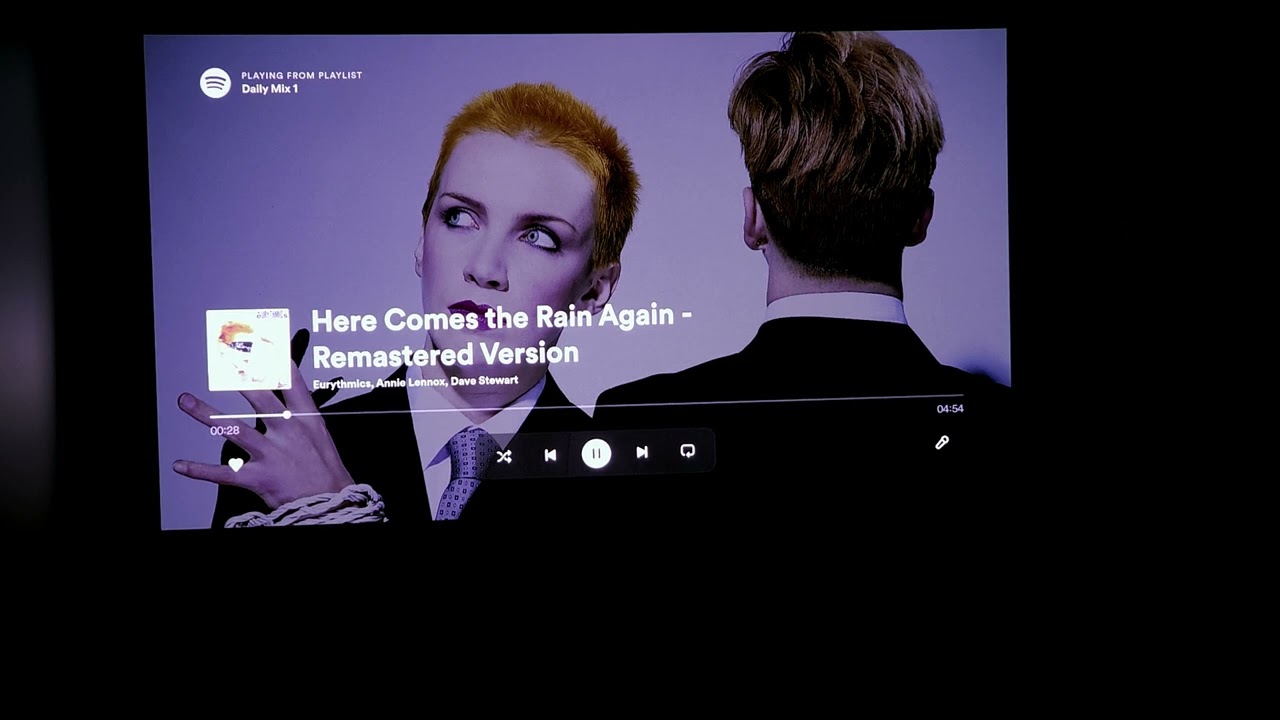 The JMGO N1 Ultra is equipped with 2 Dynaudio 10-watt speakers. I used a few random songs with Spotify to give you an idea of the sound quality delivered by this projector. This video will probably be blocked by YouTube due to copyright, but I think you'll be able to watch it live on YouTube anyway.
The sound is of good quality, the low frequencies are powerful and this is not to the detriment of the higher frequencies, voices are also perfectly audible although it could have benefited from a little gain. The sound quality is not yet comparable to a dedicated sound system, but it's good enough to enjoy a good sound ambiance for music or movies.
Sorry for the young people reading this test, these songs aren't very recent, but this is what Spotify recommended.
Video games
The JMGO N1 Ultra has an HDMI gaming mode, and this configuration will enable console or PC gamers to play in excellent conditions. I measured an input lag of 140ms in standard mode and an input lag of less than 10ms in gaming mode. With such low input lag, you can easily play fast-paced games without experiencing a delay between controller action and game execution. I'll post a video later, as I haven't yet found a setting to shoot this projector in good conditions.
Encoutered bugs
I haven't encountered any operating bugs, but I must point out a few things about this projector. I wear glasses, so this shouldn't concern you, but when I look at the image with my glasses on, I can clearly see a red outline around the shapes. I can't see this red line without glasses, and neither can my friends and family who don't wear glasses
There's also what's known as speckle in certain situations, which means that there's noise in the image. This is often the case with this type of laser light, but it can be mitigated by using a white screen; I hardly see any speckle on my screen.
I have the impression that MEMC activation sometimes causes unexpected image tearing. I've noticed this phenomenon in fast-moving scenes such as Top Gun, where I see the tail of the aircraft tear off, only to quickly snap back into place while the rest of the image remains stable.
ALR/CLR Projection screen
Are you looking for a good ALR/CLR screen for your projector? I may have what you need:
ALR/CLR NothingProjector Screen
Test / Review conclusion
I still have some sections of this review to complete, including videos, but rather than keep you waiting, I'll post my conclusion before I publish it all. Yes. Does it live up to its promises? No. Will I keep it? Probably not. I bought this projector, somewhat naively I admit, because I was seduced by the technical specifications. A triple-laser projector for around €1,000 is reason enough to buy it, but the picture has to be good too. JMGO put forward a number of strong arguments, notably for color, but most of these promises were not kept. Is this a problem? Yes and no. On the one hand, it annoys me because making such strong technical claims and not being able to keep them is called lying. On the other hand, even with a technical performance inferior to what had been announced, this projector still has many qualities.
What did this projector promise?
110% REC2020 space coverage => no
Factory calibration with a delta E of 1 => no
Brightness of 4000 ANSI lumens => no
Contrast of 1600:1 => almost
By adapting the projector's settings, however, it is possible to obtain a very good result and a very beautiful image. Contrast isn't as pronounced as on a Xiaomi Laser Cinema 2, but it's at a good level. Brightness may not reach 4000 lumens, but it's still more than adequate. The dE, on the other hand, is more problematic, as the average consumer doesn't have a probe to calibrate a projector, and the basic dE is still quite high.
The projector has other strengths, such as the use of an official version of Android TV giving access to applications (but Netflix won't work). It has very low input lag in gaming mode to offer an excellent in-game experience for console and PC gamers. Sound quality is good, with motion compensation and digital noise reduction. There are numerous possibilities for adjusting the image. The projector is silent and consumes very little power in relation to the brightness it is capable of producing. Heat dissipation is also quite efficient.
I'd add that the projector's format is quite practical, with plenty of possibilities for image orientation. The level of finish is also good, JMGO has made a great leap forward here. The projector is delivered in a kind of suitcase that makes it easy to transport, so you can organize movie nights away from home.
The projector has no major flaws, there is some digital noise, but it's controllable. Sound at full volume suffers some distortion. Netflix does not run natively, it's still a question of certification and few manufacturers can boast of having Netflix in HD.
Then there's the question of price. I bought it for around 1000€ and at that price, I have no regrets about buying it. The normal price is over 2000€, so you have to think a little before being seduced by the tempting specifications of this projector. In this price range, this JMGO N1 Ultra still has a reason to be, but there are alternatives with UST laser projectors offering better contrast and a larger image without recoil.
Strengths
Not yet available / tested
Weaknesses
Not yet available / tested