Projectors Tests Reviews
Thundeal TD98 projector review / test
---
Published on: 25-03-2023 / Modified: 25-03-2023
Thundeal is a Chinese projector brand that has been around for a few years and until now I never paid attention to it, mainly because I didn't see the point of testing the products of this brand. I saw Thundeal as a low-quality and uninteresting projector brand like thousands of others on sites like
Aliexpress
or
Banggood
. With Chinese projectors on Aliexpress, you have to be able to read between the lines because almost all the sellers use completely unrealistic arguments to praise the qualities of their projectors. This Thundeal TD98 projector is no exception to the rule, just look at the specifications to get a headache. To take just a few examples, I see for example a brightness of 12000 lumens (impossible and ridiculous), a contrast of 20000:1 (but...of course!) and a delta E below 0.99 (never seen that!).
Why did I choose to test this projector? There was a promotion on Aliexpress and using a promo code, I got it for less than 250€. I saw a few videos on YouTube where I thought that even though the specs were not realistic, the image quality looked good for a projector in this price range.
I have mostly tested Wanbo and Blitzwolf projectors in this price range, this Thundeal TD98 looks like it produces a better quality image.
To take advantage of this as well, here is the link to the official store on Aliexpress:
Thundeal Official Store
I regularly post new coupon codes for Aliexpress here:
Aliexpress coupon codes
This projector is also available at Banggood:
Thundeal TD98
Important note
No one is paying me to do this test, I bought this projector with my money. If you like my work, please consider buying it through my links. It doesn't change the final price for you but it allows me to buy other products to test.
Manufacturer web site:
https://s.click.aliexpress.com/e/_DBBx7iD
Site where I have bought the Thundeal TD98:
https://s.click.aliexpress.com/e/_DBBx7iD
Price Thundeal TD98
The list below shows the prices for the Thundeal TD98 from more than 50 sites around the world. If you are not satisfied with any price, you can subscribe to a price alert to be the first to be notified when the price drops.
The above links are affiliate links from companies such as Amazon, Gearbest, Aliexpress,... If you appreciate my work, I would be grateful if you could purchase these products through these links. It costs you absolutely nothing but I get a small commission that allows me to buy the material I test. Thank you very much!
Timeline
March 24, 2023: purchase of the Thundeal TD98 on Aliexpress (official store)
April 15, 2023: the package is blocked at customs
April 27, 2023: the package finally arrived at my home but given the delay in delivery and my busy schedule, I could not test the projector before mid-May ... thank you to the customs and its legendary speed
Why this projector?
When I test an entry-level projector, I know I'll never get a picture quality equivalent to a mid-range projector. That's not to say that these projectors have no reason to exist, it's just a matter of finding a balance in the price/quality ratio.
This Thundeal TD98 is sold at a price point comparable to the Wanbo T6 Max, so I'm going to use that projector as a benchmark to evaluate the Thundeal. I expect to find similar defects such as loss of sharpness in the periphery, noise, lack of settings, ... It is on colorimetry and contrast that I hope the Thundeal will be able to distinguish itself. The images proposed by the manufacturer are wrong as in most cases but the few images I could see on YouTube give me some positive indications.
My test will give you an objective overview of what you can expect from this projector. The tests on YouTube are often just product demonstrations where it is impossible to get a real idea of the qualities of the projector. My article will give you objective figures
Unpacking

The Thundeal TD98 is delivered in a large box illustrating the product. I would have liked to be able to photograph it like all the boxes but I must warmly thank the customs for having opened my box in the wrong way making the transport with the handle completely impossible. The box is a good illustration of the contents of the box and it doesn't look like a contraband or a counterfeit, I shouldn't have expected a logical reasoning from someone who didn't understand how to open a box by its opening! And on top of having damaged the box, I had to pay a VAT that I had already paid at the purchase and of course, no way to dispute anything, the rights are only there for those who define the rules.
Anyway, I will not dwell on the subject but if you buy this projector, ask the seller to associate an invoice WITH the VAT in the box to avoid any problem.
The box contains the projector, a remote control without batteries (you need 2 type AAA), an HDMI cable, a power cable and a user manual. So there was nothing in there that justified opening the box.
Operating system
The Thundeal TD98 projector runs on an "exotic" version of Android. So in theory you don't need an Android (or Apple) box to use the projector but I still advise you to do so for 2 reasons:
- the remote control of the projector is an infrared remote control and to use it you have to point it at the projector which is often behind you, it's not practical and those who used to read me know how much I hate infrared remotes. So I plugged my Google TV Chromecast into the HDMI port to use the Google remote.
- the installed apps are not official apps and they are not maintained over time. This happens a lot with Chinese projectors, they tinker with something, then they stick the "smart" label on it to look pretty but it doesn't hold up. These exotic versions of Android rarely survive in the long run (no more updates) and the applications don't always work as they should. YouTube for example is limited to 1080p.
So yes the projector has a working operating system but no I don't advise to use it. Here is a small video demonstration: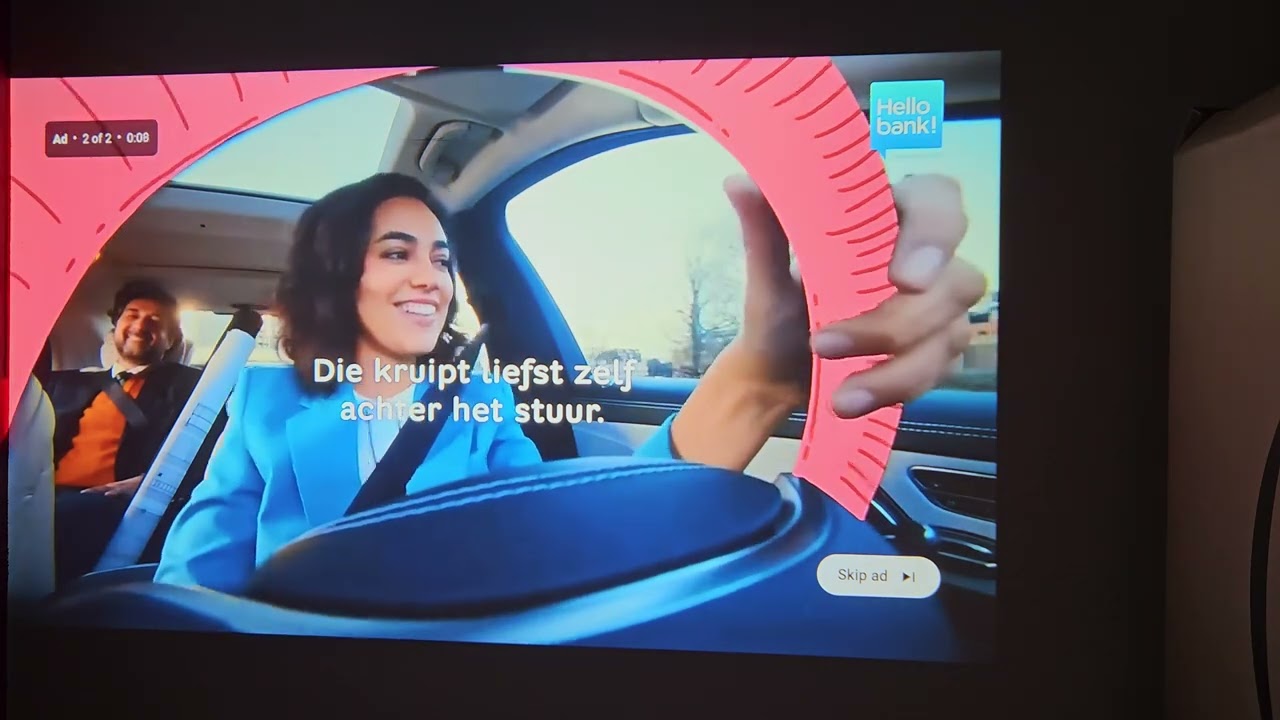 You will notice for example that the applications are not official applications. YouTube, for example, works but you will be limited in image quality and it is this kind of restriction that you should expect to see in some applications available on the store for this projector.
Finish

When I bought the projector on Aliexpress, I had not paid attention to the dimensions of the projector, so I was quite surprised by its massive side. On a purely aesthetic level, this projector clearly stands out from most of the Chinese entry-level projectors I tested. This projector uses codes borrowed from other brands such as XGIMI with its metallic honeycomb grid that goes around the projector. This grid gives a more premium look to the projector.

The front panel is dominated by the huge optical block and unlike other projectors of this type (eg those of Blitzwolf), the optical block is not accompanied by a wheel to adjust the focus. The adjustment of the sharpness is done automatically and can be adjusted from the remote control. This is clearly a positive feature for a projector in this price range. The lens unit however is pretty much like what you would find in this price range and without having turned the projector on, I know it will be noisy as you will need to be able to cool this huge amount of light.

On the back we find the connectors as well as huge outlets for ventilation that will confirm what I mentioned in the previous paragraph, this projector must evacuate heat and it will do so in a noisy way.

On the top of the projector we find a series of buttons that take up the essential functions of the remote control. This is probably very convenient if you are using the projector in front of you, but I doubt that this is a very common occurrence. The top of the projector is covered with a kind of fabric that will also reinforce this premium look like the metallic effect grill.

On the bottom of the projector, we find the four legs, none of which are adjustable. There is, however, a small wheel that allows you to raise the front of the projector. The base of the image is the bottom of the projector, so you need to put the projector in the down position. I will test it in high position later to see if it is able to turn the image for a positioning on the ceiling.

On the side there are grills to evacuate the heat but which will also be able to diffuse the sound. The power cable plugs into the side, it's not very long, so you'll need to place the projector near a wall outlet or find an extension cable.
My first impression of the Thundeal TD98 is pretty positive because even though I know it's an entry-level projector, Thundeal has made some effort to produce a device that you're not going to want to hide.
Projection room
My projection room is rectangular, 4.6m by 2.9m (height 2.2m). I have two projection walls, one white wall 2.9m wide with just white paint with a possible 4m setback. I then have a 133 inch ALR screen on another wall with a possible setback of 2.8m. I mainly use the ALR screen except when the layout or type of projector is not suitable for this situation.
Battery autonomy
This projector is not equipped with a battery.
Power consumption

The Thundeal TD98 projector is a power hungry projector, I measured a consumption of 180W and this level of consumption is often caused by the high brightness that the projector is able to produce but I come back to this point later in the article.
Operating noise

This projector is quite noisy, which is often the case in this price range. It does better than some Blitzwolf projectors that exceeded 60 db but with 50 dB at close range and 40 dB at one meter, this projector is not exactly a silent projector and you will have to place it at the back of the room at a good distance from your ears.
Connectivity

The Thundeal TD98 projector has a fairly complete connectivity with 2 USB ports (probably 2.0), 2 HDMI ports, an RJ45 port and an infrared port for the remote control. It is also compatible with 2.4 and 5 Ghz frequencies in wifi. There is also an audio output for headphones and a video input.
Image settings
This projector is an entry-level projector, so I'm not surprised that it doesn't have the ability to adjust the image quality in great detail. The projector offers configurations that you can change. I tested all the configurations with my probe and I have some good surprises that you will find in one of the next paragraphs.
Image quality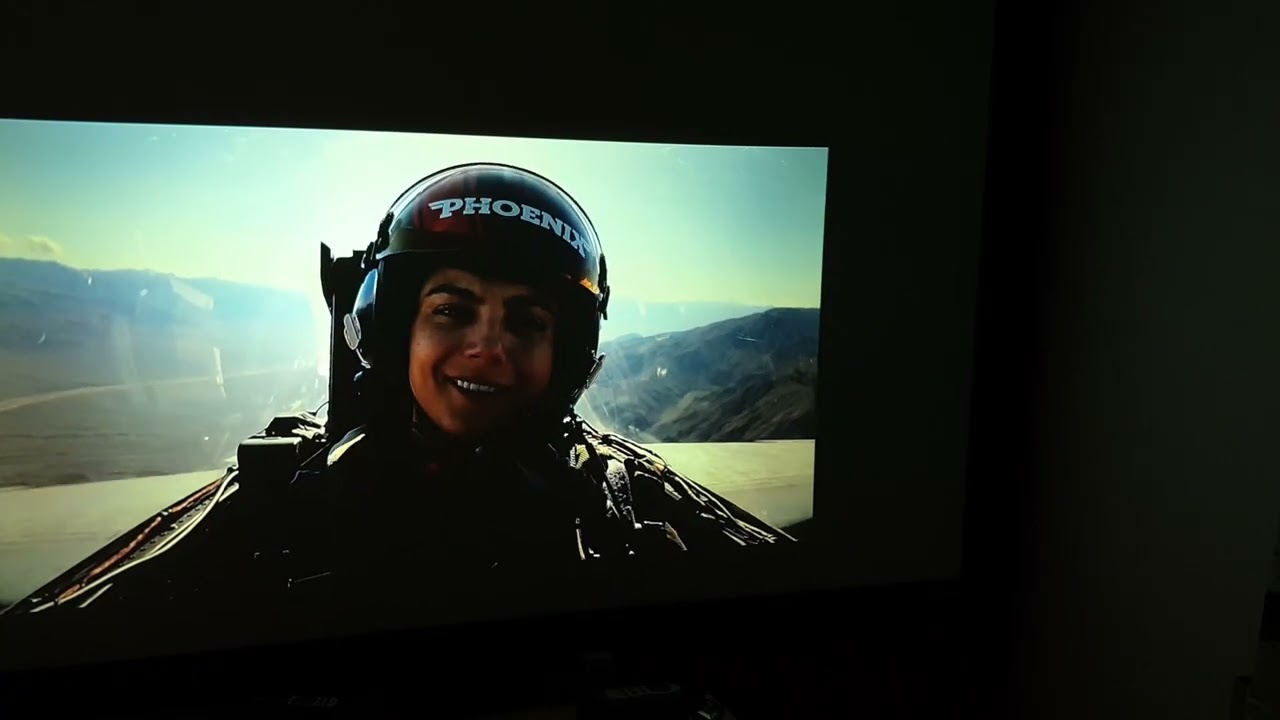 To illustrate the capabilities of this projector, I used 4 video clips as well as a few audio clips. I projected the image onto a 130-inch screen with a gain of 1.4, but with a projection distance of 3 meters, the actual image only occupies half the screen.
The technical evaluation of this projector reveals that it is lacking in color coverage and contrast. If you watch these videos without comparing them to a more powerful projector, you'll probably say to yourself that the image is good, and you're right. I may be contradicting myself when I write this, but I also evaluate projectors according to their price. From a technical point of view, this projector doesn't shine for its technical capabilities, but the image is good for a projector in this price range. If I compare this projector to other brands in this price range (e.g. Wanbo, Blitzwolf,...), this Thundeal produces a better quality image.
Contrast remains a weak point and you'll see it in dark scenes like the Batman trailer. I shot the same trailer with other projectors so you can compare. Faces in dark scenes are clearly less visible than on a projector with better contrast.
I used a Google TV Chromecast to play these video clips because the version of YouTube installed on the projector is a restricted version and the broadcast quality is not as good.
Colorimetry

I measured the colorimetry on all the available configurations and I obtained quite varied results between a dE of 7.5 which can go beyond 14. To get the best compromise I chose the "user" mode by applying a brightness of 35 and a contrast of 56. These last two parameters do not influence the colorimetry but they will be useful to obtain a better contrast.
With the "user" configuration, I get a delta E of 7.93, which is not extraordinary except if we keep in mind that this projector costs less than 300€. I almost always get a bad colorimetry above 10 with this type of projectors. The deviation is therefore better controlled on this projector but a trained eye will notice that the image has a too cold coloration, the blue is very dominant. I measured a white temperature of 8081K. In this price range, this is not surprising and I would even dare to say that this is a pretty good result for this type of projector.
If you look at the CIE graph at the beginning of this paragraph, you will probably notice something strange about the triangle representing the color coverage and you are right. This projector does not manage to reproduce all the colors of the REC709, so you can forget all about HDR. The reduced color coverage will result in images that are not as rich in color and may look duller. I've seen videos on YouTube where some influencers were raving about the color quality but forget it, this projector is clearly not a color reference and this is not my subjective opinion, it's a totally objective measurement obtained with a probe. I don't understand how you can seriously test a projector without doing this kind of test.
Brightness
Brightness is often the argument that Chinese projectors put forward, using wild figures to make you believe that their projectors are as bright as a World War II anti-aircraft battery. This is once again the case with this Thundeal TD98, where I measured an actual brightness of between 500 and 600 lumens (after calibration). That's enough to watch a movie in the dark, and quite comparable to entry-level LED projectors, but daylight use is out of the question. The 12,000 lumens claimed by the manufacturer are therefore total nonsense.
There's another thing to note about brightness: it's not uniform. If I display a totally white image, I can clearly see a color change at the edges where the white becomes yellowish. This is often the case with entry-level projectors, so it's not surprising.
Sharpness
The sharpness of this projector is good in the center but degrades a little at the periphery, which is quite common with projectors of this type. In principle, films are designed so that you don't constantly have to look at the edges of the screen, so you shouldn't be too bothered by this problem.
Contrast
When I made my first contrast measurements, I obtained fairly common values for an entry-level projector, with a contrast of between 400:1 and 500:1. I then played around with the parameters to try and improve the situation, and to my surprise, contrast can be greatly improved. By lowering the brightness a little and increasing the contrast, I obtained a contrast of 2855:1. This may seem extraordinary for a projector of this price, but it's worth taking a step back. This contrast level is an ON/OFF contrast level that measures the difference in brightness between white and black. This usually gives a good indication of the actual contrast, but not always. To be sure, you should also check the ANSI contrast level, and I measured an ANSI contrast of less than 50:1, which indicates that the contrast you'll perceive in the images is actually much worse than the contrast ON/OFF figure tells you.
In the end, this projector has a contrast comparable to other projectors at less than €500, it can in no way be compared with a €2000 laser projector which offers much higher contrast.
Motion compensation
Not yet available / tested
Image size and projection distance
The Thundeal TD98 projector has a fairly low projection ratio, so you need to place it quite a distance from the screen to obtain a large image. It also needs a distance of 1.50m (approx.) to be able to display a sharp image; below this distance, the image will be blurred. At a distance of 1m50, I get an image 75 cm wide. This means that for every meter of distance from the screen, you enlarge the base of the image by 50 cm. For a 2-meter image, you'll need a distance of 4 meters. Don't forget that brightness decreases with the square of the distance: between a distance of 2 meters and 4 meters, brightness will be divided by 4, and you need to keep this in mind to avoid having an image that's too dark.
Audio quality
I recorded several pieces of music using Spotify, and you can find them in the demonstration video earlier in this article. Sound quality is good for a projector of this type, even better than the other entry-level projectors I've tested. Only the Blitzwolf V2 does better. The sound isn't perfect, however, lacking finesse in the treble and depth in the bass frequencies. The volume is sufficient to make you forget the fan's operating noise.
Video games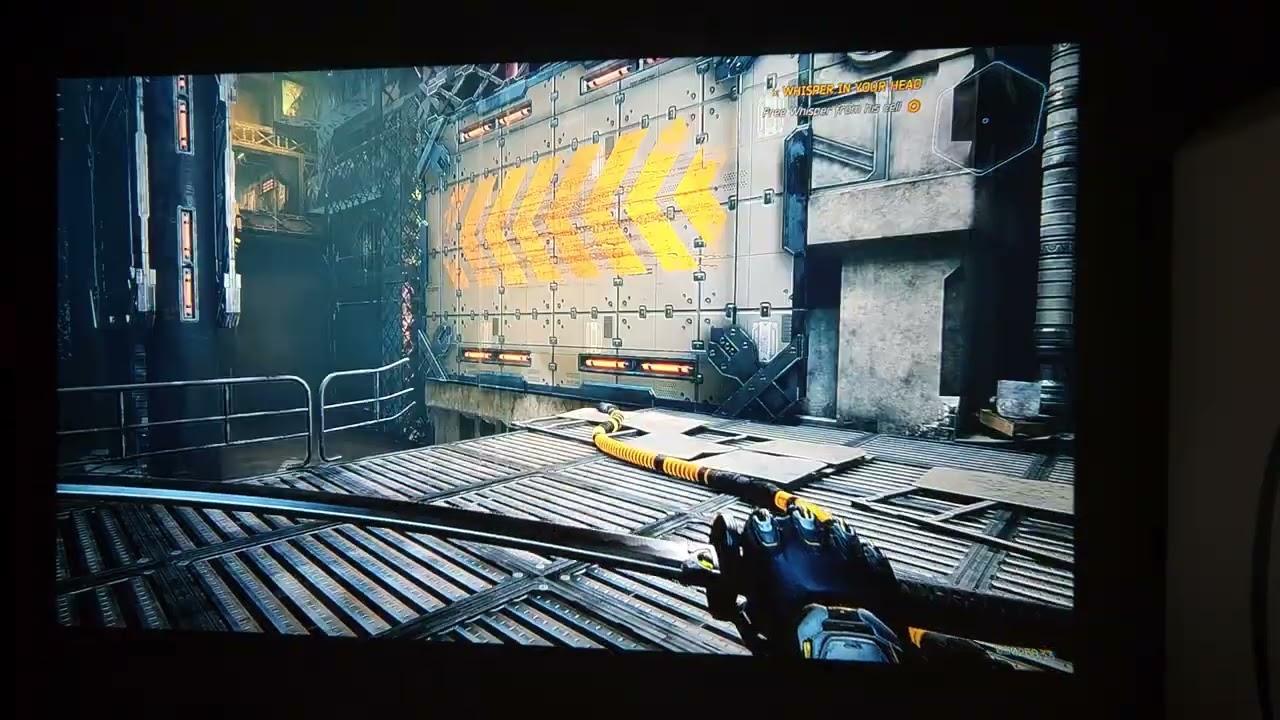 I tested the game ShadowRunner with this projector by associating it with an Nvidia Shield because the projector is not able to run natively this kind of game. I also measured the input lag to see if this projector is able to respond quickly enough to the commands of a gamepad. I got an input lag of 183ms, which is way too much to use this projector for fast games. This won't be too much of a problem for games where response time isn't important but you can forget about FPS like the one in this demo. It may not show on the video but the lag caused by the input lag really complicates the in-game experience for this kind of game.
Encoutered bugs
Not yet available / tested
ALR/CLR Projection screen
Are you looking for a good ALR/CLR screen for your projector? I may have what you need:
ALR/CLR NothingProjector Screen
Test / Review conclusion
I've tested a number of entry-level projectors using LCD for image diffusion. These projectors all have the same weaknesses (contrast, noise, colors, ...) and one might wonder why I "waste" my time continuing to test this kind of product. In fact, there are 2 reasons that motivate me to test this type of projector. The first is that not everyone has the means or the inclination to spend €2,000 on a projector, so I find it normal to evaluate this category of projectors as well. The second reason is that, despite the weaknesses of these projectors, some fare better than others, and this is the case with the Thundeal TD98.
The Thundeal TD98 could become your ideal projector at under €300, provided you're aware of a number of factors. Firstly, its low projection ratio means you'll need to place it quite a distance from the screen to get a great image. It's also quite noisy, so here's another reason to place it in the back of your room. Its brightness doesn't allow it to be used in daylight, and its low contrast doesn't make it an ideal candidate for watching dark films. Nor is this projector designed for gamers.
So what's left of this projector? Why should you buy it? First and foremost, the price. I managed to buy it for under €250 on special offer, and for that price you simply won't find anything better. I'd even go so far as to say that as long as the price stays under 300€, this conclusion remains valid. It may not shine in terms of technical features, but it's capable of delivering a perfectly watchable image with good enough sound to create a home cinema experience without breaking the bank. This is not a projector for purists, it's a recreational projector that should almost be compared to fast food.
I've seen other very positive reviews of this projector on YouTube, but don't be too quick to be seduced by the conclusions, as most of these reviews are based solely on subjective opinion, which tends to downplay the very real weaknesses of this product. I have a different approach which will undoubtedly scare off some buyers, but I prefer to be transparent so that you can buy this product with full knowledge of the facts.
Strengths
Price
Image quality (relative to price)
Sound quality (relative to price)
Sharpness (center)
Connections
Brightness
Auto focus
Weaknesses
Color space
Contrast
Noise
Power consumption
Image uniformity
Edge sharpness