Projectors Tests Reviews
Xiaomi Mi Smart Projector 2 Pro: test / review
---
Published on: 22-03-2021 / Modified: 10-11-2022
You probably know Xiaomi as a phone brand, but Xiaomi is a growing company that markets all kinds of other products ranging from scooters to projectors. This diversity reflects the Chinese company's dominance strategy, which freely draws on the best products on the market to make similar products at a lower price. It does not sound very glorious but Xiaomi does much more than copy the others, they also launch innovative products like this new projector which seems to want to break the world record for the longest name: Xiaomi Mijia Mi Smart Projector 2 Pro. (I'll just use a short form in this article)
The Xiaomi Mi Smart 2 Pro is a mid-range projector that was first released in mid 2020 version Chinese / English. The projector that I tested was marketed 6 months later in a so-called "global" version with Android TV support (with all languages available on Android). I take this little detour before getting to the heart of the matter because the two versions circulate on most of the usual sites like
Aliexpress
,
Banggood
or even Gearbest and you must therefore read the description carefully to be sure not to buy the Chinese version.
If I had to sum up this Xiaomi Mi Smart in a few words, I would say it is a compact 1080p projector with very good brightness and benchmark image quality in this price range . So you could stop here and tell yourself that the Mi Smart 2 Pro is the best projector in this price range ... and you might be right, but there are a few things to watch out for, however.
Good deals
The price of this projector varies quite strongly from one site to another and it is not always easy to make a choice between an attractive price but a weak guarantee and a higher price and a better guarantee. Here are some good tips that I have collected for you. (beware the prices can change, I don't watch them every day).
Banggood
Unique offer (valid until end of july): 672€ / 688USD!
Mi Smart 2 Pro / € 672
(use code: BG3ab23b)
Goboo
Mi Smart 2 Pro / 675€
(use my promo code to reduce price: LAURENT995
Manufacturer web site:
https://www.mi.com
Site where I have bought the Xiaomi Mijia Mi Smart Projector 2 Pro:
https://www.banggood.com/custlink/KKvyLmNfE2
Price Xiaomi Mijia Mi Smart Projector 2 Pro
The list below shows the prices for the Xiaomi Mijia Mi Smart Projector 2 Pro from more than 50 sites around the world. If you are not satisfied with any price, you can subscribe to a price alert to be the first to be notified when the price drops.
The above links are affiliate links from companies such as Amazon, Gearbest, Aliexpress,... If you appreciate my work, I would be grateful if you could purchase these products through these links. It costs you absolutely nothing but I get a small commission that allows me to buy the material I test. Thank you very much!
Timeline
03/11/2021 I buy the Xiaomi Mi Smart 2 Pro on Banggood for pre-sale
03/22/2021 I receive the projector, the test can start
Why this projector?
Since I buy most of the products I test, I pay attention to the price and think a lot before buying a new product. This is very important for me because if I choose a bad product, I don't try to hide its flaws, so no one buys the product and I don't win anything. I have a slightly higher level of confidence with Xiaomi than with some other Chinese brands, which is why I have twice "dared" to invest a good amount of money to buy a projector. I bought a laser projector in 2019 for around 800 euros and this year I bought the Mi Smart 2 Pro for just over 600 €. It is still a fairly large budget but on paper, this new Xiaomi projector offers a quality / price ratio superior to the competition.
The Mi Smart 2 Pro is an LED projector, that means that you will not have to change the lamp, it also means that the power consumption will be lower than a traditional projector. I tested another projector (Nebula Cosmos Max 4k) which uses the same chip and on this projector the image was superb. The Mi Smart is an all-in-one projector with a quality sound installation and since it runs on Android TV, it is completely autonomous. The Xiaomi Mi Smart 2 Pro therefore has a lot of strengths so I had to give it a try.
Unpacking

The Xiaomi Mi Smart 2 Pro projector is rather compact, I even find that it has a somewhat curious shape but its format allows it to limit its weight (3.7kg) as well as the packaging in which it is sent. The Mi Smart box contains the bare minimum: the projector, a manual in several languages, a cleaning cloth, a power cable and a remote control (without batteries).
The first contact is frankly positive, I never felt like I had a Chinese product in my hands, Xiaomi attaches great importance to this first impression and it is once again a success with this projector.
First configuration
The Xiaomi Mi Smart 2 Pro runs on Android TV, so the initial setup procedure is the same as with all projectors of this type. I even find that this procedure has become even simpler compared to the last projector I tested, I was able to access the main menu in less than a minute. You must first configure the remote control and then go through a few screens of image settings and then you arrive on the home screen fairly quickly
Finish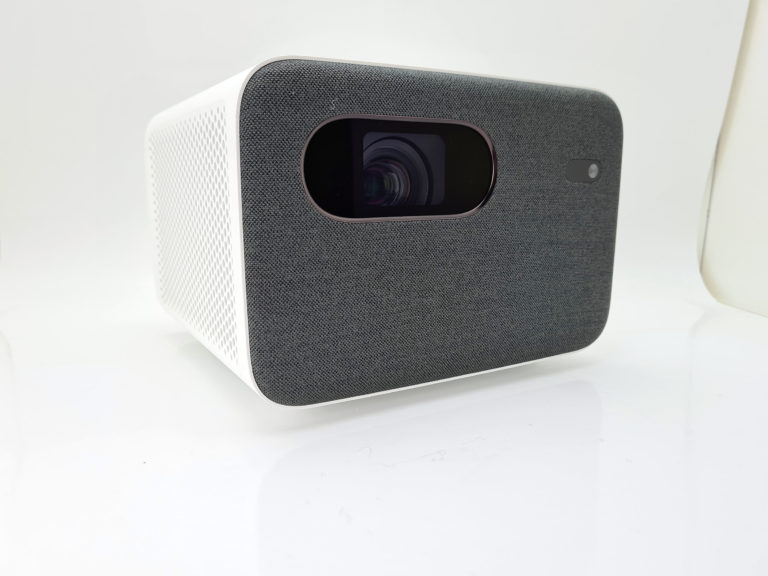 As I wrote above, I find that the format of this projector is a bit special but it has the advantage of being compact and gives an impression of solidity. The case does not give the impression of being empty because for a weight of 3.7kg in such a small size, Xiaomi certainly had to optimize the space inside. Despite the fact that plastic is the predominant material, the level of finish is very good, the plastic does not bend when you take the projector in your hand and it does not emit noise when you press it.
The rear connection is complete, we find the following elements: two HDMI connectors, 2 USB 2.0, an audio jack output, a digital audio output (S / PDIF) and an ethernet port (despite the fact that the projector works very well in wifi too).
On the sides there are honeycomb grilles which cover the projector's speakers, here too these walls give an impression of solidity. At the top there is an ignition button and arrows for browsing the menus without a remote control (batteries are not included, these arrows will allow you to use the projector even without a remote control). Rubber feet have been installed below the projector to dampen vibrations. There are no adjustable feet to change the tilt of the projector.
Projection room
My projection room is rectangular, 4.6m x 2.9m (height 2.2m). The projection wall is a normal wall on which I have applied white paint without any particular treatment. The walls on the side are darker (dark grey and red) to accentuate the contrast with the white wall and avoid too much light reflection.
I have the possibility to place a projector at the back of the room at a distance of about 4m from the screen. I also have the option of placing a short-throw projector at the foot of the wall.
I don't have a dedicated installation for sound, I just use a sound bar from Xiaomi.
Battery autonomy
The Mi Smart 2 Pro has no battery, it only works on mains
Power consumption

I measured the consumption with a watt meter at the socket and I was surprised to see that the consumption was quite high for a projector of this type. I have done several tests with different brightness levels and the projector still consumes +/- 150 watt. That's almost twice as many as other projectors I've tested in recent months. This level of consumption is significantly lower than what we find with lamp projectors but it is the most demanding LED projector that I have been able to test so far.
Operating noise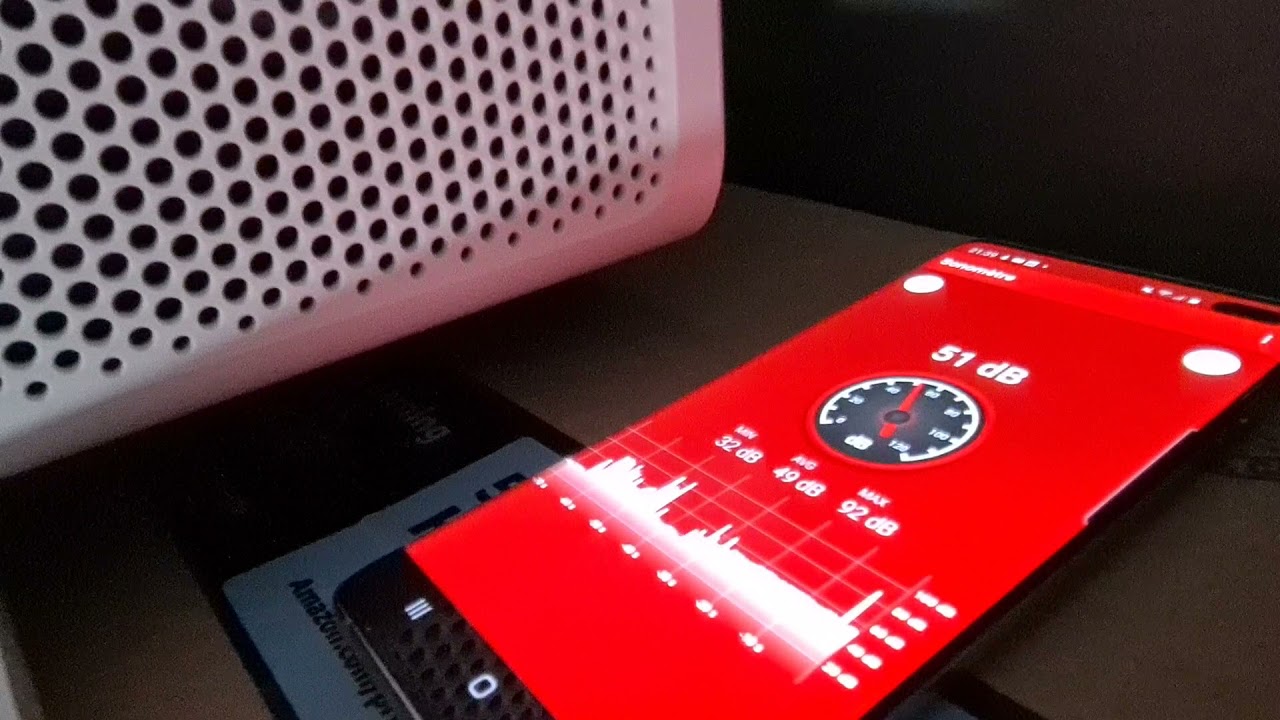 I just finished testing a Blitzwolf brand projector which was quite noisy, it produced almost 70dB at the fan output. The Xiaomi Mi Smart 2 Pro is much more discreet, you can barely hear the fan spinning, I measured around 50 dB at the fan outlet. Unless you are sitting with your head glued to the projector, you will not hear a thing at all.
Connectivity
The Mi Smart 2 Pro can be used in wifi (WiFi Ieee 802.11 a / b / g / n / ac) but also via an ethernet port placed on the back of the phone. The Mi Smart 2 Pro is also Bluetooth 4.1 compatible, this will allow you to associate other devices such as the remote control delivered with the projector but also a sound bar.
I tested my Xiaomi sound bar with this projector and I did not encounter any lag between sound and image (no lag therefore).
Image quality
Image quality is undoubtedly the most important criterion when choosing a projector and even if the feeling that an image can give is sometimes very subjective, there are on the other hand criteria which do not fool anyone. I am thinking in particular of brightness, contrasts, colorimetry and fluidity. I will test these elements but in order not to make the suspense last, I will start with a small demonstration video which should already whet your appetite.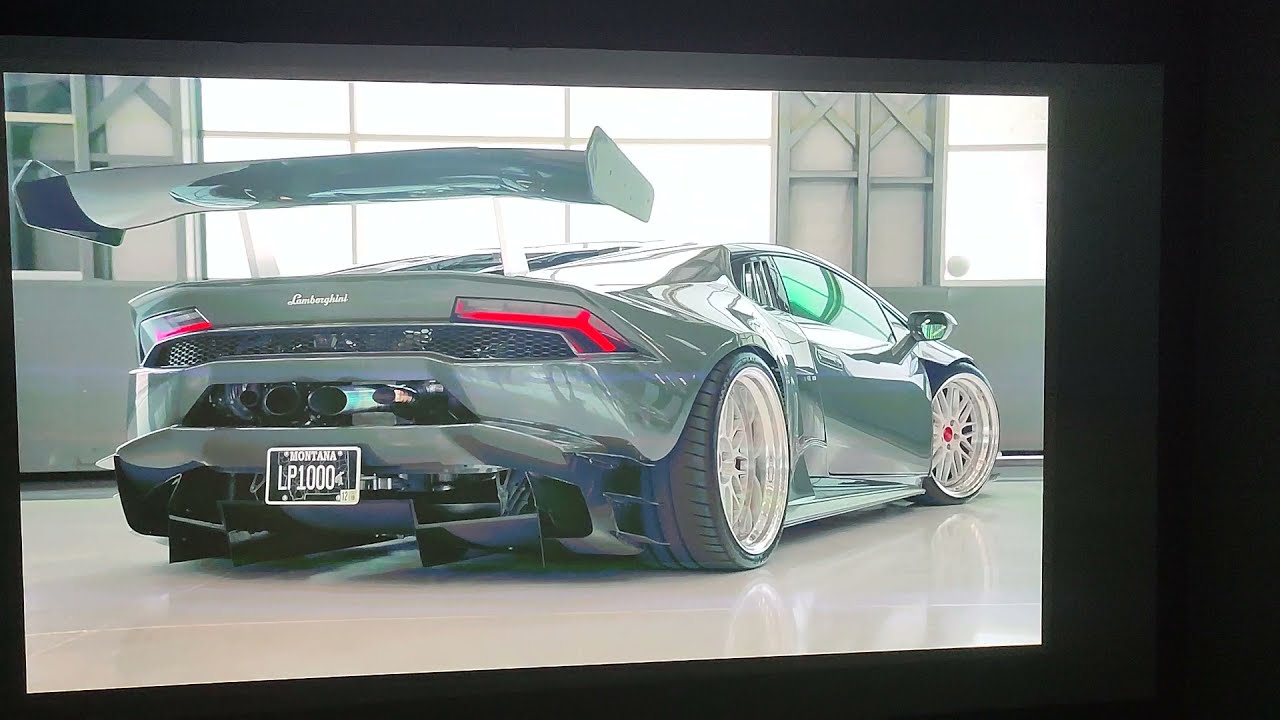 I will undoubtedly make a video of this type again afterwards because I had left my phone in 50hz and green bands appear regularly on the image while the projector image remained of good quality throughout the duration of the video.
Input lag / display latency
I tested the latency by projecting a timer from my phone to the projector in casting. To measure the latency (input lag), you have to pause the video and measure the difference between the two screens. I measured a latency of almost 150ms, it is too high a value for games where you have to react quickly enough. I did not find a "gaming" mode in the parameters that would reduce this latency.
Colorimetry
I tested several modes to measure the accuracy of the colors with a probe and in the end it is the cinema mode which is doing the best by offering a dE of 8.7, it is not an extraordinary score but at the usage I have not noticed any really disturbing colorimetric difference. I will repeat the tests on a neutral surface because I had done the tests on my screen. The cinema / film mode should remain the best but undoubtedly with other values. The white is located a little above 8000K and it is the blue (towards mauve) and the magenta which deviate the most from the norm. Since the projector offers adjustment possibilities, I will do some tests to try to find a configuration that allows me to reduce the deviations.

Here is an example with cold temperatures, the differences are quite similar but with a dE of 12.3 and the difference is on the other hand very visible on the white which turns towards the blue with more than 12000k.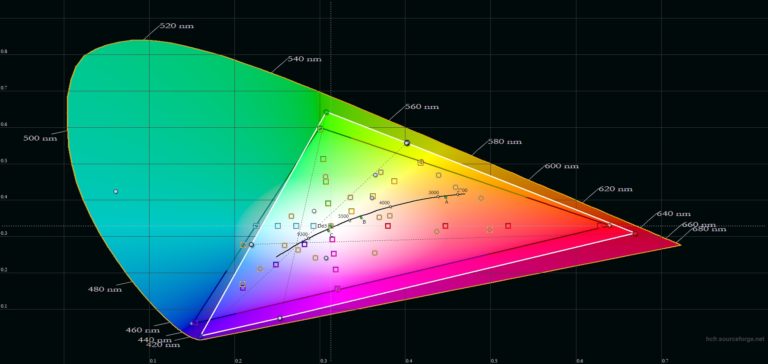 Brightness
The Mi Smart 2 Pro has a brightness of 1300 ANSI lumens. If these numbers don't mean anything to you, know that with such brightness you can consider using the projector in daylight as long as you don't expose the screen to too much light. Here are some examples.
Cloudy weather outside but abundant light.

Test in the dark

Test in the dark with an LED lamp on between the projector and the projection screen

Use in broad daylight is therefore possible under certain conditions, dark areas will be less dark but I find that the projector gives a decent experience. The brightness is strong enough that clear images like the one in this example are clearly visible.
Image size and projection distance
When installing the Xiaomi Mijia Mi Smart 2 Pro for the first time I noticed three quite important things:
- at equivalent distance, the size of the projected image is larger than all the other projectors that I have have tested
- the bottom of the projected image corresponds to the bottom of the optical unit, this means that the projector must be placed either very low to stick to the base of the screen or high enough but in the turning over on his back. I opted for this second choice, it suited me well because I no longer had room elsewhere to place this projector.
- there is no zoom, the image size will only be defined by the projection distance
According to Xiaomi specifications, The Mi Smart 2 Pro projector has a throw ratio of 1: 1.1. What does that mean? This means that to obtain an image width of 1 meter, you must place the projector 1.1 meters away (and a distance of 2.2 meters for an image of 2m, etc.). I prefer to calculate the size with easier to read distances, so at a distance of 1 meter you get an image of 90cm. On the same principle, with a distance of 2 meters you get a width of 180cm, ... etc ... To calculate the diagonal, you must divide the width by sine 60 (in 16: 9 format) and with a width of 2 meters, so I get a diagonal of 230 cm or 90 inches.
So here is a formula that you can apply to your situation:
Width = distance / 1.1
Diagonal = width / sin (60)
Audio quality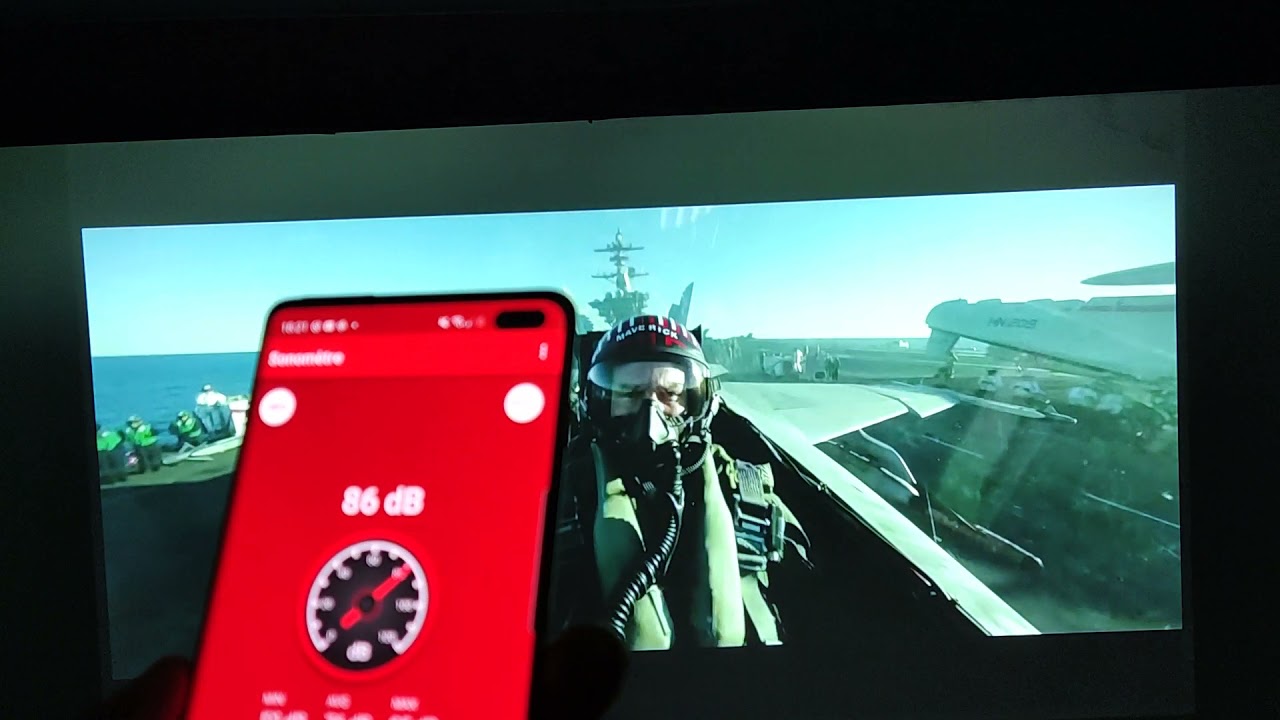 Filming a projector with a phone to test the sound of a projector is clearly not the most reliable method to give you an idea of the sound rendering but failing to get better , this video should already give you a taste of the sound quality. I chose the Top Gun movie trailer because it contains all kinds of sounds (treble and bass), a good mix of vocals and music as well as explosive sounds. The Mi Smart 2 Pro is capable of producing a powerful sound that will be more than enough for a projection room like mine, I measured almost 90 dB at 50cm from the projector, so it's quite loud. I find that the projector is doing better in the bass than the treble, the treble lacks a bit of finesse and beyond a certain volume, the voices drown a little in the din. A projector is obviously not able to compete with a dedicated audio installation but this Xiaomi Mi Smart 2 Pro is able to compete with a television and even offer a larger volume. This is clearly an advantage of an all-in-one projector, you don't have to invest in a separate audio setup (unless you're a sharp sound lover).
Video games
To test this projector with games, I used Nvidia's GeforceNow streaming service. I first tested Rocket League which is nothing extraordinary in terms of graphics but the reaction time is important, I wanted to know if the input lag was going to be a problem for me. Despite an input lag of over 100ms, I didn't feel any problems playing Rocket League, I had never played this game before, so I'm not very good but it has nothing to do with it. the input lag.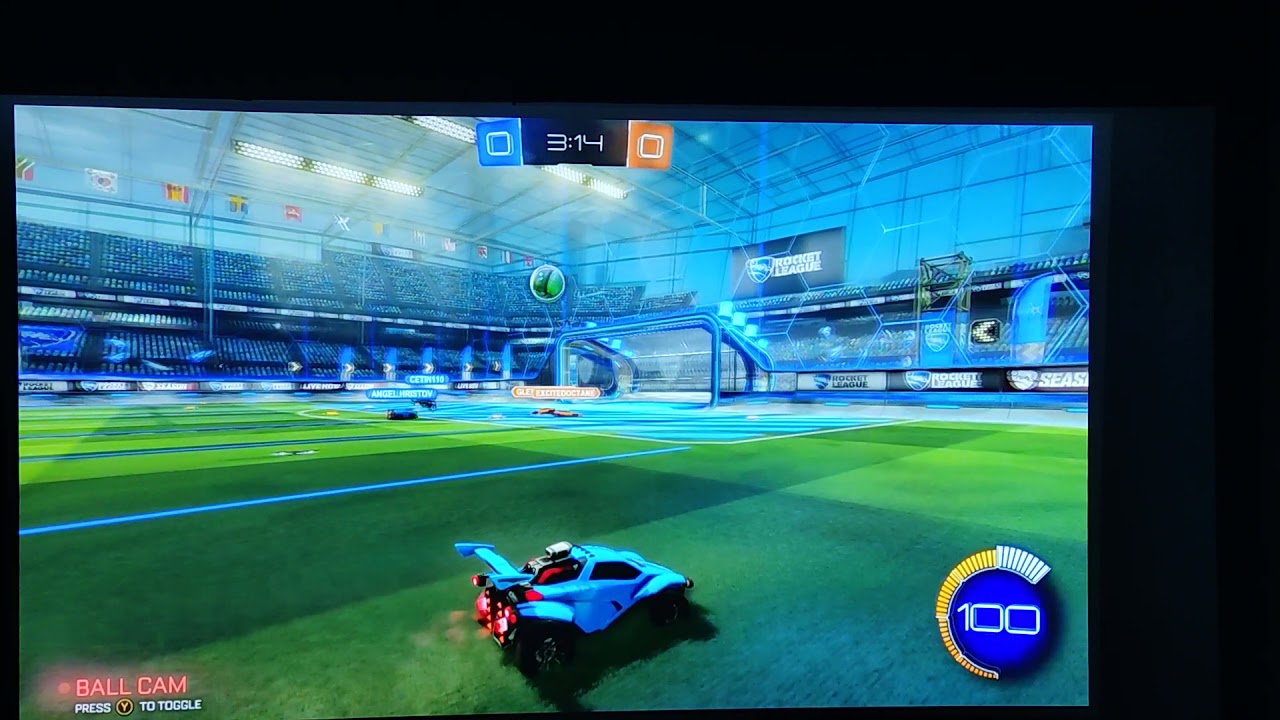 I then tested a quieter FPS and apart from the fact that I'm not used to playing with a controller, I found the in-game experience to be quite correct. The graphics quality is poorer than on a computer because the resolution offered in streaming is not sufficient to provide good image quality over such a large area.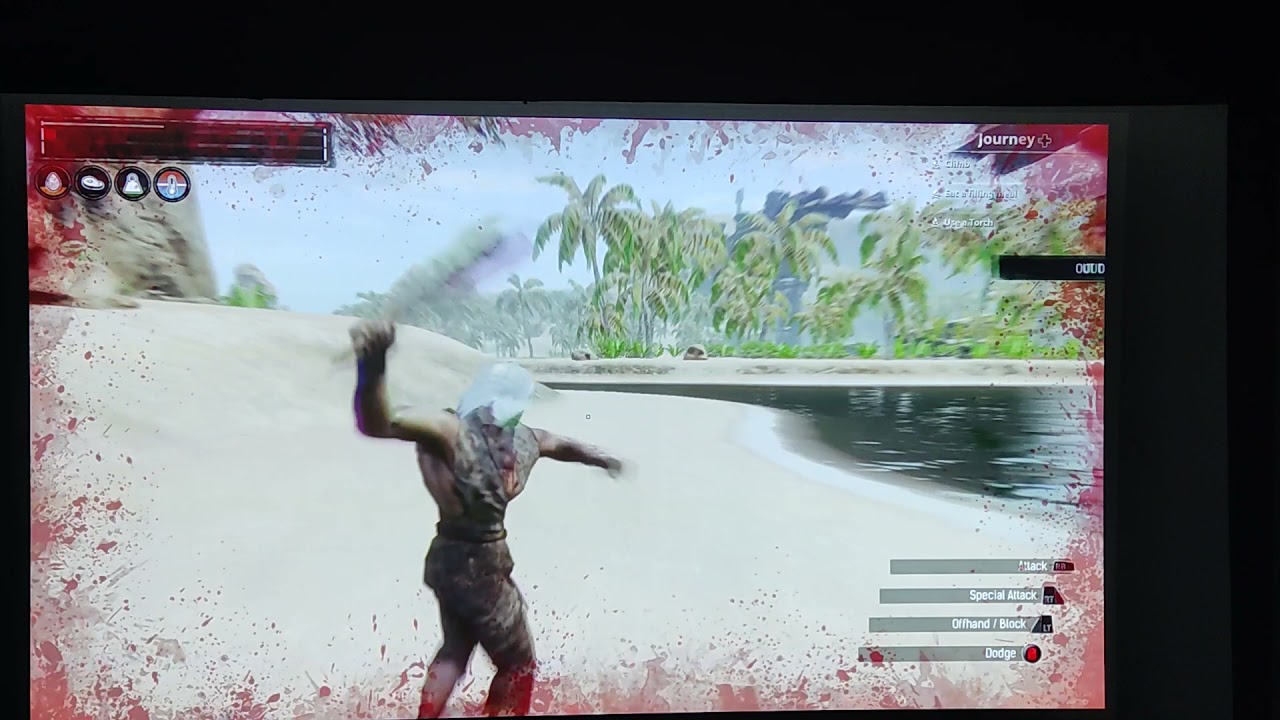 This projector is not designed for gamers but I still find it doing relatively well, the streaming gaming experience is really good because the projector does not have to not deal with the calculation in 3D as on a computer.
Operating system
The Mi Smart 2 Pro runs on Android TV unlike many Chinese projectors. Why is it important? Android TV provides access to the official Google Play Store, so you can download a lot of apps and apps like Netflix or Amazon Prime are compatible. Android TV supports many languages where Chinese versions only support Chinese and English. With Android TV, you also get updates and you can still use your projector for years to come where Chinese projectors end up not being supported and you have to use an external solution like a Fire TV stick or an Nvidia Shield to drive. your projector
I made a video showing the main screen and all the available settings, so you can get an idea of the experience from a remote control.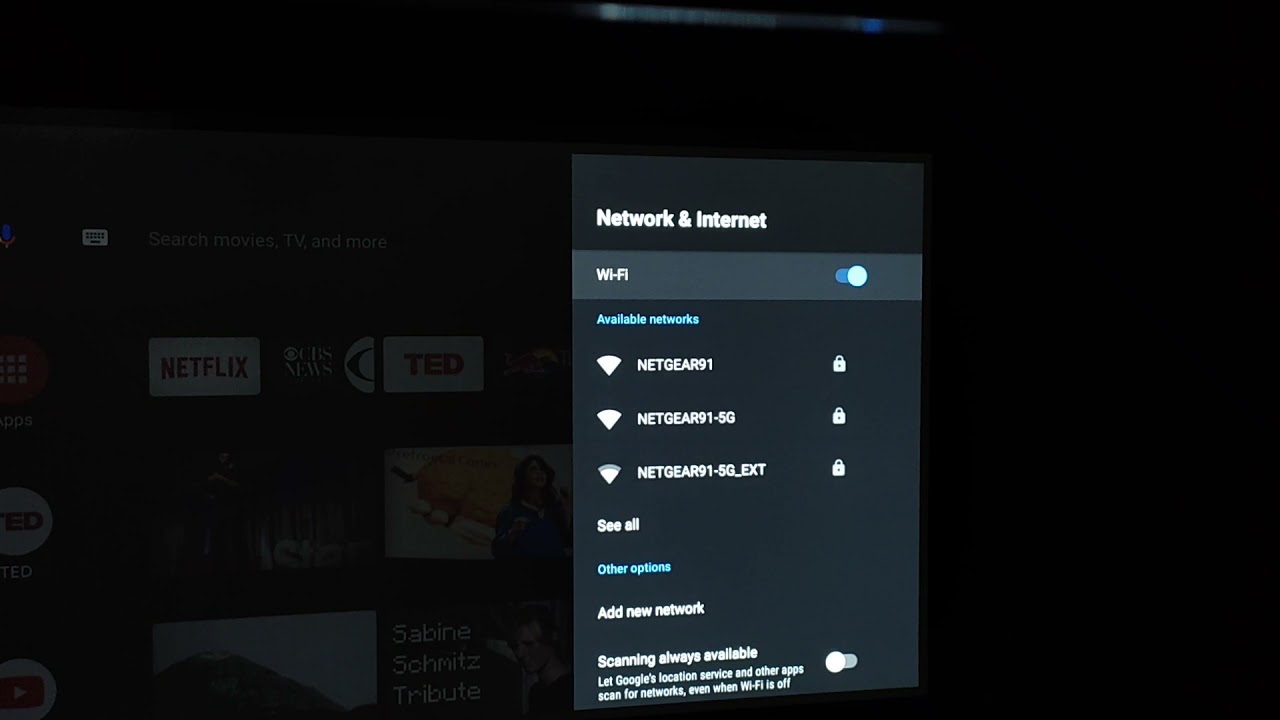 Encoutered bugs
I haven't encountered any bugs, nor have I had the slightest crash, Android TV runs wonderfully on this projector. However, I have 2 comments on my experience: - Amazon Prime is not available for this device - The start-up time of the projector is really long compared to what I have already tested
Test / Review conclusion
Xiaomi generally designs good products, but their playground is above all the world of smartphones. Xiaomi has not marketed many projectors and yet this Mi Smart 2 Pro is already a very successful product, it never gave me the impression of a sloppy product, on the contrary!
This projector produces a very good picture quality, arguably the best in this price range. The sharpness is superb, the colors are not always faithful but that never gave me the slightest problem. The fluidity of the image is good, the image does not tear in lateral movements.
The optical unit allows you to project a large image over a short distance, this projector has the best throw-ratio that I have been able to test so far, a 3 meter recoil translates into by an image of three meters! There is unfortunately no zoom to reduce the size of the image, so you will have to check carefully if your projection distance is not going to result in an image that is too large.
The sound produced by this projector is good without being exceptional, it has the advantage of not having to buy an additional installation but it cannot compete with a dedicated installation. The sound is powerful but it saturates when you exceed 50%, the voices will also be more muffled. The XGIMI H1 offers better sound than this projector.
With a brightness of 1300 ANSI lumens, you will be able to use this projector without having to caulk your windows, the image remains perfectly viewable in broad daylight.
Everything is not perfect, the projector has some small flaws but in this price range, Xiaomi has managed to impose an excellent projector that will allow a wider audience to pass the course and have a projector at home.
Strengths
- picture quality / sharpness
- runs on Android TV
- brightness
- built-in sound
- compatible with Netflix
- ratio of projection
- silent
Weaknesses
- slow at start-up
- consumption of 150w
- significant input lag
- sound saturation beyond 50%