Projectors Tests Reviews
Blitzwolf BW V2: test / review
---
Published on: 17-09-2022 / Modified: 15-04-2023
This Blitzwolf BW V2 is the fourth projector from the Blitzwolf brand that I've tested. This does not make me an expert on the brand, but it allows me to have a little perspective to compare the different projectors, evaluate the evolution of the product range and better understand their strengths and weaknesses. Blitzwolf generally produces rather brutally designed projectors with fairly angular products and the use of dark plastic. This new BW V2 seems to want to distance itself from the brand's other projectors. I find similarities here with projectors from other brands, such as the Mi Smart from Xiaomi with its fabric-covered front and the shape of the projector.
Will this change in appearance lead to a change in brand positioning? Will the projector go upmarket? This is what I am going to show you through this test. Before getting to the heart of the matter, I will repeat what I always repeat for my tests of this type of product. Projectors in this price range cannot compete with mid-range projectors, so you have to compare them against other projectors in the same range and here I would probably take Wanbo as a reference.
Coupon/discount code
You can get this projector at a competitive price using the code BGBWV2 and the following link:
target= "_blank" rel="nofollow">Blitzwolf BW V2
Manufacturer web site:
https://www.blitzwolf.com
Price Blitzwolf BW V2
The list below shows the prices for the Blitzwolf BW V2 from more than 50 sites around the world. If you are not satisfied with any price, you can subscribe to a price alert to be the first to be notified when the price drops.
The above links are affiliate links from companies such as Amazon, Gearbest,
Aliexpress
,... If you appreciate my work, I would be grateful if you could purchase these products through these links. It costs you absolutely nothing but I get a small commission that allows me to buy the material I test. Thank you very much!
Timeline
September 8, 2022: preview order of the Blitzwolf BW V2 on
Banggood
.com
September 15, 2022: receipt of the package, the test can begin.
Why this projector?
Quality projectors are quite expensive products that are not within reach of all budgets, which is why I regularly test entry-level projectors to allow everyone to find what they are looking for among this type of projector. In the entry level, you can find anything and everything, so don't be tempted by the price alone, the quality differences are sometimes enormous. Blitzwolf and Wanbo are two brands that have managed to produce a few projectors with good value for money, but this can vary quite a bit from product to product.
The biggest defect of this type of projector is the noise it produces because this type of projector produces a lot of heat, so it must be properly ventilated. Among the other defects, there is also the colorimetry which makes the images colder, there are also often defects in terms of sharpness related to the choice of lens. I have however noticed many improvements on these points at Blitzwolf and wanbo, so I am curious to see if Blitzwolf has managed to take a step forward with this new projector.
Unpacking

The Blitzwolf boxes are almost all the same, the boxes are white with the use of green on the corners. The boxes do not really give any indication of the type of product, the Blitzwolf battery that I recently tested could have been confused with a projector box.
In the box, the projector is very well protected by a thick layer of foam. The box contains the projector, a remote control (without batteries, infrared), a power cable, a small tripod and a manual.
Operating system
The Blitzwolf BW V2 uses what I call an exotic version of Android, so it's not an official version like Android TV, it's an older version of Android suitable for this projector. The main menu is specific for this type of projector with direct access to YouTube, Aptoide and Netflix. You then have the option of installing applications from Aptoide or installing them yourself from an APK file. There is therefore no a priori limit to the use of applications, but some applications may not work because of the version of Android used. Some applications are also not designed to be used on a projector with a remote control, fortunately there is the "mouse/cursor" function on the remote control to overcome this problem.
Image settings are quite limited, you can play around a bit with keystone correction or zoom but it is not possible to modify the image properties to possibly improve colorimetry.
This projector is clearly to be seen as an extra projector rather than a dedicated projector in a cinema room because this Android version will be too limited for advanced use. If you really want to use this projector as your main projector, you should pair it with an HDMI dongle like the Amazon Fire TV or a Mi Stick or even an Nvidia Shield in order to benefit from a full Android experience that will be regularly updated.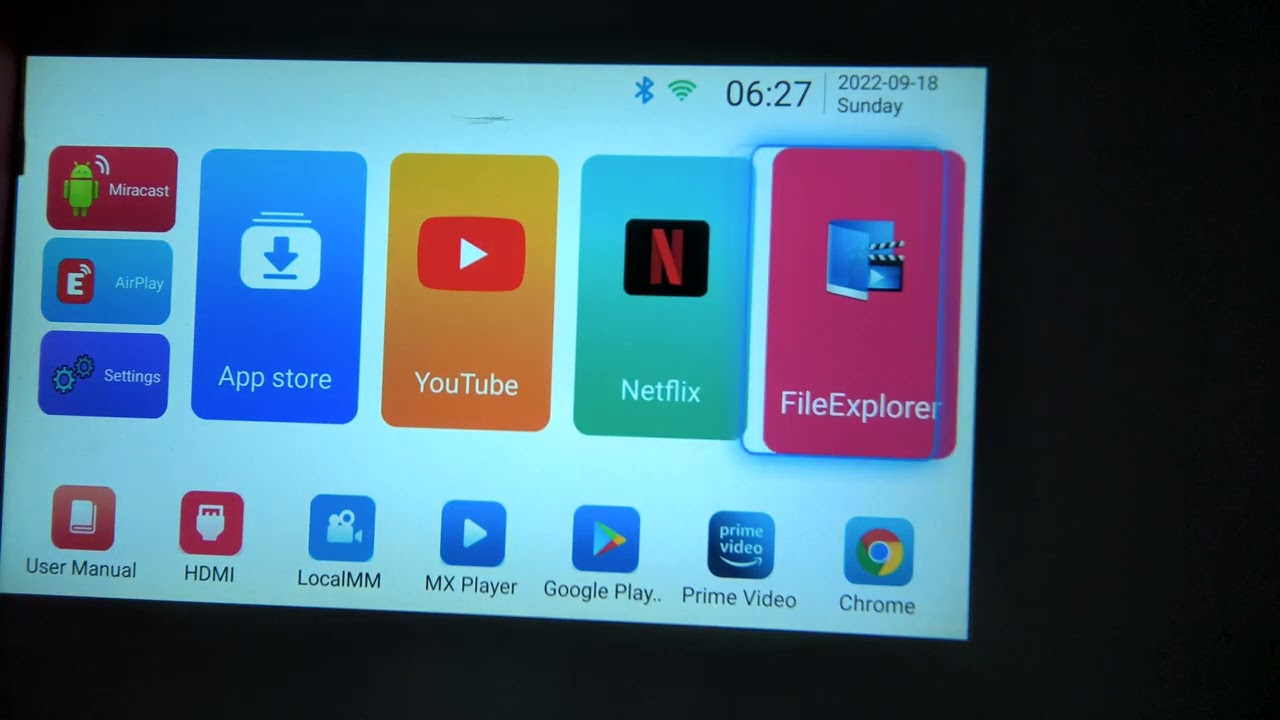 Finish

I was talking about a radical change in the design of the product in the introduction of this test but if you have never seen a Blitzwolf product, I show you an example of another Blitzwolf projector that I tested :

Well, I think it's pretty clear, you could think that these are projectors from two different brands. I find that this new BW V2 projector is close to the entry level Xiaomi with the use of a fabric front and the use of white honeycomb plastic. The huge optical unit on the front panel gives the impression that this projector is a mid-range projector but the technology used is the same as in previous projectors, the light is emitted by LEDs which pass through an LCD screen .

On the top of the projector, there is an adjustment wheel that can mechanically adjust the sharpness of the image, so this projector has no focus. autofocus but at the same time, I have never seen autofocus on this type of projector before.

This projector is designed to be carried easily, it is equipped with a leather strap and it is light enough to carry from room to room but since it is not equipped with a battery you will always have to connect it to a power source. The Wanbo T6R Max was also equipped with a wrist strap of this type, but this projector is much larger and heavier, which makes it more difficult to transport.

At the back we find a fairly classic configuration with an ignition button, a headphone output, a usb port (probably 2.0), an IR port for the remote control and an HDMI input (probably 2.0, to be checked ). The presence of the IR port at this location indicates that this projector is designed to be used in front of you, this is a recurring problem on this type of projector because unless you have a projection room with a lot of distance in front of you, this will limit the size of the image.

The remote control is quite basic but with keys spaced far enough apart so as not to confuse them. There are no shortcuts to apps like Netflix or Amazon Prime Video but there is a button to bring up an on-screen slider. This will allow you to click on areas that are not accessible to a remote control. The remote control requires 2 AAA batteries which are not supplied with the projector.

Below is the hole that will allow you to attach a tripod (delivered in the box). As the projector is quite light, the tripod delivered in the box will suffice to put it in almost any position.
Projection room
My projection room is rectangular, 4.6m by 2.9m (height 2.2m). I have two projection walls, one white wall 2.9m wide with just white paint with a possible 4m setback. I then have a 133 inch ALR screen on another wall with a possible setback of 2.8m. I mainly use the ALR screen except when the layout or type of projector is not suitable for this situation.
Battery autonomy
The Blitzwolf BW V2 is not equipped with a battery.
Power consumption

I measured a maximum consumption of 60W by watching a video on YouTube, the consumption fluctuates a little but stabilizes around 60W.
Operating noise

I measured about 50 db at the fan exit of the projector (loudest place). This noise level is still higher than the noise of mid-range projectors, but it's already a nice improvement for Blitzwolf projectors because the previous models I tested exceeded 65 dB. At a distance of 1 meter, the hum emitted by the projector is still audible but as soon as the projector emits sound (even at 50% volume), this noise will no longer be audible. Most projectors of this type are noisy because they need intensive ventilation to cool down, but I see a noticeable improvement on the latest models I tested.
Connectivity

The connection is quite basic with a USB port, a headphone output and an HDMI port. The projector is compatible with 5Ghz and 2.4Gz wifi, it also supports Bluetooth.
Image settings
This projector does not allow fine adjustments to the image. You can change the size and orientation of the image but I haven't seen any settings to change colorimetry, saturation, contrast or sharpness.
Image quality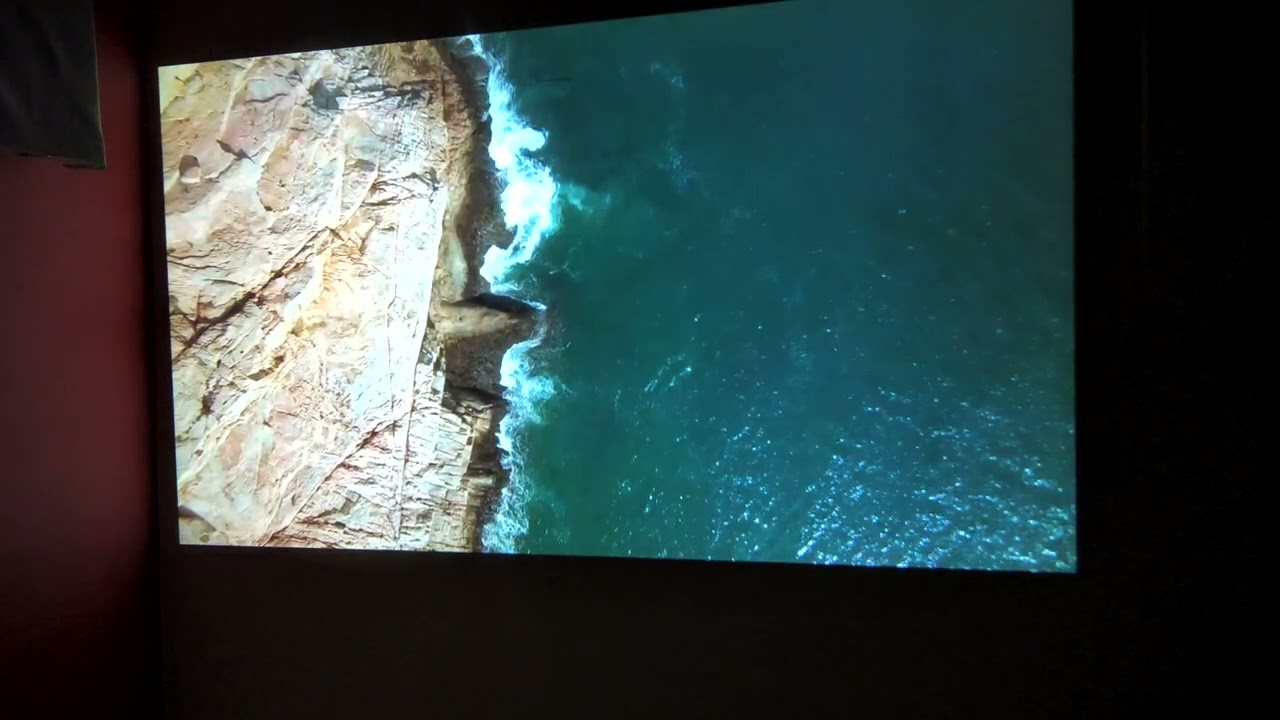 On this first video, we quickly notice the colorimetric difference of this projector. Like most projectors of this type, the image is too cold with too much blue dominance. The sharpness is not extraordinary either.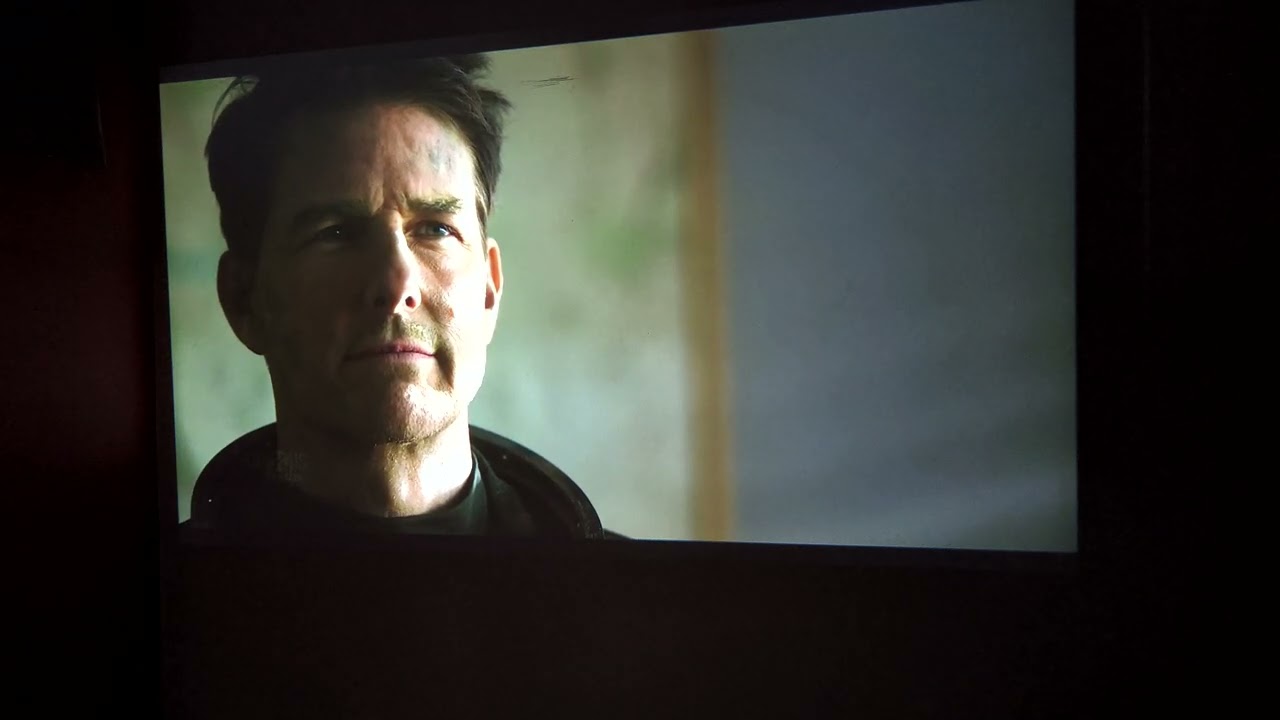 With the Top Gun Maverick trailer, the cold tone is less problematic but still visible. We can see here that the fast scenes are well rendered and the sound is good enough to offer a good experience.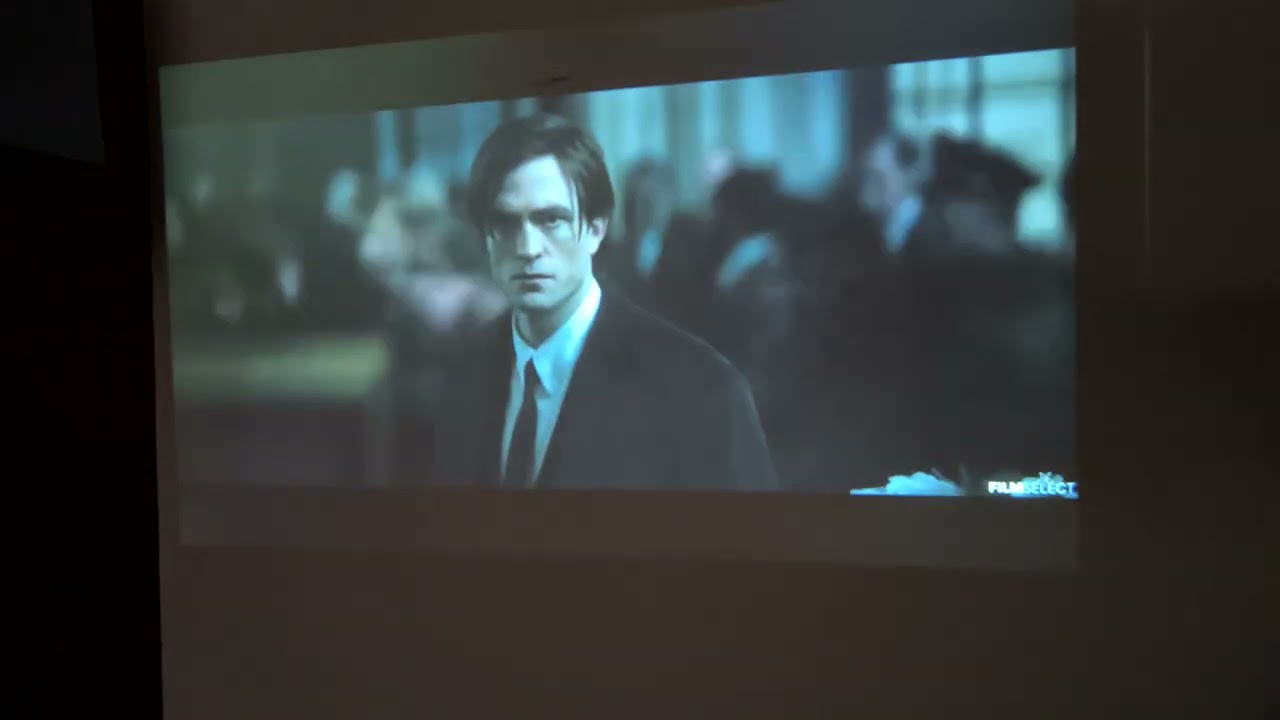 The Batman trailer is very dark and shows that the contrast of the projector is not sufficient to offer a correct rendering of dark areas but at this price level it is normal , it is necessary to go beyond 1000 EUR to find a projector offering correct contrast and again, it is often even necessary to go beyond 2000€.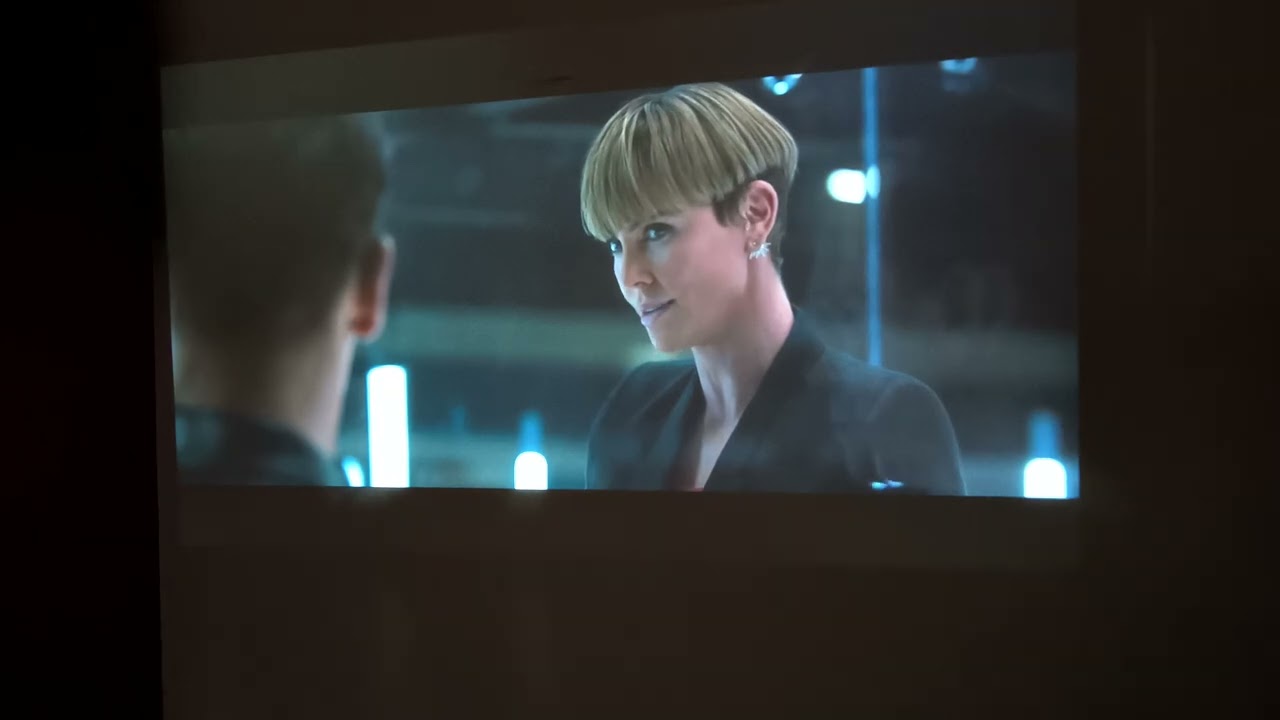 With Fast & Furious I have a bit of a mix of all the previous videos with light scenes, dark scenes, lots of movement and explosions. The colorimetry is again too cold but the experience is quite correct for a projector in this price range.
Colorimetry

Projectors like this are never very color accurate and most projectors in this price range are. The colorimetric difference is important and more particularly on the blues and the reds, the image is generally too cold and this can be seen on the videos that I have included in this article. Beyond color fidelity, there is also an issue with color space where the number of colors available is not at the level of mid-range projectors. Again, there's nothing surprising here, I'm just giving facts to manage your expectations when buying a projector of this type.
Brightness
The projector is advertised with a brightness of 200 ANSI lumens and in reality I measured 140. Whether it's 200 or 140, that's a level of brightness that's going to require you to use this projector in a dark room and also in limiting the size of the image. The brightness decreases by the square of the distance, at 2 meters, the brightness is therefore 4x less. This must therefore be taken into account when placing the projector.
Sharpness
The sharpness is correct for a projector of this type. I have tested projectors in this price range that have major sharpness issues, this is a little less the case with this projector. There is a difference in sharpness between the center and the periphery but it is not very important. The sharpness is adjusted with the wheel on the top of the projector, this kind of manual mechanism works in stages, the adjustment is therefore not as fine as an electronic adjustment but I have not yet seen this type of adjustment on a entry-level projector.
Contrast
I measured a contrast ratio of less than 100:1, that's a very low contrast level like most entry level projectors. This is a criterion to which I do not attach much importance on a projector of this type because to obtain good contrast, you have to go for a laser projector with a price level 10 times higher than this projector. This projector is designed for recreational use and for that kind of use, lower contrast isn't a huge issue.
Motion compensation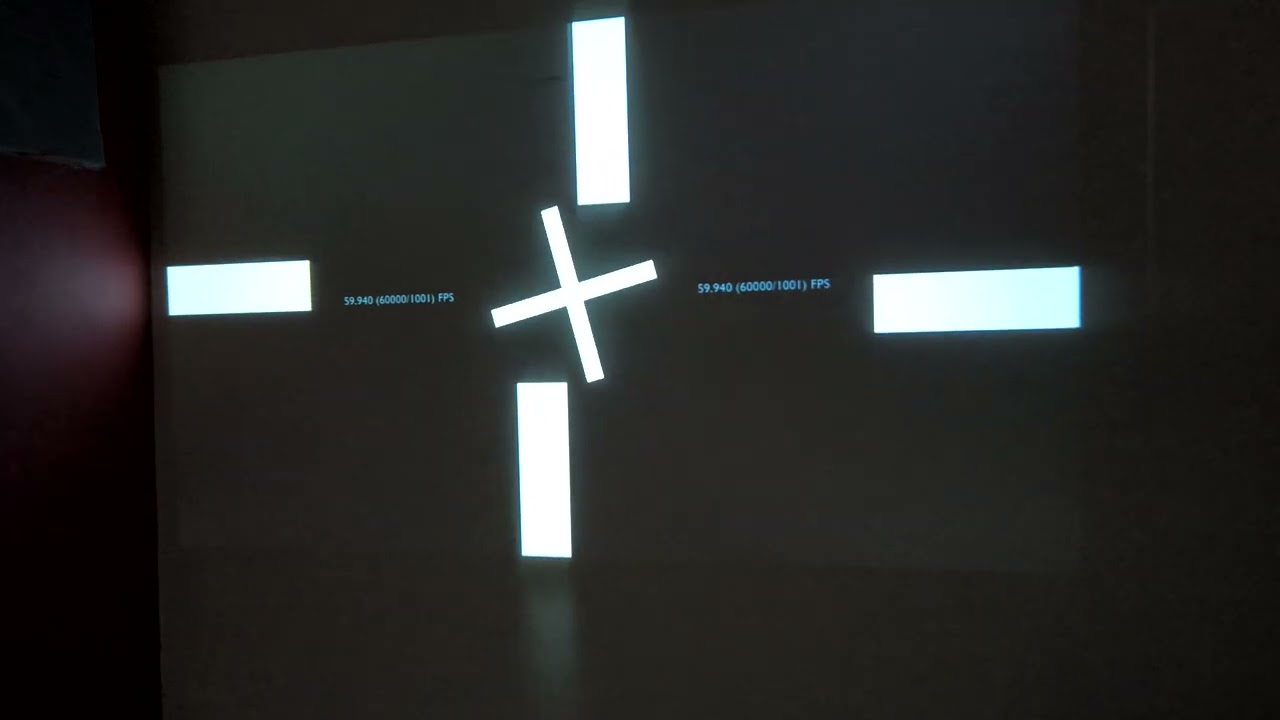 The Blitzwolf BW V2 doesn't have a motion compensation system but that's okay because lateral movements aren't as jerky (or very little) as you can tell see in this video. Rapid lateral movements will not cause image tearing like on 60Hz DLP projectors.
Image size and projection distance
As is often the case with this type of projector, it is not only necessary to dwell on the image size, it is also necessary to take the minimum focusing distance. You must place the projector at least 110 cm from the projection surface to obtain a clear image. This rule applies the other way around where there is a maximum distance but I don't have enough distance to measure it. I think anyway that this type of projector should not be more than 2 meters away because the brightness may be too low.
At a distance of 110cm I get an image of 78cm by 43cm, you can use a rule of three to calculate the image size for another distance. At two meters you will obtain an image of approximately 130cm by 77cm. The throw ratio does not allow for a very large image but with a low light projector this is quite common.
Audio quality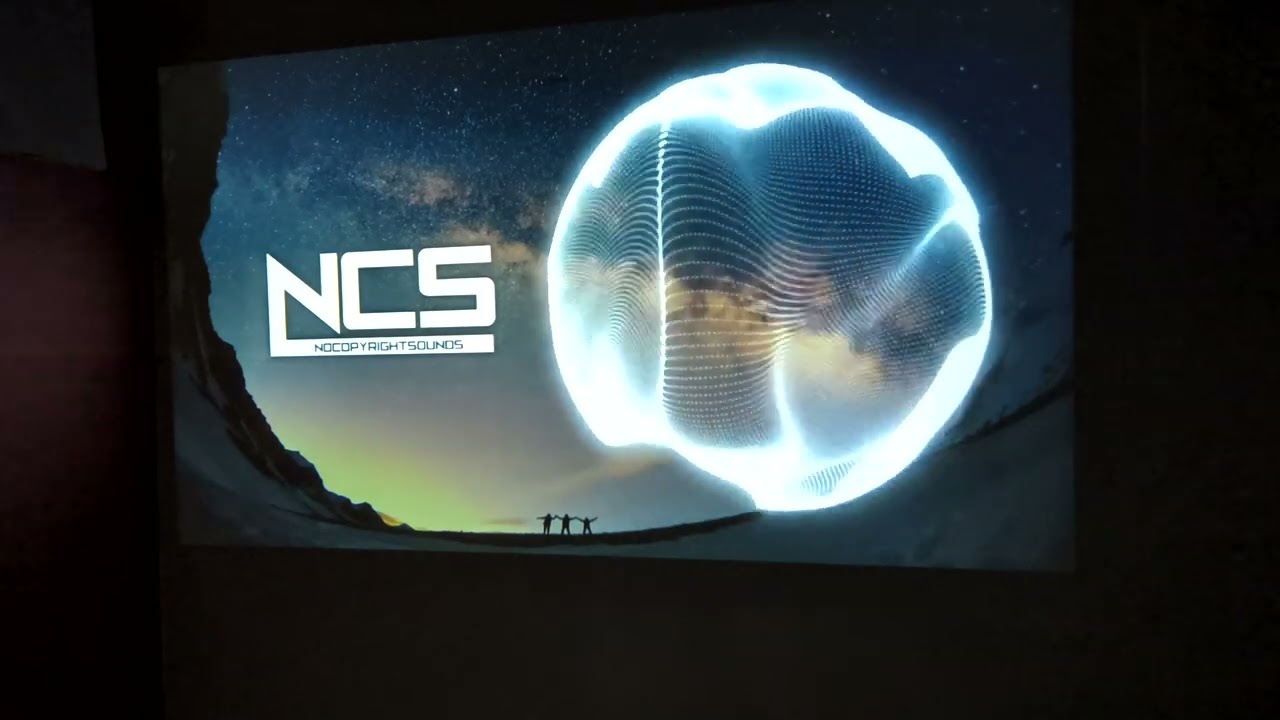 I mentioned earlier in this article that Blitzwolf had changed the design of its projectors with this new fabric surface on the front panel. This fabric surface hides the audio output and it is here that I noticed the biggest evolution at Blitzwolf. Previous projectors had fairly average sound quality, this projector offers better sound quality. The bass sounds are much better rendered, there is a bit of depth that I didn't find on the previous models, the highs still lack a bit of precision but it's quite listenable.
I measured just over 90 dB at the speaker output, that's more than enough for a projector of this size and the quality doesn't deteriorate too much when the volume increase.
Video games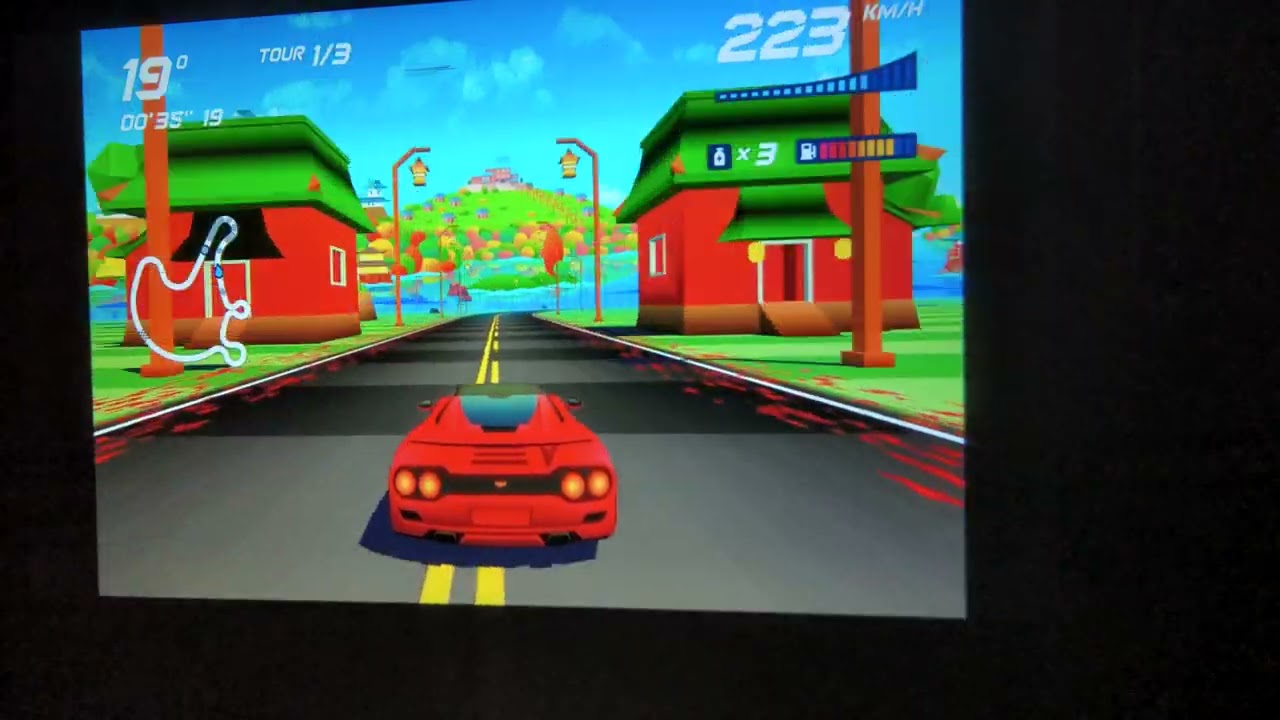 I tested the Horizon Chase Turbo game on this projector, I had connected my Windows tablet to the projector and I used an HDMI cable to connect them. I measured an input lag of about 130ms between my tablet and the projector, that's a big difference that won't allow you to play fast games. It may not be immediately visible in the video but on a very fast game like this, there is a gap between what I do and what I see which makes the game quite difficult to play. This projector is therefore not a gaming-oriented projector.
Encoutered bugs
Not yet available / tested
ALR/CLR Projection screen
Are you looking for a good ALR/CLR screen for your projector? I may have what you need:
ALR/CLR NothingProjector Screen
Test / Review conclusion
The Blitzwolf BW V2 is an entry-level projector and it has to be evaluated based on this positioning otherwise my final evaluation might be very poor if I compare it to a 500€ projector. This Blitzwolf ranks in the average of the projectors under 300€ that I tested. The image quality is fairly average with fairly cold colorimetry and fairly low contrast, it does not do any better or worse than the equivalent model from Wanbo. What will undoubtedly distinguish it from the others is the sound quality, which is much better than the other Blitzwolfs that I have tested and even most of the Wanbos as well. It should be added to that that this projector is a little less noisy, it consumes very little and handles fast movements fairly well.
The Blitzwolf BW V2 is a recreational type projector or an extra projector that you can use almost anywhere to watch movies or series where the image quality is not not essential. It is not a projector to be used in a dedicated room to replace your TV, you have to go up in price to find a projector capable of replacing a TV. This projector fulfills its mission well for this type of use, I just find it a shame that Blitzwolf turned to an alternative version to Android because they usually equip their projectors with Android TV.
The price will therefore play a big role in your choice of an entry-level projector. I received a discount coupon that will allow you to make this projector more competitive if you are interested in it. Use code BGBWV2 with the following link to get a discount:
Blitzwolf BW V2 with promo code
Strengths
Consumption
Sound quality
Image
Lightweight, portable
Less noisy than previous models
Weaknesses
Colorimetry and contrast
Input lag for games
Android 9 instead of Android TV
Brightness