Coupons
Formovie Theater 4k (Fengmi) review and special offer
---
Published on: 12-06-2023 / Modified: 12-06-2023
The Formovie brand has been around for a couple of years but it became visible in my radar late in 2021 with their very good UST 4k projector. They progressively gained popularity on review sites and reached a climax with the launch of the Formovie Theater 4k UST projector. This projector is simply the best projector you can get below 4000$. That's still quite expensive, right? Well, I've got good news for you, I have a 300$ coupon valid until end of June!
Formovie Theater 4k special offer
There are multiple offers available right now:
-300$ to celebrate father's day (promo code: DADHERO300)
This offer will probably be only available for a couple of days around father's day.
-300$ as a welcome offer (promo code: AFF-WELCOME300)
This offer is valid until the end of June
Buy a Formovie Theater 4k and get a Formovie P1 projector for free
This offer is valid until June 18th
Those promotions are only valid for purchases on the official site.
If you want to seize the opportunity:
Formovie Theater 4k on Formovie.com
Formovie/Fengmi?
Formovie and Fengmi are the same companies, Formovie is the brand used for the American and European market. Formovie projetors are equipped with an international version of Android TV, it's available in all the usual languages while Fengmi runs on Fengmi OS (only in chinese).
Formovie also offer a better warranty and has local stock in the US and Europe which means you won't pay any import taxes.
Long story short: buy from the official site instead of chinese marketplaces!
If you're located in Europe, I have also good news, the price dropped below 3000€ and you can get it from NothingButLabel
Formovie Theater on NothingButLabel
Formovie review
So what's so special about this Formovie Theater 4k projector? If you don't have time to read the full article, here is a short summary in bullet points:
- it has an outstanding contrast ratio (3000:1), blacks are not greyish creating incredible depth in images
- it has an above the average brightness with 2800 lumens ANSI. Watching in broad day light is still not recommended but with a good screen, you'll get there
- it has outstanding color accuracy and a very large color coverage with 107% of REC2020 (1,073,741,824 colors!)
- it has outstanding Bowers & Wilkins speakers
- it can decode Dolby Vision, HDR10 and HDR10+
What else do you need?
If you want to see how it looks like in reality, watch this video and go to 8:15 where you will see scenes from the Expanse.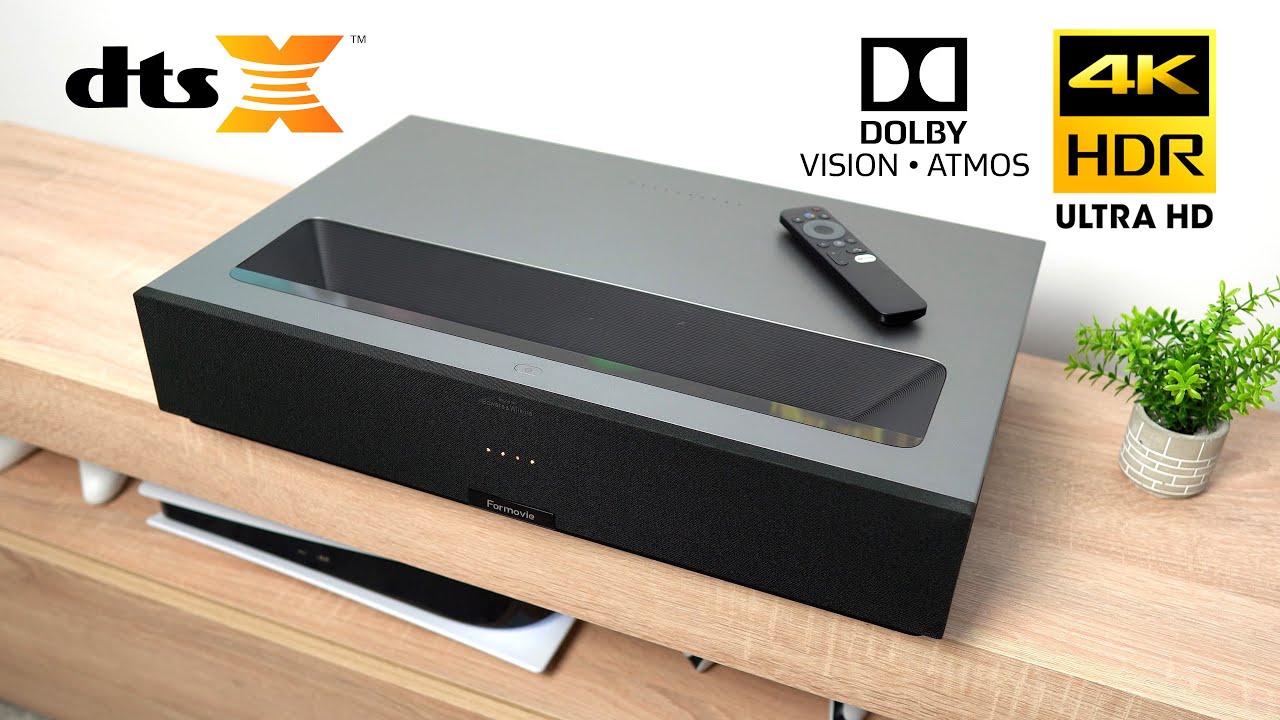 There is always a difference between specifications from the manufacturer and the reality, it is especially the case when you need to calibrate the projector to get the best out of it.
So here's the truth: (data measured with colorimeter)
- contrast when calibrated is a bit lower than 3000:1 but it is still an outstanding contrast. You can enhance contrast with dynamic contrast and get more than 3000:1
- color accuracy is really good with a dE below 3
- color range is lower than 100% of REC2020, this is where specifications from Formovie were a bit too optimistic but again, it's still a very good result
- gaming is possible, input lag is aroud 35 ms
- it has motion compensation, fast images will not stutter
- it uses more than 300W but by adapting brightness you can go down below 200W
So negative points:
- it doesn't support natively Netflix, you have to sideload it
- sharpness is not the best in class but is still pretty good
Some Q&A
Can I use the Formovie Theater 4k in broad daylight?
You can but it will affect contrast. Projectors are not designed to be used in broad daylight. You can reduce the impact on contrast by using a screen designed for UST projectors, it will avoid reflections and concentrate light in front of the screen.
Is this projector available in my language?
Yes, it supports all languages supported by Android TV
Do I need to calibrate it?
No, it has a good image out of the box but you can get more out of it by calibrating it.
What about the warranty?
It's a 2 years warranty with 14 days to return the product if you don't like it.
Will I pay taxes?
If you buy from the official site, they have stock in Europe and the US so you won't have to pay import taxes.
How big is the image?
The distance between the wall and the projector defines the image size. The recommended maximum size is 150 inch/382cm (diagonal) which results in 130 inches/330 cm width.
Any other questions? Ask in the comments.