Smartphones
Xiaomi Redmi Note 12: test / review
---
Published on: 15-04-2023 / Modified: 15-04-2023
I started testing phones about 5 years ago, I started this adventure with the Redmi Note 5. I liked this phone so much that it made me want to test other phones and 4 years later, I have tested more than 75 phones. I obviously don't use the Redmi Note 5 anymore but it still works great, my wife used it for a few years and now it's my mother-in-law's turn to enjoy it.
I've tested every Redmi Note and Redmi Note Pro since the Redmi Note 5 and found that every other time, the new Redmi Note model was just a pale copy of the previous model. The Redmi Note 10 was a big leap forward, the Redmi Note 11 didn't bring much more so logically this Redmi Note 12 should bring something new...or not...that's what I'm going to find out with this test.
Manufacturer web site:
https://www.mi.com
Site where I have bought the Redmi Note 12:
https://www.vandenborre.be
Structure of my tests
I test the phones according to a pre-established structure (see below) to provide you with as much information as possible. Unfortunately, this takes a long time. Some tests like network performance tests take several days and for photo tests I sometimes have to wait until the weather is suitable to take pictures in good conditions. I am therefore obliged to publish the tests step by step, so I invite you to come back if the test is not complete at the time of your visit.
Price Redmi Note 12
The list below shows the prices for the Redmi Note 12 from more than 50 sites around the world. If you are not satisfied with any price, you can subscribe to a price alert to be the first to be notified when the price drops.
The above links are affiliate links from companies such as Amazon, Gearbest, Aliexpress,... If you appreciate my work, I would be grateful if you could purchase these products through these links. It costs you absolutely nothing but I get a small commission that allows me to buy the material I test. Thank you very much!
Timeline
April 12, 2023: purchase of the phone on Vandeborre.be
April 14, 2023: reception of the phone, the test can begin
Why this phone?
At the risk of repeating myself, what motivated me to test phones was first of all curiosity. With time and by taking a step back, I am less surprised by the evolutions of the phones I test but I can now use my experience to help you make the right choice.
When it comes to the Redmi range and given the number of models I've tested, it's almost a public service mission to inform you about each new generation.
Phones have evolved a lot since the Redmi Note 5 but the evolution has slowed down a bit in the last 2 years, so you have to be able to find a good reason to pay more and more without getting great evolutions. If I look in my ranking, I find some "old" Redmi that are making resistance. The Redmi Note 8 is only about 15 points behind the number 1 in the ranking at the time of writing.
The reason for the Redmi Note is often the price positioning so if all phones cost more, will this new Redmi manage to do better than the others for a lower price?
Unpacking

The boxes of the Redmi are very standardized, there are no surprises on this side but it is not very serious, a priori you will only need one touch with the packaging. The box contains the phone wrapped in a plastic film, a 37 watt charger, a USB type C cable, a pouch containing the manual and a transparent soft silicone shell, a needle to open the sim drawer and that's it.
First configuration
The Redmi Note 12 runs on MIUI 14 which is based on Android 13. So the starting configuration is the same as all other phones running MIUI 14 with just a few differences on some screens. If I go back a few years to see the evolution of these screens, I realize how invasive today's phones are and how they try to sign you up for all sorts of things. Google will force its assistant and Google Pay, Xiaomi will try to get you to accept advertising by manipulating the interface to get you to accept things that seem innocent on the surface.
I had gotten so used to all of this but because I went back in time a bit when I started this article, I was able to compare the screens of the first Redmi to this one. It's not the same at all anymore. Of course, it's still possible to avoid having to sign up for all these extra services, you just have to be a bit careful and not just click on the button to go to the next screen.
Finish

The level of finish of the Redmi has come a long way since the Redmi Note 5, but these phones have turned into rather anonymous phones. If you remove the logo, there's nothing else to distinguish this phone from another. That's okay because it doesn't affect the phone's functionality in any way, but the Redmi line doesn't have much personality.

The phone has a rather elongated shape, measuring 167mm by 76 with a thickness of almost 8mm. So the Redmi Note 12 is not a small phone that will fit in every pocket. Its 6.67-inch screen occupies 85% of the front surface with just a small interruption for the selfie sensor. The edges are of the usual size, so nothing new here.

The back uses the same codes already used many times by Xiaomi with a smooth surface with a metallic effect but it is actually plastic. There is a photo block in the upper left corner with 2 large circles for the wide angle and ultra wide angle sensors, there is also an LED for the flash and a macro sensor that does not serve much purpose. The photo block sticks out a bit from the back of the phone but not to the point of putting the phone in a wobbly position when placed on its back.

On the right side we find the usual volume buttons and the home button which is also equipped with a fingerprint sensor. On the other side, we find the sim drawer which is in a rather unusual place, it is very high. The advantage of an isolated position like this is that you do not risk putting your needle in the wrong place. The sim drawer is very large, it allows the use of two sim cards and a memory card in addition.

Underneath, unsurprisingly we find a speaker, a USB type C port and a sound sensor. Above, we find a headphone output, an infrared port and another sensor for sound. There is only one output for the sound. It is a regression compared to the previous model which had 2 separate outputs for the sound. My test on the sound part will see if the sound does not come out of the speaker, this is a configuration that Xiaomi has already used.
This new Xiaomi Redmi Note 12 does not shine by its originality but it is a phone with finishes quite correct and in line with what can be purchased in this price range.
Specifications
The information below comes from the Device Info HW application. The application provides detailed technical information about the tested phone. I was talking about generation skipping at the beginning of this test because I noticed that Xiaomi brings new features every other generation and in principle, this Redmi Note 12 should bring some new features...it's not the case, I really don't, I even find it quite annoying to find exactly the same hardware from one generation to another. There is a 5G version which is a bit different but the 4G version is just a Redmi Note 11 in a different package.
Well, I'm exaggerating a bit, there are some differences but they are minimal. This new version uses the same architecture as the previous one, so all the components that are related to the Snapdragon 680 are the same in both phones. There are some differences in the magnetometer, the fingerprint sensor, the sound chip and in the secondary sensors but it's basically the same phone.
CPU / GPU Performance
The Xiaomi Redmi Note 12 4G relies on a Qualcomm Snapdragon 680 CPU and an Adreno 610 GPU. This is exactly the same as the Redmi Note 11. It's a combination that offers enough performance to ensure a good day-to-day experience in using the phone and apps. However, the Redmi Note 12 has a slightly higher clock rate than the previous model, so the performance should be slightly better, you have to think of it as a kind of overclocking.
There is a 5G version that is based on a different architecture that offers better performance but for basic use, you probably won't see a big difference. The vast majority of buyers of this type of phone don't need computing power anyway.
Benchmark Antutu/3DMark
I got a score of 298715 points with Antutu v9, I could not run Antutu v8 on this phone. I had got a score of 233020 points with Redmi Note 11 while it uses the same hardware. Why this difference? I see two reasons. The first one is that Antutu v9 tends to result in higher scores. The second one is what I explained in the previous paragraph, the Redmi Note 12 has a higher clock rate.
This kind of performance allows you to play most games but with a decrease in graphics. I also sometimes feel some slowness outside of games but since I'm testing other, more powerful phones at the same time, it jumps out faster. I'm not sure if a normal user will notice for example that the keyboard takes a second longer to be displayed
Gaming
To test the performance in game, I download the mobile PUBG game and evaluate the in-game experience, graphics level and depth of vision. This game is quite demanding and should help you evaluating the performance of a phone.
The Redmi Note 12 is not a phone designed for gamers, that doesn't mean you won't be able to play games with this phone. I tested it with PUBG Mobile and the game is perfectly playable but with a lower level of graphics. The game automatically switches to "fluid" mode to ensure a good gaming experience. Textures load slower and you can't see very far into the scenery, but that doesn't stop you from playing in good conditions.
There is no Game Turbo mode on this phone, so you can't give a little boost to the performance in game. This mode is available on the Pro version.
Network performance
This 4G version uses the same frequencies as the previous version, I see however that a frequency has disappeared in 3G.
Signal 4G (from December 2020)
I decided to change the methodology for measuring the network because I noticed that the configuration of the mobile network changes over time. This makes it more difficult to compare phones because the conditions are no longer exactly the same.
To overcome this problem, I set up a device that captures 24 hours a day about ten parameters from the mobile network (ex: cell id, rssi, rsrq, snr, frequency,...). I then place the phone next to the device for 24 to 48 hours taking the same measurements so that I can compare them.
Overview of the phones tested with this methodology

I made 1023 measurements to evaluate the 4G network sensitivity and I was a bit surprised by the result. I had obtained a good level of network sensitivity with the Redmi Note 11 which runs on the same architecture but looking around a bit, I see that the Redmi Note 12 uses a different baseband processor (BBP). This is probably what explains the difference and unfortunately I fear that this weakness cannot be fixed by an update. So the Redmi Note 12 is not completely identical to the Redmi Note 11 and in this case, that is not a good thing.
Download/Upload speed
To test the download speed, I have identified some 4G cells offering good performance where I test all my devices several times to see what download and upload speed they can achieve.
Wifi performance
To test a phone's ability to receive the network properly, I take measurements near my router and then remotely (and always at the same place). This gives me an average in dBm where a value of -90 dBm indicates poorer performance than a value at -30 dBm.
Wifi signal
I got an average signal of -18 dBm near the router and an average signal of -60 dBm at a distance. These are average scores, not good or bad. I don't notice any abnormal signal degradation, I didn't see any instability either.
Download/Upload speed
To test the speed in Wifi, I connect to my router in 2.4Ghz and 5Ghz (if available) and use the Ookla application to measure the speed.
GPS performance
To test the accuracy of the GPS signal, I use two positioning applications to evaluate the difference between the actual position and the position indicated by the phone. This test is done outdoors with nothing to obstruct the signal. An accuracy level of up to 3 meters can easily be corrected by an application (e.g. Google Maps).
I measured a GPS signal accuracy at 3 meters, this accuracy remains stable and the fix is fast. I then confronted this result with reality by comparing my real position with the position detected on a map and most of the time the GPS located me within three meters with sometimes some larger gaps. These discrepancies can be corrected by your navigation application.
I did not find more than one frequency per network, so this phone has only one frequency band, but this is not surprising in this price range.
The GPS chip in this model is not the same as in the Redmi Note 11, so the performance is not comparable.
Battery range
To test battery life I developed an application that measures the battery level minute by minute until the battery is empty. This application consumes about ten percent of the phone's resources and I do a test with 100 brightness. This test aims to reproduce a contemplative use of a phone (e.g. surfing the internet, reading articles, spending time on social networks). These results are not valid for intensive gaming/streaming use.
Battery life
I got a battery life a little over 600 minutes with the screen on at 100% and a little over 1500 minutes with the screen on at 100%. These are pretty similar values to the Redmi Note 11, the Note 12 even does a little better. This is a good battery life score that will last you 2 days in normal use.
Charging speed

I used my UGREEN 100W charger to test the charging speed of this phone and it took me almost 1.5 hours to charge this phone from 0 to 100%. As you can see from this graph, the charging is far from linear. The charging speed decreases sharply on the last 20 percent. It takes 50 minutes to reach 80% and almost 40 minutes for the last 20 percent.
Energy efficiency

I measured the power consumption of the CPU, GPU and FPU with a multi-minute load test. This allows me to measure the individual power consumption of each component but also the temperature rise of the battery and the impact on its endurance.
Each component is pushed to maximum for almost a minute and then they are all pushed together for several minutes. We see that the maximum power consumption seems to be around 5 Watts. This is a fairly low level of consumption which combined with a good capacity battery results in good autonomy.
Photo camera test
To test the quality of photos produced by a phone, I do a technical test (resolution, sharpness, chromatic aberration,...) in studio (identical conditions) to evaluate the technical part objectively. From the second half of 2020, I built my own laboratory to take completely objective technical measurements. I then take pictures in real conditions to see how the camera performs. I then evaluate these photos according to my criteria but I publish the photos so that you can evaluate the result according to your criteria.
Hardware
The Redmi Note 12 4G is equipped with two main sensors. The first is a Samsung S5KJN1 sensor with 50 megapixels that I've already tested on a dozen other phones such as the Redmi Note 11, the Poco M4 Pro, the Redmi 10, the TCL 30 SE or the Poco M5. It's an entry-level sensor that delivers good photos when the light is good, but it can't compete with what's found in the mid-range. The 5G version of the Redmi Note 12 uses the exact same sensor, so it's not in the photo that you'll be able to tell them apart.
The secondary sensor is an 8-megapixel Omnivision OV08D10 ultra wide angle, I haven't tested this sensor on any other phone yet, so it's a novelty. However, I do not expect wonders because secondary sensors are rarely effective and as we are here in the entry level, I fear that this sensor is useless.
There is still a macro sensor at 2 million pixels, I never test this kind of sensor because they are perfectly useless.
Photo quality
Photo quality (indoor/studio)
The studio test is carried out under the same conditions so that the results can be compared on an equal basis. I calibrate my lighting for each test to obtain the same brightness and colour temperature. This test is a preliminary analysis of the technical qualities of a camera. Most phones fail this test, so you should also read the results of the other tests in the following paragraphs.
Not yet available / tested
Photo: technical test
I was inspired by industrial technical tests to create my own technical test to evaluate the technical quality of a camera. This test is an objective assessment of a camera's ability to render a scene correctly.
I test the following elements:
- centre sharpness, peripheral sharpness
- colour fidelity based on 24 reference colours
- level of chromatic aberration
- dynamic range (ability to capture dark and light areas without loss)
- distortion
The technical evaluation may differ from the subjective evaluation as the feeling of a photo will be influenced by the processing provided by each manufacturer.
Not yet available / tested
Outdoor photo quality
Not yet available / tested
Test photo / night

The Redmi Note 12 has a night mode that allows it to take night photos by superimposing several photos taken at different exposure levels. This type of processing has been available on the Redmi range for years but the result is not always a success. This is unfortunately the case with this Redmi Note 12, which produces very noisy images that also lack sharpness. The only positive point is that the phone manages to capture enough light to make a night scene visible. Night photography is clearly not a strength of this phone.
Video quality
Stabilisation
Not yet available / tested
Video normale conditions
Not yet available / tested
Video low light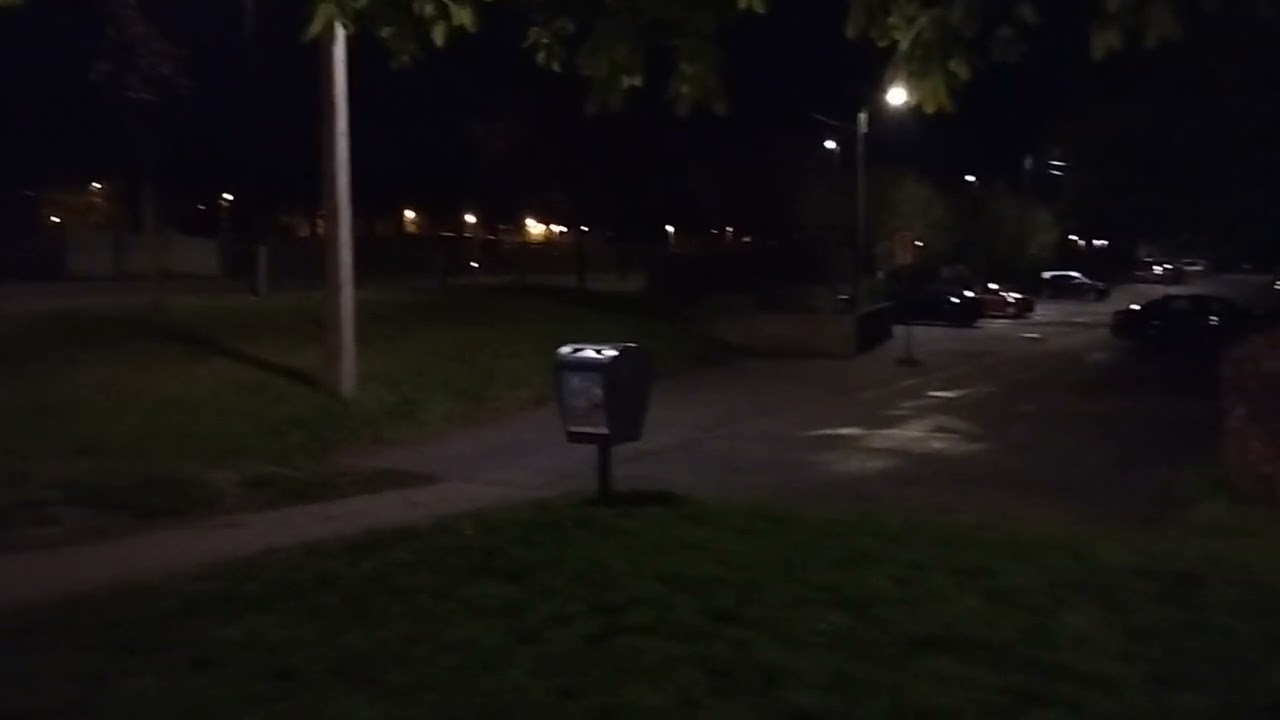 You may have seen in one of the previous paragraphs that the Redmi Note 12 does not produce good photos at night, this is also the case for video, it's even worse because here even the brightness is not good. The rendering is much too dark and not usable.
External audio quality
This test is intended to give you an overview of the volume and sound quality during calls and when listening to music through the external speakers.
Audio quality / speakers test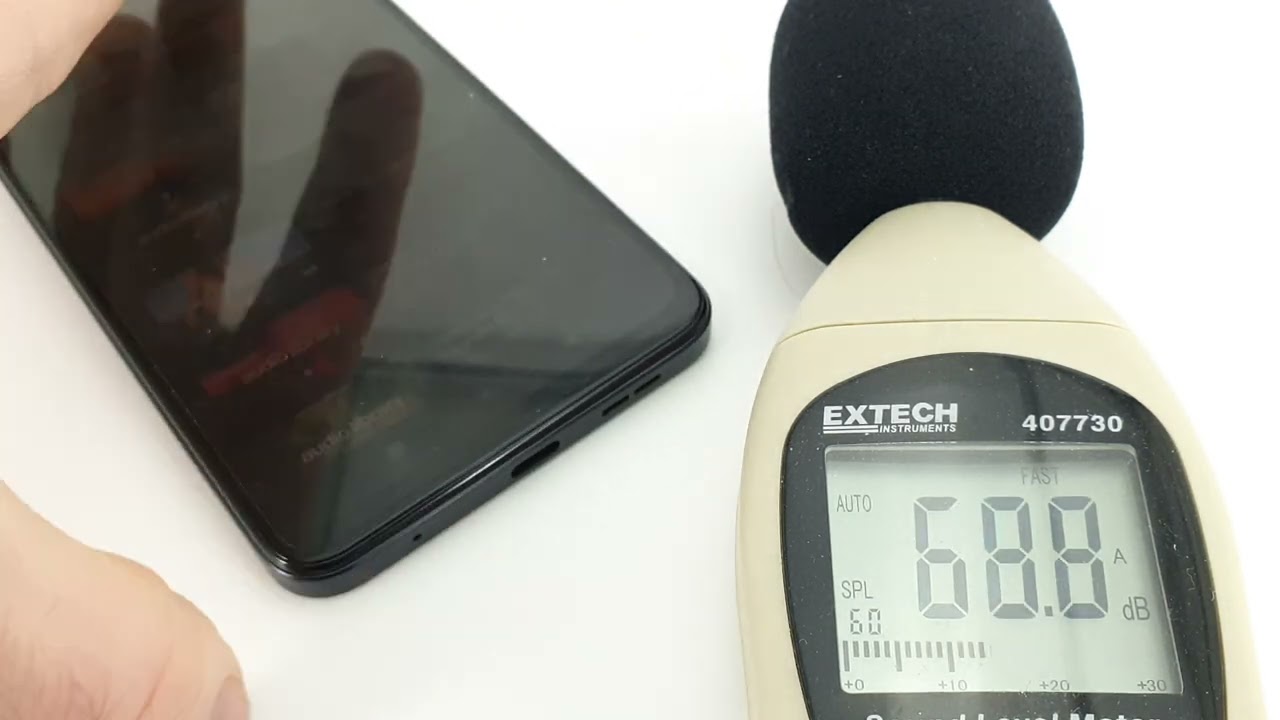 The Redmi Note 12 is equipped with only one speaker and this is quickly felt for the sound power. The Redmi Note 12 pushes a little too much on the highs and doesn't have enough depth for low sounds, I feel like this new generation doesn't do as well as the previous generation.
Test audio quality / call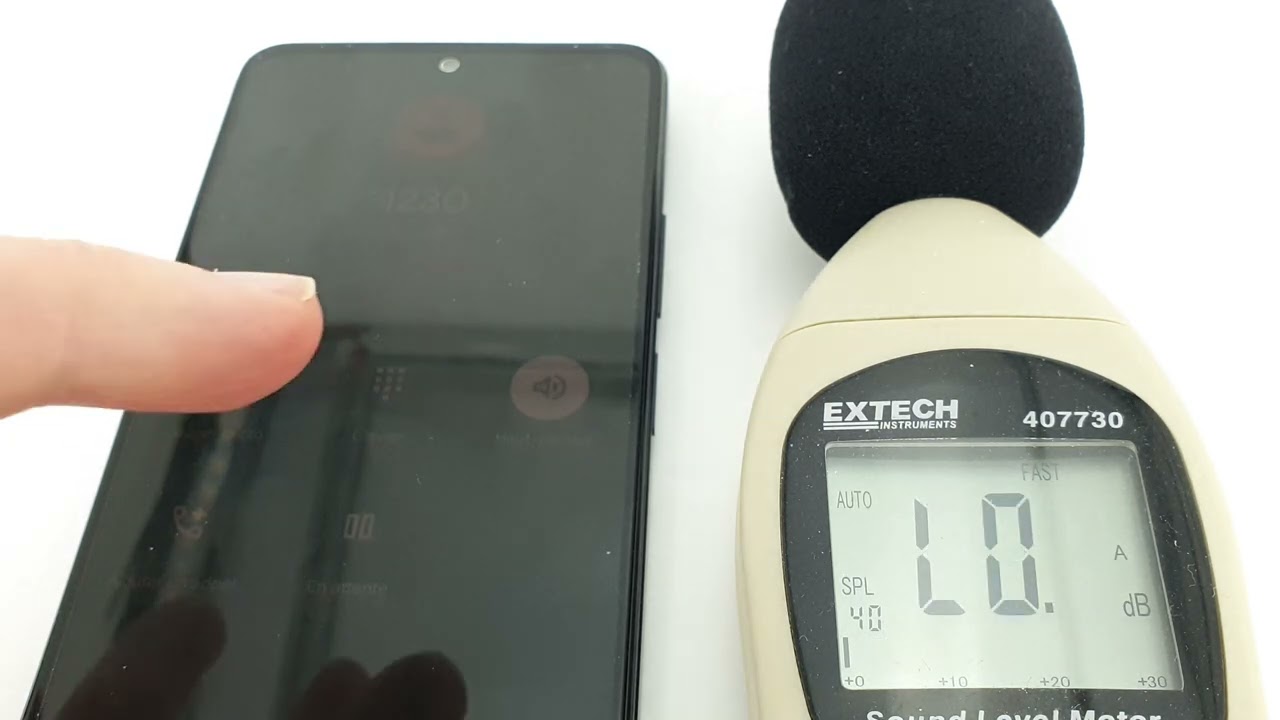 The sound quality in call is okay but it pushes the highs a little too much. The volume is a little below average even with the sound at maximum. If I switch the sound to the speaker, the volume rises above 60 dB, which is also a fairly average sound level. Here also I find that the sound is too high.
Audio quality (headphones)
To test the quality of the phone's audio output, I connect the device's audio output to a measuring tool, then play sounds on all frequencies and measure the differences between the original sound and the sound produced by the phone. In this way I measure the phone's ability to correctly reproduce all sounds.
Sound quality by headphones

I measured the ability of the Redmi Note 12 to reproduce all frequencies and compared it to my reference file and the Redmi Note 12 Pro. Overall, the Redmi Note 12 does pretty well, it manages to reproduce most frequencies correctly and it even manages to do a little better than the Redmi Note 12 Pro, which is a little off from the reference on some frequencies. The Redmi Note 12 is also able to produce a slightly more powerful sound than average and this with only a little distortion.
Screen quality
To test the screen, I use a colorimetric probe that measures the color accuracy of a screen, as well as other parameters to see if a screen is able to correctly reproduce an image. I also test the brightness level to determine if the screen will be able to display an image in full sunlight.
Colorimetry

The screen of the Redmi Note 12 is an Amoled display that offers impeccable black depth. If you choose the standard mode in the display configuration, you will get a very good colorimetric accuracy with a dE of 1.16. This is an excellent level of colorimetry for a phone in this price range, it is clearly a strength.
Beyond the colorimetry, you can choose the frequency of the screen between 60 and 120Hz but be aware that choosing 120Hz will reduce the autonomy a little.
By choosing the standard color mode, you get a color space slightly higher than REC709 with good colorimetry. If you want to enjoy HDR content, you should choose the "intense" mode which offers a wider color coverage but with less accurate colorimetry, the image is colder in this display mode.
Brightness / Contrast
I measured a brightness of 635 cd/m² with the sun mode on, the screen can probably go even higher but I didn't have a strong enough light source to test it. At 635 cd/m², the screen is bright enough to be used in full sunlight.
Contrast
I measured infinite contrast, which means that the blacks are deep and offer a very good image rendering. I measured a gamma level of 2.06 which is close enough to the norm to avoid that the grays do not deviate too much from their trajectory.
Biometry
Not yet available / tested
Operating system
Not yet available / tested
Encoutered bugs
I don't know if it's a bug but I find the boot time of the Redmi Note 12 to be particularly long.
Accessories Redmi Note 12
Compare Redmi Note 12 with the others
Test / Review conclusion
The Redmi Note 10 had brought the Redmi entry level to a level above the competition, the Redmi Note 11 had just copied the Redmi Note 10 with just a few changes. So I was expecting a more marked evolution from this Redmi Note 12 but I was disappointed. The Redmi Note 12 is a Redmi Note 11 with some small differences but nothing extraordinary. That's not to say that the Redmi Note 12 is a bad phone, it should be seen as an entry-level phone that takes the basics from previous generations. It will tick a number of boxes for those looking for a go-to phone for normal everyday use.
The Xiaomi Redmi Note 12 is good enough to not have to get worked up every time you use it, its screen is of very good quality, the battery life is good, the sound through headphones is good and the GPS accuracy is good too. This phone unfortunately has some weaknesses such as photo quality when the light is not good (cloudy weather or night photo), the network sensitivity is not as good as the previous generation and the sound in call is a bit higher than it should be.
The main justification for buying this phone is its price. In this price range (around 200€), Redmi is always a step ahead of the competition and although my conclusion seems negative, it's mostly because I expected better from this phone. I guess I'll have to wait for the Redmi Note 13 to hope to see a more important evolution.
Strengths
Screen quality
Price/performance
Battery life
GPS accuracy
Sound quality with headphones
Weaknesses
Network sensitivity
Photo quality in low light
Sound in call more acute
Unwanted applications
Alternatives to this product
Not yet available / tested